December 2011
DACC FEATURE CAR

Michael and Sandra Brown
1957 Chevy Convertible
Arlington, Texas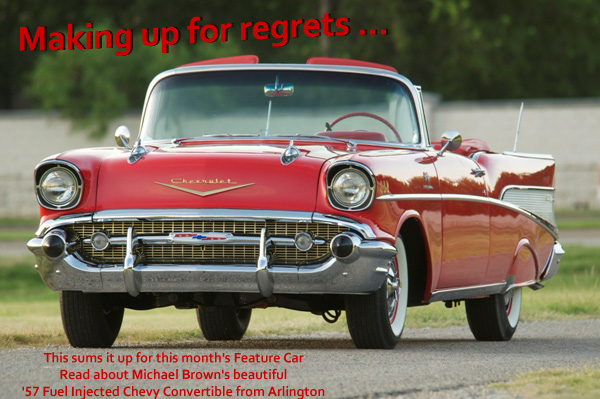 In 1962, I was in the market for a new car.....

Well, of course, it wouldn't be a NEW car. After all, I was 17 years old. I certainly didn't have the resources to buy a factory-new vehicle, but it would be a trade up, which would make it 'new' to me.

The object of my desire as a teenager in southeast Oklahoma that year was a 1957 Bel Air Chevy, two door hardtop. Silver with a white top and black/silver interior, it was a great-looking automobile. Though it was a five year old 'late model used car', it had not yet achieved its inevitable status as the 'classic' it would become...a bookend to what we'd all eventually call the Tri-5s.

Its owner was an 'old man' who had bought it new. He was asking the princely sum of $600 for it. I didn't have that kind of cash, but I was known as a resourceful young man in my home town, and with my Dad's added signature as guarantor, a local bank loaned me the funds to make the purchase. With the deal done, I excitedly drove the car home.

It was beautiful in every detail...except one. This pristine factory-appearing car was all original save for a set of gosh-awful Western Auto mesh seat covers in this otherwise gorgeous car. What was that old man thinking when he installed those?! I didn't know what I was going to do to replace them, but I couldn't wait to get started.

Alas, when I removed the ugly seat covers, there was the factory-fresh original upholstery...as beautiful as the day the car had rolled off the assembly line. My viewpoint on the old man immediately changed. How smart he'd been after all! (Point in passing... as I look back on that chapter of my life, I realize that 'old man' probably wasn't nearly as
old as I am now...ouch!)

Like most of us back then, it was all about trading up. I drove the '57 through high school and into my first year at Oklahoma State. Then, I traded it off....and have regretted it ever since.

But a few years ago, I had a chance to redeem myself from my youthful error. I acquired another '57 Bel Air...this one a red fuel-injected fully-restored convertible. The 50s were heydays for Chevrolet and all U.S. automakers. GM produced one and a half million cars in 1957. A little over 47,000 of them were convertibles. Of those, only 68 were ordered with the first-year option of fuel-injection, making my second '57 Bel Air a bit of a rare bird.

And today, this 'old man' is leaving the seat covers just as GM had intended them to be.
Scroll through the photos using the arrows, make full screen using the expanding option in the top right