November 2011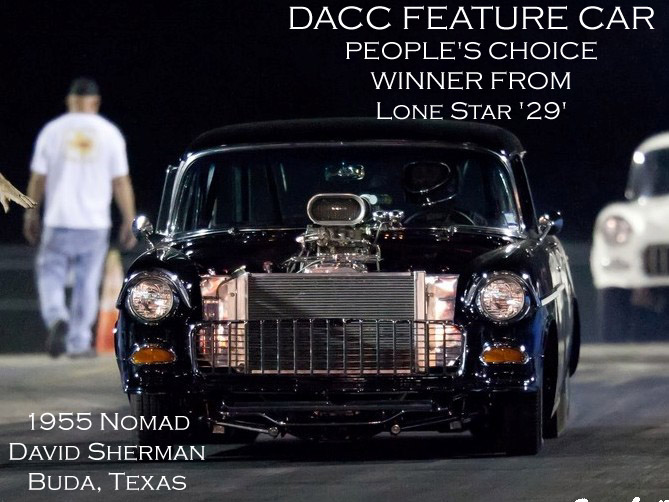 The funny part .... about winning the 'People's Choice' award at Lone Star '29' was that I wasn't even going to enter it in the judging because it wasn't finished! There were some amazing cars in Irving for Lone Star '29' and I just didn't think my Nomad needed to be judged.

I had just got it running about 2 weeks before the convention and I had no door panels or door glass in the car! 10 years of work went into my Nomad and although unfinished, this was its first event. I took it apart in April of 2001 thinking I was going to do about a 6 month freshening up and it took off from there, as I am sure others can relate.

When I got to Dallas they told me if I didn't enter the judging I would have to park it up front. I didn't want to do that and thought "what the heck, it doesn't cost anything so go ahead judge it". I was planning to leave the event about noon on Sunday. A very nice lady came up and said "you can't leave yet". I told her we had a 5 hour drive and that since my car wasn't even finished I was sure there wasn't a lot of reason to stay. She then basically said – YOU HAVE TO STAY! I thought well what do ya know maybe I did win something. I had 4 friends and my son with me so all of them left but my son. We stayed for the awards and were very pleased to be awarded a Bronze award in the '55 Trailered Full Custom Class. Then I was floored when at the end of the awards show it was announced that I had won the 'Peoples Choice' Award! I was actually speechless which is a huge for me. I have to say the ride home was a breeze.
So here is some history on this '55 Nomad. I saw the car advertised in the auto trader magazine in 1997. I meet the owner at the Southwest Swap Meet at the Ball Park in Arlington and gave $9200 for it. It was in black primer with a gloss black roof and had a 355 ci engine with a 350 automatic behind it. The previous owner had it set up like a gasser with the moon tank on front and the front end up in the air. I really liked the car and it drove really well but I wanted a blower motor. In 1999 I built a blown 383 with a 671 and nitrous for the car. It quickly became clear the 10 inch Torq Thrust wheels couldn't handle the motor so I began making plans to Pro Street it. In April of 2001 I started taking the car apart and found the car was in sad shape. The floors where poorly patched, the quarters had about 30 lbs of bondo in them and the fire wall had been moved back with a sledge hammer. The Nomad had been hit hard in the left rear and most of that area was pop riveted scrap metal covered in bondo. I have replaced every piece of metal on the car except the roof (which needed numerous patches) and the top of the cowl. It was a long road but I have to say it is amazing how people flock to the car as soon as it pulls into a parking lot! I believe it is one of the straightest black cars out there. That is a testimate to a very close friend who helped with hundreds of hours of metal work and sanding.
I want to thank everyone who attended the Lone Star Classic Chevy Convention for one of the greatest weekends of my life! And especially for awarding my Nomad the 'People's Choice' Award!
Scroll through the photos using the arrows, make full screen using the expanding option in the top right