October 2011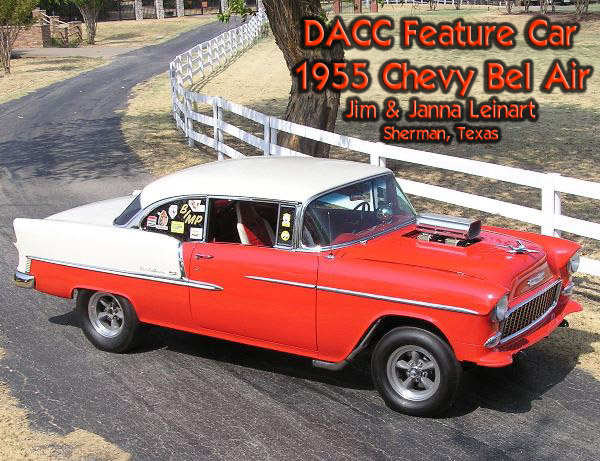 A friend of mine had this car for several years and gave up on the restoration, so I bought it. I certainly was not looking for another project and did not need it but an original Gypsy Red/Shoreline Beige '55 Bel Air hardtop is hard to turn down!

I did a frame off restoration on it with a 327, 4 speed and '55 rear end. I had it back together and was about to crank it but I made a trip to Bakersfield, Calif for the NHRA Hot Rod Reunion driving my black and white '55 Chevy (at the time it had a 408 small block in it and the most it ever got was 10 MPG with straight freeway driving but we had a blast!) I decided I wanted something more aggressive after seeing all the gassers in at the reunion so I came home and took the entire drive train out and put in a 396 big block, Tremec 5 speed tranny, 12 bolt Chevy rear end, changed the springs etc for the gasser look.

The 396 is an engine my son bought about 15 years ago. It was a trick NHRA stock eliminator motor with venola pistons, trick crank and more. It had never been run so I put in a more aggressive solid lift cam, tunnel ram and two Holleys. The rear end is a 5:38 with Moroso positraction, Mark Williams axles and with the 5 speed tremec you end up with a 3.44 final ratio which is very streetable. I hope to drive it on the street some when the mufflers are installed.

I plan to go to hit the vintage races and other car shows with it. I have driven it some on the street on back roads and it is FUN to drive!

I wanted something with an aggressive stance, aggressive look and aggressive sound. I think I accomplished my goal!
Scroll through the photos using the arrows, make full screen using the expanding option in the top right