September 2011
FEATURE CARS

In 2011, DACC hosted the 29th Annual Lone Star Classic Chevy Convention and it was the largest in the event's 29 year history. Over 250 Tri Five Chevys came out from over 30 clubs, 10 states were represented and all makes and models of the classic mid-fifty Chevys were in attendance at the event. With such a huge turnout of beautiful Chevys, it is impossible to pick the 'Top' Chevy at the event. But... with the help of DACC's internet blogger Buddy Love (who attended the event incognito), here's his shot at picking some of the special Chevys that came to this event and we will call it the 'Top 5' from Lone Star '29.' These Chevys are not required to be a show winner or race winner, just a unique or special Tri Five Chevy among a huge gathering of Chevys at this year's event. In no particular order here is Buddy Love's selection of the Top 5 –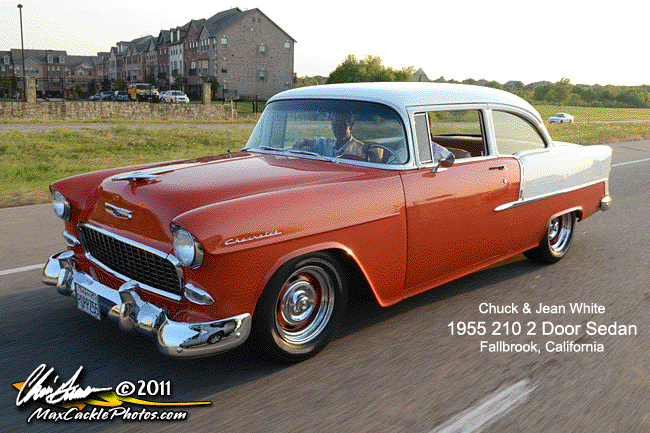 Chuck White, 1955 210 Sedan, Fallbrook, California
Chuck has to be the ultimate Chevy guy. He drove his 55-year-old Chevy over 1700 miles to get to Irving. Once he got to Lone Star '29,' he took advantage of all of the events! Chuck was seen burning rubber in his '55 at the drag racing event, shined up the old car for competition in the judging event (where he won a Gold Award!) and took part in the Poker Run cruise around the North Texas countryside. You can't have much more fun than Chuck did at Lone Star '29'!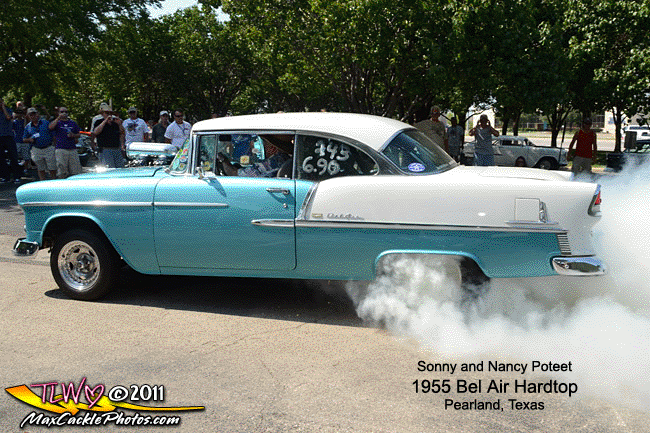 Sonny Poteet, 1955 Bel Air Hardtop, Pearland, Texas
Now Sonny happens to drive pretty much anywhere he wants to in his blown big block '55 Bel Air. He built the car over 10 years ago and has racked up a bunch of miles driving his bad to the bone Chevy at events like Cruisin the Coast, Hot Rod Power Tour and more. Sonny was like a kid in a candy store when he came to Lone Star because he wanted to take his shot at winning the drag racing event. He was on his game as he did just that taking a big win in the Eliminator 1 Class! Sonny took his hot rod on the Poker Run for some fun cruising and then he even did a big 'Peel Out' during the contest in honor of American Graffiti star Candy Clark who was on hand. She didn't pick Sonny as the best, but that was because he just can't do a peel out – he only knows how to bury the pedal and smoke those big tires like no other!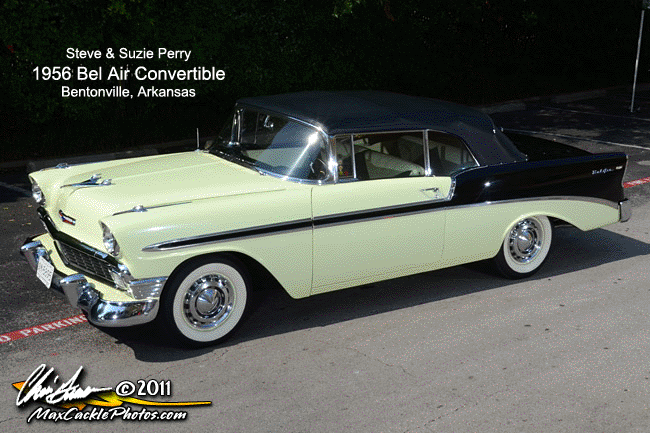 Steve Perry, 1956 Chevy Convertible, Bentonville, Arkansas
There is just something special and unique about a Chevy that has had a minimal amount of restoration work done to it in the last 55 years. Steve's '56 Convertible was classified in the 'Factory Original' class at Lone Star '29' and that indicates that there has been less than 20% restoration on the car and nothing is changed from how it came from the factory. This means belts, plug wires, tires, etc. have been replaced and perhaps a tear in a seat or a small dent in the fender has been repaired - but nothing else! Seeing the patina that is unique to a car like this is like looking into a time capsule. Old cars are only factory original once and when the owner begins repainting things, changing motors, etc. that special condition is gone forever. It is very rare to see a 55-year-old car in a condition of 'Factory Original.' Steve's '56 is definitely a Top 5 Chevy from Lone Star '29'!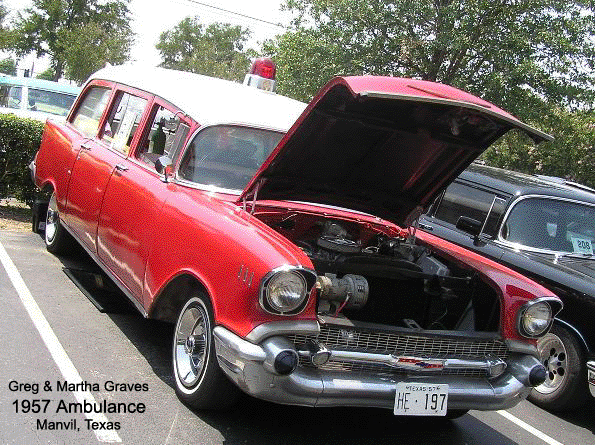 Greg Graves, 1957 Chevy Ambulance, Manvel, Texas
No really, there was a 1957 Chevy Ambulance at Lone Star '29'! This is not a factory production vehicle as Chevrolet was not in the business of ambulance building. But in the industry there were companies that took production cars and with a 'little' modification made vehicles such as ambulances. Greg Graves came across this most unique of the '55-'57 Chevys at a Texas swap meet needing a lot of attention. The car was originally a 2 door sedan and today it still has the original 283 cubic engine. Greg is slowly restoring his ambulance in small steps at a time and is acquiring appropriate items all the time like stretchers, sirens and the like to put this Chevy back as it was intended to be when it was sacrificed for a life as an ambulance. Needless to say, this was the only Chevy ambulance at Lone Star '29'!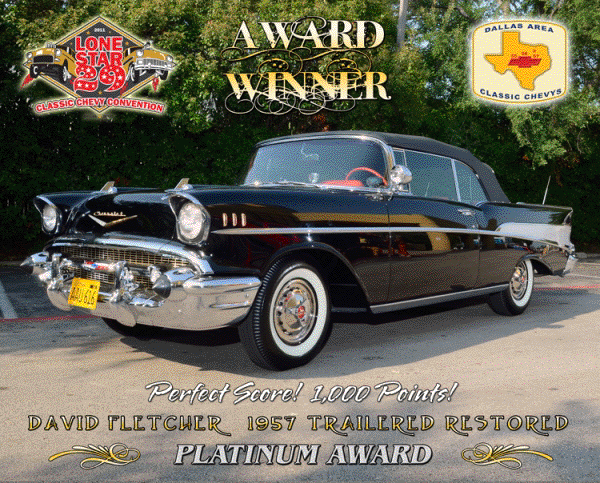 Dave Fletcher, 1957 Chevy Convertible, Brentwood, California
This was judged in the judging competition in the Restored 1957 Class, a very tough class to show in at Tri Five Chevy events. But this is no ordinary restored Chevy. Dave's '57 was judged as the PERFECT '55-'57 Chevy during the judging competition at Lone Star '29', earning all 1000 points available on the judging sheet from 3 different judges. Dave's Chevy is absolutely gorgeous, with its jet black paint job that has a flaw none and the stunning red interior. This machine has the features also with the factory 2 four barrel option and the 'bat wing' air cleaner, power steering and power brakes. This car is what hard core Chevy enthusiasts dream about!
So there you have it – the Lone Star '29' Top 5 Chevys as selected by Buddy Love. Now Buddy says "ask me another day and you likely would get a totally different list – that's just how difficult it is picking a Top 5 from the over 250 cars that attended"!

To see a complete recap of the event, go to www.LoneStarChevys.com and click on the 'Photo' link where you will be taken to recaps of several of the past 29 years of Lone Star Classic Chevy Conventions!