June 2011
FEATURE CAR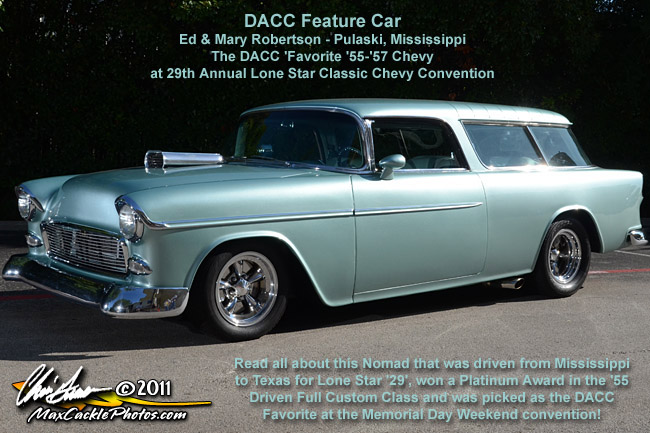 We were certainly pleasantly surprised to receive the Dallas Area Classic Chevy Club Choice Award at Lone Star '29'. There were so many beautiful tri-fives entered in the show, we were honored to be chosen as your club's favorite. Although we have participated in the Lone Star shows in the past, this show was "over the top". There were so many activities planned for participants and all for one registration fee. Don't know how you did it but it was enjoyed by all.
We purchased our first nomad in 1972 and have owned several tri-fives over the years. The Nomad has always been our favorite and this particular Nomad is very special to us because it was a gift from our son and daughter (in-law), Eddie & Cindy Robertson. Our entire family has enjoyed the tri-five hobby. Eddie's high school graduation gift from us in 1975 was a 1955 Nomad. He reminded us of that fact when he handed over the keys and clear title to this nomad on February 14, 2011. They had decided to give the Nomad to us on Ed's birthday which was March 17. Once the decision was made (apparently they had been talking about it since Christmas), they decided not to wait so they gave it to us on Valentine's Day.
We joined the "old" National Nomad Club in 1972 after purchasing our very first Nomad and are charter members of the present Chevrolet Nomad Association (Member #150). We have attended every Nomad National Convention since 1973; we now consider that show more like a family reunion than a car show and hope we never have to miss that annual event. We joined the Classic Chevy Club (Member #3682) shortly after it's formation and currently serve as Mississippi State Representative for Eckler's Classic Chevy. We also joined the Bow Tie Chevy Club (Member #118) when it was formed. Yes, the tri-five Chevrolets have been a big part of our lives for many years. We have certainly enjoyed "seeing the USA in our Chevrolets". Some of our very best friends are people we've met through this hobby and some are friends we only see once a year. We have been blessed by the association and friendship of all our "car buddies".
Our current Nomad was built for fellow "Nomaders", Mike & Pat Harvey of Ramona, California. We can remember the first time Eddie saw this Nomad shortly after it was completed. It was 2004 at the Chevy Classic's Winter Nationals in Orlando, FL. He said then "if I had the money to build a Nomad any way I wanted, it would be just like this one." We never dreamed that one day, he would purchase that very Nomad and give it to us. We still can't believe that he gave us his "dream car". We want to make sure that everyone who admires the car knows why it means so much to us. We think that Eddie & Cindy were just as excited when they gave us the keys to this '55 Nomad in February of 2011 as we were when we presented him the keys to that '55 Nomad back in 1975.
Again, thanks for picking our Nomad as your Favorite of Lone Star '29' and thank you for such a wonderful weekend in Irving!
ED & MARY ROBERTSON'S 1955 NOMAD SPECS
Color: Yorkshire Green
Engine: 1967 Chevrolet Corvette 427, Dual Quads Carbs
Transmission: 700R4
Rear End: Currie 9"
Axles: Currie
Brakes: 4 Wheel Disc
Steering Power Rack - Tubular A-arms
4 Wheel Air Bags
Wheels: American Torque Thrust Chrome 7" Front & 8-1/2" Rear
Cooper Cobra Tires
Radiator: Be-Cool Cross Flow
Chassis: Channeled 2-1/2" – Tubbed 2"

SPECIAL FEATURES
Hood Shaved-Cut to Allow Hood Scoop
Custom Firewall (Wheelbarrow)
A/C Lines and Wiring Hidden
Shaved Door Handles (Door Poppers)
Shaved Tail-gate Handle (Door Poppers)
Door Vent Windows Removed
Bumpers Shaved and Smoothed
Custom Brackets
Dash Shaved and Smoothed
Tach Mounted on Dash
Custom Console - Custom Gauges
Hidden Custom Control Switches
Hidden E-Brake Release
All Leather Custom Interior
Wool Carpet – Ultra Suede Headliner
Hidden Sound System
Remote CD Changer
Custom Speaker Grille
Custom A/C
Electronic Fuel Door
Custom Fabricated 30 Gal. Gas Tank
With Recessed Spare Tire Storage
Custom Grill
Drop Down License Plate
Dual Batteries
Custom Belly Pans with Louvers


Scroll through the photos using the arrows, make full screen using the expanding option in the top right