May 2011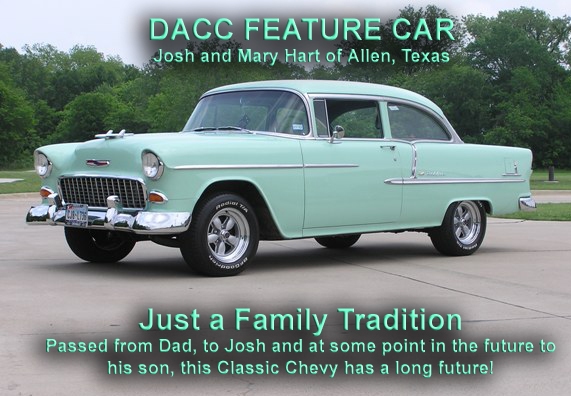 I always wanted a '55 Chevy. Well, at least ever since my dad bought his Bel Air in 1991.
When I was 13, I went with my dad on a business trip to Norman, OK. We found a 1955 Bel Air with only 51,000 original miles that had been stored in a barn for 18 years. The paint and interior were faded, but the car drove great. My dad purchased the car for $5,500 that he borrowed from my grandfather, and we drove it all the way home to Euless, TX.
For the next 16 years, it was my dad's car. He only drove the car on special occasions, and put less than 2,000 additional miles on it. He made some minor mechanical repairs here and there, but the car always ran and drove great. He had the car repainted and the interior redone in the mid-1990s, but made no real modifications to the original car.
In August 2007, my dad decided to pass the car on to me. I was really excited, and immediately started thinking about all of the improvements, modifications and upgrades I wanted to make.
My dad was on the way to deliver the car, but mechanical and electrical problems surfaced. At the time, my dad smoked cigars. When he pushed the cigarette lighter in to light his cigar, smoke began pouring from the dash. The wiring was original, and the only way to describe it was "crispy." He managed to prevent the car from catching on fire, but just then, the water pump froze up. He had the car towed to a shop, where it sat for a couple of months waiting for a water pump pulley.
Finally, in October 2007, the '55 made its way to my home. The wiring still needed to be replaced, but it was MY car. I started the wiring in early 2008, and made significant progress, but life got in the way and the car sat for a few years. During that time, my wife and I had our first child.
Since my son was born in January 2010, I have completed the wiring, installed a rebuilt 283 and TH350 transmission, and cleaned up the engine compartment. I have to give credit where credit is due; Barry Wilson and Bryan Greenfield at Wilson Auto Repair did most of the work.
The car is slated for a disc brake conversion real soon, with the help of the DACC WRENCHES group. I will soon be adding seat belts to my car. Eventually, I would like to add power steering and a tilt steering column to the car.
I really enjoy driving my '55 Chevy at least once a week, if not more. And I plan to pass it down to my son just like my dad did for me.
Josh & Mary Hart
Allen, Texas
Scroll through the photos using the arrows, make full screen using the expanding option in the top right