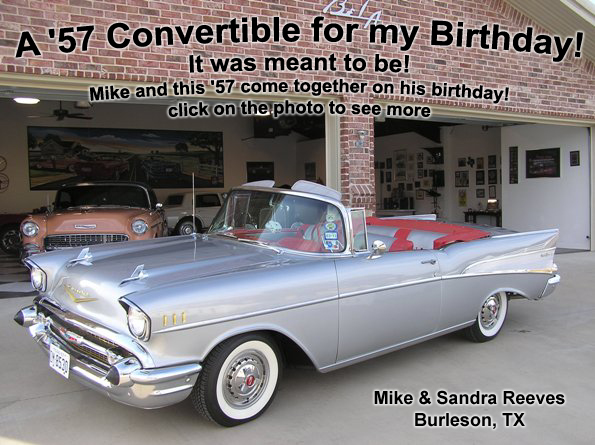 The year was 2007, Nov. 7th (my birthday). I wasn't really looking to buy a car that day. As many of you may know I have my own company called Reeves & Associates. My company has many customers in the Houston area and on several occasions I had visited a company called Corvettes & Classics there in Houston. I had just finished visiting a customer which just happened to be near Corvettes & Classics so I thought I would go by there to check out what cars they had for sell as I had done many times before.
I walked into the showroom of Corvettes & Classics and there it was - a 1957 Chevy all original convertible. The car was beautiful and I spent at least an hour just looking it over. I crawled under the car and I could tell it was a recent restoration. The car has a 283 4 barrel power pack motor with a powerglide transmission. The car had a new top and a new interior and it was laser straight!
The '57 had a price on the windshield, which was about what a Barrett-Jackson car would go for. I popped off to the General Manager of Corvettes & Classics that I would give him $20,000 less than what he asking. I figured he would not even consider what I had just offered, but I guess he needed to move some cars and to my disbelief he accepted my offer. Now what was I going to do? I then asked him if I could drive the car and he did. The car seemed to be ok except for the bias ply tires. He also offered to deliver the car to my home in Burleson at no extra charge.
This car also pleased my wife Sandra because on many occasions she has told me her favorite car from the 50's is the 1957 Chevy. So I really wanted to get this car for her plus our anniversary was Nov. 8th and that way I would surprise her with her favorite car and I would be forever her knight in Shining Armor!
But what if I had offered $25,000 less he might have taken that too! Oh well I made him an offer and I kept my word by buying the car. Many times in life we buy expensive things and we wish we had not. The day after I bought the car I still felt good about it!
Since I bought the car I replaced the bias tires and Powerglide transmission. I also added a sway bar, disk brakes, rear view mirrors and satellite radio. I must say the car always wins at car shows and I get great admiration from people who see it.
My next car that I would like to buy is a 1956 Chevy Hardtop and I am going to retrofit it with a LS engine & six speed transmission. Then I will have the Tri Five Collection for all to see. One of the most fun things I have done with this '57 Chevy is to drive it to Arkansas with the DACC a couple of years ago for the Fall Foliage Tour.
Scroll through the photos using the arrows, make full screen using the expanding option in the top right