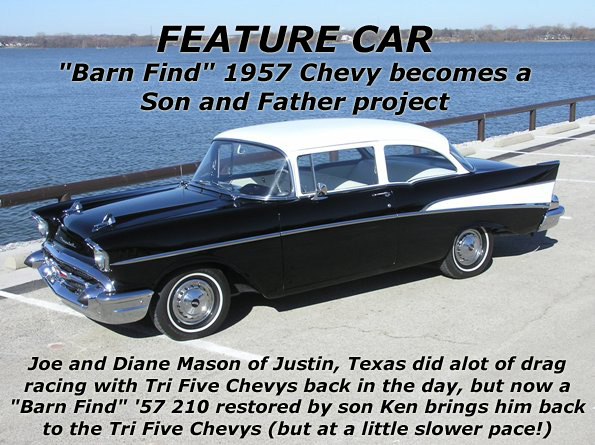 At the age of 16 my first experience behind the wheel of a car was in my father's 1957 Chevrolet. It was a 210 4 door sedan , 6 cylinder with a standard shift.
Starting in the late 60's I started drag racing tri-5's. The first was a 1955 Chevy with the stock 265 V8 engine. During my drag racing time, I had at least 10 different 55's and 57's that I raced at different tracks around Texas including Green Valley, S&N Dragway (now Texas Raceway), Forest Hill and Dallas International just to name a few. I had several different types of '55 and '57's in those early years including hardtops, business coupes, sedans, and wagons. Like most of us I wish I still had many of them today. I held national records in IHRA, AHRA, and NHRA at one time in a '57. We made drag racing a family affair as I got my ex-wife and son driving, and we later transitioned from Tri-5's to first generation Camaros and then to dragsters / roadsters. Along the way I also had a successful campaign driving an '49 Anglia, winning driver of the year in 1976 at Green Valley Raceway.
After drag racing for 40 years I gave up the sport due to heart attacks. What better pastime could I have now than to buy a '57 Chevy and start back to where it all began!
My son Ken and I began looking for a car and soon found a '57 Chevy 210 2 door sedan with a 6 cylinder and power glide with 67,000 original miles. The man we purchased the car from told us the very interesting story of this vehicle. It was purchased by his grandparents as a high school graduation present for his mother. She drove it through college and gave it back to her father when she married and had a son. They barn stored the '57 for 16 years then got it out, cleaned it up and gave it to the son. He never gained interest in the car and they decided to sell. This car was truly a single family owned car prior to us buying it from him last year.
We had the chrome redone, straightened and re-polished the stainless steel, stripped the car down, repainted inside and out and replaced a few parts. We now have a 'new' old car. It rides and drives like new. My son Kenneth did all the work of restoring it. We looked forward to enjoying it now, showing, and getting back into the car scene as we spent the past few years with Harley's. My son is also is in the process of restoring a '67 RS Camaro for his wife and he has already built a street rod Anglia. Truly the circle of life, and it is still a family affair!
We made a few shows in 2010 but in 2011, we plan to get out to many more shows. Hope to see you there!
Scroll through the photos using the arrows, make full screen using the expanding option in the top right