February 2011 Feature Car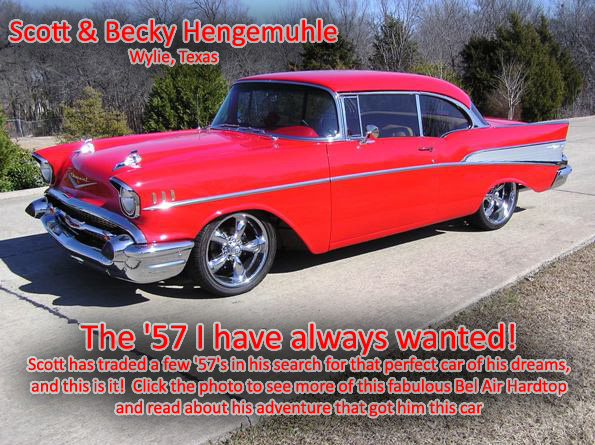 I bought my first '57 Bel Air in 2004, a 2-door Sedan. It was somewhat of a "Resto-Mod" style Tri Five. The color was the original Sierra Gold/Adobe Beige with a Chevy 350 Fuel Injected motor mated to a 700R-4 transmission with power steering/brakes, A/C, and Torque Thrust Wheels. It was a real fun car and I never had any problems with it. I kept it a few years and then, for some reason I sold it to guy in California.. I made some money on the sale, but I found myself missing my '57.
So I started looking again and I found an all original '57 in South Carolina. It was a pretty car with the wide whitewalls and a beautiful Colonial Cream paint job. Under the hood was the 283 "Power Pack" motor with a PowerGlide transmission, dual exhaust, and some minor options. However the car had been sitting up for some time before I got it and the gas turned to jelly and the fuel system needed repair. I had the repairs done and decided it left a bad taste in my mouth and decided to sell it. Once again, I made a little money but once again I was missing my '57!
A few months had passed and I started my search again. This time I had my eyes set on a convertible. There is just something about a '57 convertible!!! I found a gentleman selling one in Michigan so I had an inspector make the trip to view the car. The report was A+ and it was a documented car from a Barrett-Jackson auction from a few years back. It was a beautiful Tropical Turquoise with a white rag top -just immaculate!!! It looked just like club member Dean Schmidt's car; except it was a convertible and completely original. And speaking of Dean's car, that is one sweet ride! I kept the convertible for a few years, but being an original '57, it had its "quirks". The original PowerGlide tranny liked to "burp" every so often, and there would be a mess underneath to clean. But the fun part – it was a convertible, and I had to "drop the top" and cruise! It was a lot of fun. And the family loved it. It certainly brought a lot of attention. However, dropping a '57 top is not as easy as 1-2-3, especially a power top. You must take the time to do it right so that you don't get any rips or creases. I was always nervous about putting the top down, and for good reason. The last time I put it down it "pinched" just a little and a tear started. Needless to say, I was MAD! Not sure who or what I was upset with, but I was disgusted; such a beautiful car, now with a tear. Eventually I sold the car to another gentleman in California. I told him about the tear and he didn't have a problem with it. Once again, I made some money selling the car but again I had no '57!
I was determined to find THE '57 for me. I finally found it down in Waco, a fully restored resto-rod '57 2-door hardtop. I changed the wheels and the suspension a little and there isn't too much original with this car. It is a beautiful color, Viper Red and has a Chevy ZZ4 crate motor with a 700R-4 tranny and a "Saturday Night Special" shift kit that goes with a 4.10 rear end, power steering/brakes, A/C, leather interior and more chrome than you can shake a stick at! I have FINALLY found the '57 for me! It will be displayed in this year's Dallas Autorama at the DACC club display.
Scroll through the photos using the arrows, make full screen using the expanding option in the top right