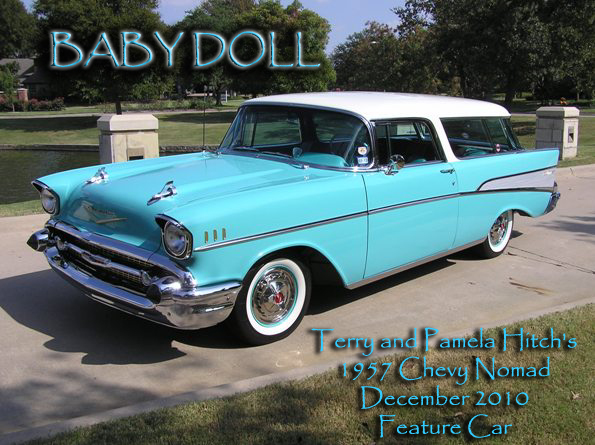 My interest in Nomads began in the late 60s when I was in the US Air Force, stationed at Langley Air Force Base in Newport News, Virginia. A friend was already a collector, he had a 55 and a 57, he would say "Hitch, you need to get a Nomad, they will be worth a lot someday." Never forgot that advice and never lost my interest in Nomads, but it did take me until May of 2008 to finally attain a precious Nomad.
First, as indicated by the VIN # VC57L206265 this Nomad was the last, or one of the very last (Tri Five) Nomad's to come off the LA assemble line in Aug. of 1957. It spent its life in Southern California until it was purchased from a Classic Car Dealer in Ramona, California in late July of 2000 by Charlie Hermansen. Charlie had it shipped to his home in Bend Oregon and immediately recognized that it needed a complete body off frame restoration and chose American Automotive in Bend Oregon to perform a rotisserie restoration. Charlie began the restoration in Sept. 2000 and wrote the first two large checks. Unfortunately, Charlie very suddenly pass on to what's next in Dec. of 2000 and the project was delayed until Feb. 2001 when Charlie's wife Linda and son Todd restarted the job. Lynda continued to fund the project in honor of Charlie, and Todd took over the management of the restoration working day to day with American Automotive. The Nomad was taken completely apart and put on a rotisserie. On 11-05 the Beautiful Tropical Turquoise Nomad was finished better than when it came off the assemble line in LA in Aug. 1957, Linda appropriately named this beautiful Nomad "Baby Doll."
Fast forward to April of 2008, I had just retired from Eastman Kodak after 34 years of corporate life and lots of corporate travel and at last serious about finding a Nomad. While surfing through eBay and the Nomad listings there was "Baby Doll" in all her glory and only 2,050 miles since the every nut and bolt restoration. Of course, I knew that this was my Nomad and the bidding and negotiations began and finished in May of 2008. This great piece of rolling automotive art was delivered to its new home in Southlake, Texas in early June. Linda included lots of restoration pictures and the bundle of restoration receipts was tied up in a pink and white ribbon.
Since then this unique Nomad has been to many car shows and many special occasion events. With still only 3,200 miles since restoration its better than new, and on October 3, 2010 won the "Good Guys Pick" award at the Goodguys Lone Star Nationals. This was a humbling honor.
Please see the following specs:
This Nomad was the last 1957 or one of the very last (Tri Five) Nomads to come off the GM Manufacturing line in Los Angles, California (as per GM records)
(VIN VC57 L 206265) August 1957
Only 6,103, 1957 Nomads were manufactured
Planning & Restoration Management by:
Charlie & Lynda Hermansen & Todd Asevedo - Bend Oregon
Rotisserie Restored by:
American Automotive - Oldedays - Bend Oregon
Engine:
GM Crate 350/330
Carburetor:
Edelbrook Series 1413 Four Barrel
Transmission:
350 Turbo Hydromantic
Paint & Body:
JR Auto Body, Tropical Turquoise
Upholstery by:
Jack's Upholstery
Glass by:
Classic Auto Glass
Mechanical:
Roger Staggs Group
Exhaust & Transmission:
Custom Flow Master Exhaust & Transmission
Tires:
Coker Classics P185/75R14
Restoration started in 2000, Complete 2005
Scroll through the photos using the arrows, make full screen using the expanding option in the top right