October 2010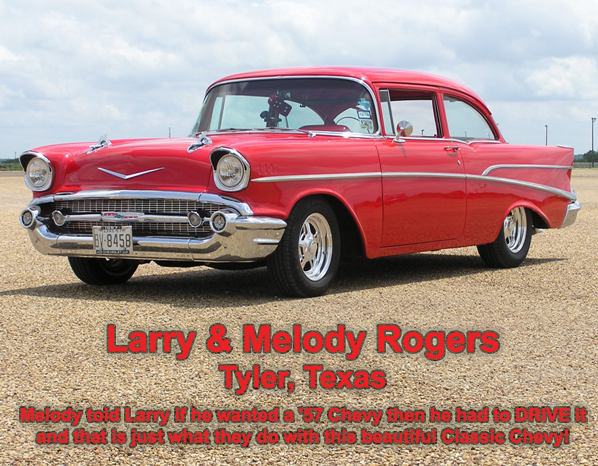 As a young kid that was born in the late 40ís I remember the days when I would have never thought one day I would have a Ď57 Chevy as a hobby type vehicle.

I lived in Port Arthur, Texas. Daddy would say Jefferson County, the armpit of Texas because we had many rotten smelling oil & chemical refineries in the area. When I was in the sixth grade I was spending summer vacations in Comfort, Texas. An aunt & uncle had a lodge there and I worked moving rocks, mowing, bailing square bales of hay and helped clean cabins. Iíll never forget there was a guy that hung out there; we had a good swimming hole at the river that ran across the property. He had a 1954 Plymouth, four door sedan. That car had chrome dummy spotlights, dual antennas, flipper hub caps and all kinds of shinny trim that he polished all the time. I think he had put dual mirrors on it one day and came out and I said something about them. It was then that he told me whenever I got a car to be sure to put all the stainless & chrome on it I could, that would make it run faster!

Mother and Daddy went through the depression. Daddy worked at the refinery which was owned by Gulf Oil and the Texaco Company and mother worked at the courthouse as a county clerk. Saving money at the bank and credit union was a major deal for them to do with each paycheck. Daddy bought Plymouthís back then. I remember a 1954 Plymouth, then a couple years later he had a 1957 Plymouth Fury, push button transmission and it was red & white. It sure would run! After having the Ď57 Fury a couple years he traded for a 1959 Rambler four door, then another couple of years we stepped up to a Rambler station wagon. Daddy didnít do mechanical work on the cars but he had wax, window wax, tire cleaner, interior cleaner (he believed in keeping a car clean). I take that back he did work on cars but they were model cars. He must have had thirty or forty model cars that he had put together and painted. He was so good with that small brush he could paint the bolts on the wheels and the door handles on the inside of the car. Model Aís and Tís, even the horse drawn fire fighting wagons. He loved to work on his cars.

I remember being fifteen or sixteen years old and becoming so much smarter than my parents. I knew Daddy did not know what he was talking about when he said I would need a higher education so I wouldnít end up working shift work in a refinery like he had to do. I needed out of his house so I could work and hurry up and get married and start a family, I had a plan. Gas stations and dredge boats were the only jobs I could get and with an early marriage then the next thing on the way was the first child. It was the Vietnam era, so about 1965 I went into the Army so that I would have some benefits and Uncle Sam could help pay for the first child. Vehicle ownership was a fifty dollar 1949 Ford. Once out of the Army I was working at the shipyard and was the proud owner of a fifty dollar 1955 Chevrolet truck. At this time I was buying a house, three bedrooms (another child on the way) with a seventy-five dollar a month note and that included an escrow account that paid the taxes and insurance.

I had a neighbor that had a garage behind his house and he was always working on cars. I started going down there when I was off work to hang out and help work on cars. We were going to the other side of town (as it was called back then) and finding Ď55ĖĎ57 Chevys and buying them for $75.00. We didnít have a trailer back then so we used a chain to get them back home. Once in the garage or driveway we went to work doing a tune-up, working on the carburetor, starter, whatever it took so they would be running. Next step was to get out our five gallon bucket of paint and put a bright shinny coat of enamel on the Chevy. Next step we became car salesman, Ď55-Ď57 Chevys - $295.00 CASH! Being the big businessmen like we were we stepped up to the plate and spent about $200.00 and bought a Ď55 Nomad, I donít remember how much it brought but I think it was $600.00.

I left Port Arthur and started working in construction, as a union carpenter in Baton Rouge, LA working on IH-10 where I bought a brand new Chevy II. Then I went back to Texas and bought a brand new VW, four on the floor, black rubber mats, no a/c, $1995.00. I had a family - wife, 1 boy, 3 girls, each one about a year apart. They were all at the house in Port Arthur and I was working in Channelview, TX and only went home on the weekends. Now itís the mid 70ís and I have a 1968 Chevy Caprice. Then the wife and I divorce, I get the children and we are set up in Baytown, Texas. I work shift work and with that baby sitters donít stay long with a shift work schedule, Iím sure it wasnít the childrenís fault (they are little Angles).

I meet my wife Melody and she becomes the babysitter for the children (and father!). The Chevy isnít doing very good so Melody and I go to one of those Ďtote the noteí car lots and get us a Dodge for somewhere around one thousand dollars, we are on a roll now! Now Iím working for Brown & Root in Deer Park, Texas at Shell Oil. We are working four ten hour days at over 100 feet up in the air building boilers. I told Melody there had to be a better way to making a living after I spent that last winter over one hundred feet in the air all winter. So I took a construction job and we move to South Carolina. When we get there, Melody & I get married. I then get a job with World Finance as a loan officer. Our son Harld Rogers II is born but on the night of December 25th he dies of SIDS, (Sudden Infant Syndrome). I went to work as a Police Officer stayed in Mullins, SC and after awhile Melody wanted out of that area because of our son. World Finance wanted to expand their operations in Texas so we got back together and they offered all kinds of things if I would transfer to Texas and take over an office. (I would have paid them!).

We get to Tyler, Texas in 1982 and I manage the office for awhile and then the office moves up to one of the best offices in Texas for World Finance. We had bought a house on Front Street in Tyler and I bought a Ď56 Chevy to fix up. I found out I didnít really want a project that big, so I put it out front Ďfor saleí. The í56 had been for sale about a month with no luck so one day while we were doing yard work I went over to the car with a marker with Melody hollering at me across the yard Ďdonít drop the priceí - I raised the price up two hundred dollars. That Sunday night a fisherman from Houston that had been out on Lake Palestine knocked on the door, we talked and he paid me and that project was gone.

We started going to some local car shows and rod runs and after one of those outings Melody asked if I wanted a car, I said YES. So she said letís get a car under one condition, that we drive the car that we get. We started buying Chevy trucks for our transportation and then Suburbanís and Tahoeís. We are Chevy folks! We bought a Ď48 Chevy Fleetmaster, then a Ď47 Chevy, then a Ď31 Chevy over a period of time. The Ď48 we traded it off, the Ď31 was sold, and the Ď47 we put a 350/290 HP crate motor, 350 Trans, Mustang front end, console, bucket seats Ė the works. We had the Ď47 Chevy about 10 years and put a bunch of miles on it. But I became burned out on the Ď47 and I wanted it gone.

I had been looking about a month at a Ď57 Chevy. I hit the person up for a trade and we made a deal - I brought my new Ď57 home! The Ď57 was three on the tree, 283 and no a/c when we got it. I thought back to those 57ís for $75.00 in the 60ís & 70ís and they didnít have a/c or auto transmissions so I could drive this one just fine. I had only driven it around the local area and it wasnít bad and I found it to be a comfortable car. I take off for a car show in Kemah down near Galveston. Let me tell you, on the way back I am sitting in the front seat driving and the sweat is coming off me in buckets! I said when I got back there would be air on that car!

Well, we put the Vintage Air Gen IV Servo unit in the Ď57. Now the 283 just doesnít have the get-up after putting the air in and Melody is saying go ahead and put an automatic transmission in there. Well, one thing led to another, if I change the trans to the Phoenix, then I need to change the column, if Iím changing that then I might as well put that 350/330 HP GM crate motor, then if Iím doing that I need the best Walker radiator and with that I need 100 amp alternator, and with that the Ď57 needs the Classic gauges, with all that I need to upsize my battery cables and put one of those good batteries in there, with all this I might as well put LED tail lights & third brake lights in. There will be more additions because I donít think you ever finish with one of these cars!

Daddy didnít think much about that refinery shift work job, Daddy has been gone for awhile now and mother is over ninety years old and she is still using those benefits Daddy built up and still has money in the bank from Daddy putting in over twenty years at the plant. The closest he ever came to having a classic car was doing his models. When I am going down the road in my í57 sometimes I just wish he would have lived a little longer in my life so I could have driven him around, I can just see him going down the road in the í57 with a big grin!!

Scroll through the photos using the arrows, make full screen using the expanding option in the top right