September 2010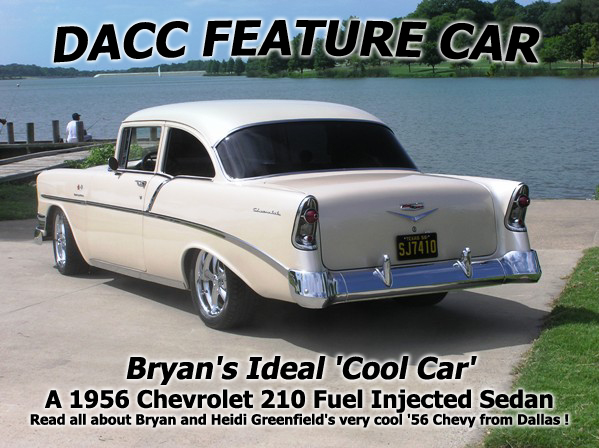 I was 14 living in California when I found an ad for a '56 Volkswagon rag top. I went and looked at it, bought it, and had it towed to my home without my parents knowing. I was the only kid in middle school with a car. I ran home every day to work on it. It was a body-off custom restoration. At that time, my dad and I were doing a body-off on a '57 T-Bird. When I turned 16 it was done. At that time in California you had to have a bug.

My dad helped me restore the car and gave me all of the knowledge of the ins and outs of just about everything (not just cars). When I thought something was junk or broken he would show me how to fix it. I guess you could say, he has long been somebody I can look up to. Mom, thank you for putting up with all the cars (and there were a lot of them... 40+!).

I lived in California until I was 34 then I moved to Texas to follow my beautiful wife Heidi, a move I don't regret. I had always had old cars; it's just in my blood. Some notable were: a '56 Chevy truck in my early 20's which was a Good Guys show winner, the '56 bug, and a VW bus that my wife helped me build which was featured in a magazine. I wish I still had them.

I am 38 now, but when I moved to Dallas four years ago I said "no more cars". That lasted less than six months. I bought a '56 Porsche Speedster - Yes 1956 seems to be my year - I worked on this car (new motor, etc) then found out I was too tall and too hot (not me, the car) to drive in Dallas. I sold it and bought a new Porsche Carrera convertible, but it wasn't as cool as I thought.

After working for dealerships for 15+ years I found Wilson Auto Repair about a year and a half ago. I quickly got the bug for an old cool car again. Then I said to myself "what should I get". We see a lot of cool cars at work, but to me the coolest was the '56 Chevy. I knew I didn't want to do another complete restoration, so the hunt was on for something nice that I could tweak. When I found the right car, I started tweaking it - more than I ever wanted to do. But I'm still working on it. I guess it will never be done, but hey, that's what I like doing. Barry, my boss at Wilson Auto Repair, has been great about letting me polish and fabricate parts for the car.

My awesome wife and I have really enjoyed being a part of Dallas Area Classic Chevys. We have gone to the Reliable shows and even entered the car in the 50th Dallas Autorama with the club display. Recently we went on the club's poker run and it was a really great time.

That taught me one thing: get out and enjoy your car!
Bryan & Heidi Greenfield
Dallas
Scroll through the photos using the arrows, make full screen using the expanding option in the top right