June 2010 DACC Feature Car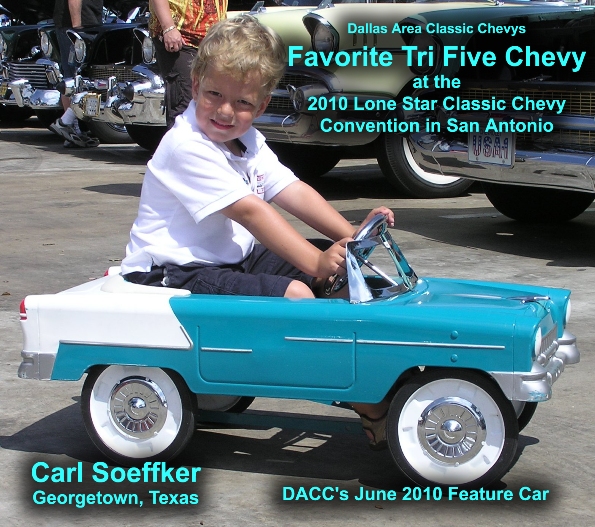 My 1955 Chevy Convertible Pedal Car
Howdy! My name is Carl Soeffker and my car won this yearís Dallas Area Classic Chevys ĎFavorite Tri Five Chevyí award at the 28th Lone Star Convention in San Antonio. Iím a member of the Austin based Central Texas Classic Chevy Club, my Chevy is an original 1955 turquoise and white 2 door Chevy Bel Air convertible and - oh yes Ė Iím 4 years old and my Chevy is a pedal car.
I was born in Germany, waaay back in 2005. Back in those days, there was no Facebook or YouTube, you could not choose your internet speed and not all cell phones had cameras. Hard times. In the year 1 BC ( ďBefore CarlĒ ) my parents traded in a couple of their Harleyís for a 1957 Chevy Bel Air, knowing that it would be difficult to ride with a baby. Even though my Dadís from Germany and my Mumís from England, they have always loved America and everything American and spent most of their vacations traveling around the US, so they immediately fell in love with their Chevy. Itís a 4 door sedan, original 283 engine with original power pack and TH350 transmission, Edelbrock Carburetor and manifold, electronic ignition, power brakes, power steering and a vintage air conditioning system. They put in seat belts and a baby seat and drove it proudly around Germany stopping off at Classic Car events on the weekends. Just before I made my appearance, Dad was browsing through a catalog looking for parts he needed to fix up his Chevy and he came across my pedal car that almost looked the same. He couldnít find a 57 so he ordered the 55 which was shipped from America to Germany - back in those days, it took almost 6 weeks to arrive! He kept it for me until I was old enough to reach the pedals, which was about 3 years ago now Ė yes, me and my Chevy go way back. Around the time I first started to cruise, my parents also had the chance to relocate to America so it was only natural that our Chevys would go with us. So now both Chevys are home again where they belong and we as a family drive the í57 to car shows and meet-ups most weekends. My 55 is always in the trunk, ready to ride. When I was 1 year old, my Dad and I started a toy business Ė Carl & Me (www.CarlAndMe.com). We import all of our cool wooden toys from Germany, Austria and Switzerland and Iím the Vice President of Product Testing which means I also get to choose some of the toys I want to sell. So I contacted the manufacturers of my pedal car and put them in my store Ėso now other kids my age can have their own classic car too!
Thanks to all for picking my car, the plaque is hanging over my bed and Iím the proudest owner ever because I donít think Iíll be able to fit in my car soon. Iíll have a word with my parents about upgrading to a model with an engine and Iíll show it to you all at next yearís convention in Dallas!
Kind regards
Carl
Scroll through the photos using the arrows, make full screen using the expanding option in the top right