May 2010 DACC Feature Car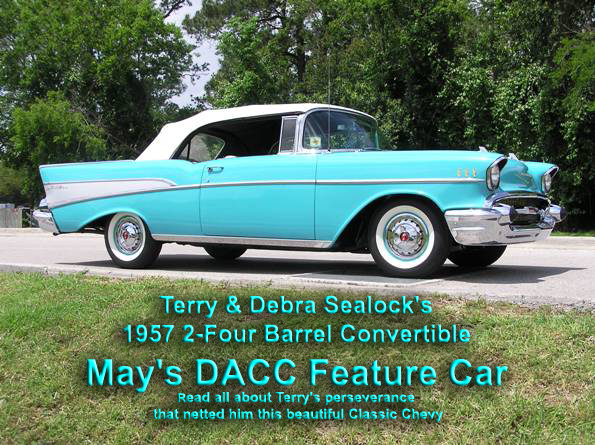 Fourth time's a charm
For Terry Sealock from Lucas, Texas perseverance yields a 1957 Convertible 245 HP with 2x4s!
My love affair with cars is older than the one I enjoy with my wife – in fact, I have four cars still in my possession that celebrate anniversaries with me that are older than my beloved marriage anniversary. I hail from a small town in Northern Kansas named Smith Center which was a great, safe place to grow up given you're literally in the middle of nowhere with lots of flat, straight roads that were used often as drag strips. My Dad ran an auto repair shop with mom as the bookkeeper; therefore, I was introduced to the car as not only transportation but the means to which our family had income. The shop also enabled me access to a variety of cars that would come in for repair which also lead sometimes to ownership. This was the case for my first car, a 1940 Ford 2 door from the original owner that I paid a grand sum of $40. This same car is with me to this day.
Through high school the '40 Ford served me well until I saw a jet black 1956 Chevrolet two door hardtop rolling around town. Now that was a car that even then was perceived as a true classic. The only problem was the guy who owned the car was relocating to Denver CO and would not need the future services of my Dad's auto repair – my "in" toward obtaining critical information prior to making a deal. After a few months this person brings the car back to Kansas and mentions it is for sale. I go out to look at it and discover it is now orange pearl white with one brown fender, not the black beauty I remembered but after he told me the price of $125, I jumped on it and made the buy. The Bel Air originally came with a V-8, 3-speed manual transmission, and padded dash but that did not stop me from upgrading the power plant with a 348 and 427 over the years. As I mentioned earlier the long straight-aways in Kansas where notorious for serving as high speed test areas and ended up to be the doom for a 1967 L68 equipped Corvette Coupe. The crash ejected the big block and tranny from the car and once the investigation cleared with the insurance company I had that 427/400HP Tri-Power in the '56 Heavy Chevy along with 4 speed and a straight axle. The 427 "mystery motor" had everyone wanting to look under the hood so I had to fabricate a chain lock to keep the peepers away. To this day the anti-tamper system, the car and the engine are still in my garage. My son upon reaching 16 drove this car every day to high school for two years – what a blast he had! The car, too, is still in my possession and now has a 283 as we are saving the 427 for later years.
A few more Chevys came and went out of my possession to include a couple of Tri-Five Handyman station wagons, a 1970 Corvette and 72 Chevelle. One of the Handyman wagons was rescued from a farm tree line and provided my transportation in college. The Corvette was an after college present to myself and was useful in snagging my first date with my future wife.
The year is 1984, by now I was through my enlistment in the US Air Force and out of college and working in Wichita KS when an acquaintance listed for sale a 1957 Chevrolet Convertible in the paper. I knew the person selling the car as one that would flip cars so was hesitant on even looking at the car given he'd likely not budge on price. Couple weeks go by and the temptation overcame me. I drove by his place to spy on the car and absolutely loved what I saw. This prompted me to go to him and discuss what he had and where it came from. Turns out the car came from a pharmacist in Hutchinson KS who purchased the car off a car lot in Phoenix AZ. I called the previous owner and he related that in the 4 years he had owned the car the battery was replaced and he had driven it in a couple parades. So far, so good.
At this time my wife and I had two small children and I was at ends on how to come up with the money to buy the car. After a couple more weeks I made a 3rd trip to look at the car, this time the owner said "just take it home and look it over"… That I did and to my amazement, this car still had the original brown primer on the bottom side of the floor boards. I had never seen that before, a birthmark of a true survivor. So after a several weeks of negotiations with the wife, one day she said "if you want the car, just go get it". That was my open gate and somehow we cobbled up enough money. The 4th trip was the clincher; I drove it home for good
The car came home and was found to be complete and totally original with 43,500 miles showing on the speedometer. I have managed to restore the under hood items, motor, transmission, front end, rear end and all new electrical wiring. The 1960's lacquer paint and upholstery have never been touched since I have owed the car the car. All the original bolts were even replated and reused under the hood, among other items.
The car sports today the original color combination of Tropical Turquoise (code 799), turquoise and ivory imitation leather interior (code 680), and a white soft top. Of the 48,068 Convertibles to roll off the line this one is VC57F251815 and was built in the Flint MI Chevrolet production facility. The speedometer reads 53,700miles today. Desirable factory options include the venerable 245 HP with 2x4's, automatic, and a vacuum ashtray. A new top is awaiting installation along with repainting the top bows, new tack strips and window rubbers.
My dad is 94 and still lives in that same small town in Kansas and I owe all the knowledge about working on cars to him. He was a professional type person, and the job had to be done right to earn his respect. Back in the early 50's he was Certified Packard mechanic and machinist. He has owned a 1947 Deluxe Clipper Packard since 1950, and I have revived it back to running order and would you believe it still has the original paint and only 79,000 miles.
All the work that has been done to the 57, I was able to accomplish and it has been a blast to have a car of this caliber over the past 26 years.
Scroll through the photos using the arrows, make full screen using the expanding option in the top right