April 2010 DACC Feature Car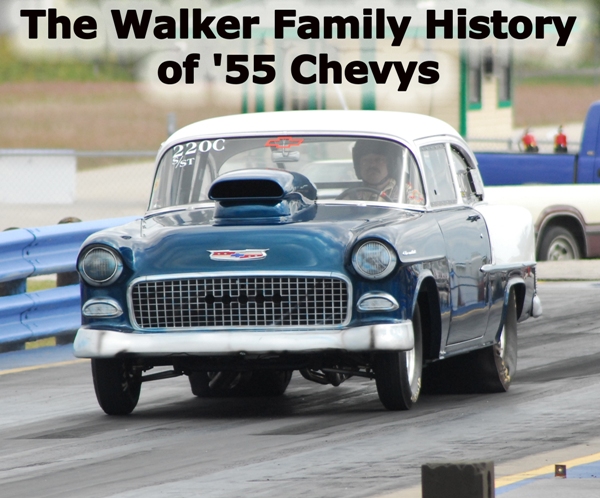 Billy and Billie Walker's '55 Drag Car driven by son William
Seagoville, Texas
In my life I have owed 3 1955 Chevy Bel Air Chevys. I have had many trucks and cars throughout my years but when it came down to it, if I had to pick one car on this earth to die owning, would be a '55 Bel Air.
The very first car I bought back in 1965 was a '55 red and white hardtop Bel Air with a 6 cylinder power glide. It drove like a dream until my wife tried to get a Dairy Queen to move out of the way while she was learning how to drive. So after a solid year of ownership, it was gone. And I then had to settle for a '55 210 2 door sedan. My wife and I bought that car for 50 dollars and it lasted about 4 years.
About 1976 I got a phone call from my brother David, who then proceeds to inform me that his boss had driven his 1971 T-top Corvette into the ocean the night before while intoxicated. After telling me the story is when he told me that his boss wanted to sell it. So 500 dollars later and a towing chain my wife and I towed our watered down 71' Corvette, in the 29 degree weather, all the way back to the house from Bridge City, Texas. Finally home and out of the cold, I began taking off parts to see if it was salvageable. Before I got far with that project, a fellow made me an offer for the Vette. He was willing to trade an original 1955 Chevy Bel Air turquoise and white hardtop. So we swapped and still to this day I believe I got the better end of the deal!
A year later I decided to take the original motor out. Then it sat in the backyard for a good 15 years. I replaced the original engine with a 400 small block, changed the 3 speed transmission to a 4 speed and changed the rear over to a Dana 360 Chrysler with a 4:56 gear ratio. It became a drag car which we raced for about 10 years before being parked. It sat for 10 years and in those 10 years we had that original motor tapped and we found out that it wasn't really an original motor after all. It wasn't a '55 265 but a '57 283. So today we have finally returned the engine to the car that was in it when traded. Come to find out the person who owned it in 1955 blew the motor and that's how it ended up with the 283.
Many generations have ridden in the car now, and it has taken on one of the most memorable road trips a car could ever take. In 2000, my wife and I took our 2 granddaughters, 2 nieces and the old '55 on a road trip that took us through New Mexico, Arizona, Nevada, and California. When we hit Lake Isabella, California, I stopped and fueled up the Bel Air then my wife, granddaughters, and nieces drove it, with water bottles in hand, through Death Valley where you could hear nothing but the rumbling of the car and hair wiping in the wind. They drove it all the way to Beatty, Nevada. It was an amazing feeling getting to share the old cars wonder with my granddaughters and nieces.
In February 2009 I once again got another phone call from my ex-brother-in-law, Jimmy Nickels, offering to sell me his '55 Bel Air. He made me an offer on the car I couldn't refuse so my wife and I once again went and pulled the money out of our savings to buy another Bel Air! Jimmy originally bought the car back in 1995 in Nashville, Tennessee and the car was built and raced in the World's Fastest Street Car Competition. The motor was a 427 with a 2 speed powerglide, air shift, and all the electronics to go with it. Jimmy changed it to a 540 and raced it about 4 years until his health got the best of him. So he parked it for quite a few years before he made the decision to sell it. After he sold it to me, my son William and I did our first test and tune run in the car in March 2009 at Texas Raceway in Kennedale. Everything went fantastic. Its next appearance was opening night at Dallas Raceway in Crandall. Our first run our ET was a 5.38, but a roller rocker broke at the launch. Since then William and I have changed the motor to a 468 2 speed powerglide and plan on racing it with the club at selective races, and we had the '55 in the DACC display at the 50th Dallas Autorama this past February.
I will own these 2 great cars for the rest of my days. It's an amazing feeling when a car brings family together the way mine has. Getting the opportunity to share my passion with my kids, grand kids, and now my first great-grand son is priceless. These cars will stay with my family along with all the great memories we share with these cars.
I would like to say thanks to the Dallas Area Classic Chevys for all the work it does and for bringing together all these great cars and people who share the same passion.
Scroll through the photos using the arrows, make full screen using the expanding option in the top right