Dallas Area Classic Chevys
Feature Car
March 2010
Ray & Vala Langford's '57 Bel Air Hardtop
Howe, Texas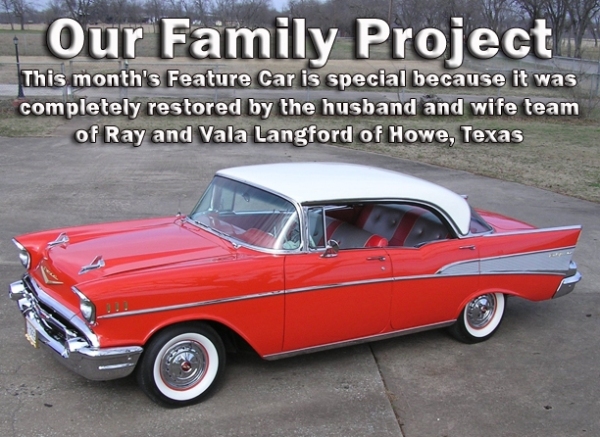 My love affair with cars started in like with so many of you – in high school. While in college my first new car was a dream come true, a beautiful 1957 Chevrolet 210. Sadly, it was sold to answer the US Army's call. This fascination with '57's was eventually put on hold due to family and career. In 1984 a friend offered me his projects: one 4-door Hardtop and two 4-door Sedans: all '57 Chevys! Wow I was excited to get back to my automotive roots! The hardtop was restored for a daily driver and was featured in Classic Chevy magazine in July of 1991.

In 1995 we sold our family business of 25 years and this brought about a conservative attitude, which led to the selling of our Classic '57 Chevy. In less than a week, my '57 had a new home. Withdrawal pains began immediately...

Six months later, with my wife's participation, we began the restoration of another 1957 4-door Hardtop that we had purchased and stored in 1987. It was a rust-free, 283 power pack, automatic, with factory power steering and power brakes, deluxe clock and radio with an original rear speaker. The complete disassembly and assembly was done by the two of us. Motor and transmission rebuild was done by professionals. My wife did all the cad plating and wiring. The stainless restoration was my winter project. The original deluxe clock was restored and installed. Some of the many new parts used are front and rear springs, all the parts in the brakes, all front end parts, all door and window handles, windshield, side glass, all chrome parts, aluminum inserts, power steering and power brake exchange parts, four-core radiator, headliner and carpet. The Matador Red and India Ivory colors were taken from the cowl tag. The seats and door panels were rebuilt and covered by Custom Trim of Sherman, Texas. For two and a half years, we worked restoring it to near original as possible.

Now our "57 is shown often in many local shows, mostly north of Dallas. It has won two Best of Show Awards, several first place awards and a People's Choice.
It is driven to all club meetings, cruises and shows.
Scroll through the photos using the arrows, make full screen using the expanding option in the top right