Dallas Area Classic Chevys
Feature Car
February 2010
Michael Brown's 1955 Bel Air Hardtop
Arlington, Texas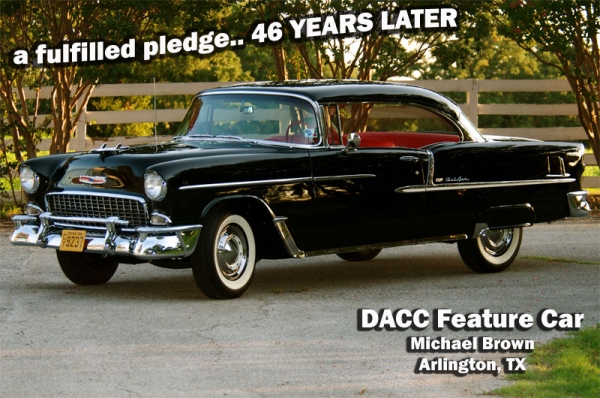 I turned 16 during late fall of 1961 and my first car was a '46 Chevy. Regrettably, I don't have a single photo of it.
Just as well, though...it was a pretty ordinary car. And not only that, it was as old as I was! Now, I was young for a kid...but that was old for a car. It did, however, represent a certain degree of previously unavailable independence and that was no small thing.
Still, I started saving my money toward a trade up, and before long, I was able to accomplish that. Staying with Chevrolet was a given, and I jumped forward six model years to a 1952 Chevy two door coupe. Again, nothing remarkable about its appearance but at least I'd moved into the next decade of automotive design.
Knowing my desire to keep trading up, my Dad came home one day and told me he'd just seen a car he thought I'd be interested in. He described it in great detail...a white over turquoise '55 Chevy two door Bel Air hardtop with a 283 V-8 engine...a new offering for 1955 by Chevrolet. That all new power plant attracted a lot of tire kickers and subsequent buyers. And then there was the style of the '55. It leapt light years ahead of the '54 and represented an answer from designers to the challenge of a couple of years before from GM management...pull out all the stops and see what you can do.
All of what Dad had told me about his '55 find was good news.
The bad news was that the car he was telling me about had been wrecked and was sitting in a neighbor's front yard with significant front end damage. That would have deterred most people from even considering a purchase. But it just so happened that my Dad was an auto mechanic who owned a salvage yard. Replacement fenders and other parts presented no problem...he had several acres of cars from which to cannibalize. But there was one other thing...the frame had been bent and he was not equipped to handle that.
I bought the car anyway and we found someone who claimed to specialize in bent frames. I'll shorten the story to say we restored the car and brought it back to its former showroom brilliance. The frame however, was never right after that and a new set of tires I bought were ground down to the cord within months. But that '55 Bel Air looked beautiful, and I never forgot it.
So much so, that I vowed to one day own another '55 Bel Air two door hardtop. I ultimately fulfilled that pledge to myself 46 years later.
I found its replacement in northwestern Arkansas, not too far from the Missouri border. It was solid black with a red interior...a fairly uncommon color combination. It had recently been the recipient of a total frame-off restoration, and sported a 283 cu. in. V8 with a factory three speed manual transmission and column shift. Though I now own a small collection of Corvettes, all of which have floor shift, it had been many, many years since I had driven a column shift. It all came back to me in a rush though and now, driving my 'new' '55 Bel Air is one of my favorite things to do. I had it shipped to Texas from Arkansas and when it was backed off the covered transport, it needed nothing but a driver, and I was eager to fill that role. I still am.
I'm also a collector who is pretty much a 'stock' car kind of guy. My cars, including the '55 Bel Air, all are either original or restored to appear that way. I made one concession to that, however. The little '55 V8 purred like a kitten, but it needed some...character. (Not the term I would use if I were telling this to a bunch of guys in a bar, but a term I should use here). I added some glass packs to the dual exhaust and now it sounds just about right.
As every Tri-Fiver knows, 1955 opened the flood gates for a new era of design, engineering and class for Chevrolet. And several decades after those flood gates were opened, I'm once again glad to have 'gotten my feet wet' with a '55 classic.
And I'm also pleased to say, the frame on it is arrow straight.
Scroll through the photos using the arrows, make full screen using the expanding option in the top right