Dallas Area Classic Chevys
Feature Car
December 2009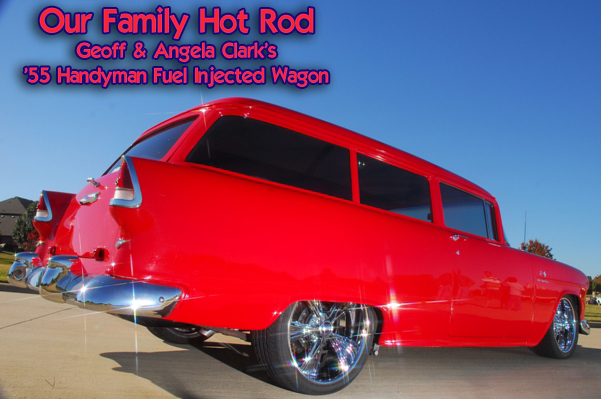 The question was asked of when did I first love Tri-Fives? Well, let me think - given I was likely consummated in the back seat of a 1956 Two Door Post I'd have to say since inception. Further, the love of cars, Bow Ties to be exact, was an aspiration and trait carefully passed down from my car crazy parents. No, Dad was not part of the automotive industry but just a car nut that raced H Stock in the late 50s and early 60s. Our family often traded for cars several times during the year and as such ran up a total not many other people on the block understood – last count Mom and Dad have had one hundred forty seven cars in their lifetime, including seventy eight Corvettes.
Growing up with many great classic cars in the family did have a few fringe benefits. I never had to look far to find a car to impress that special date. I can't recall the names of girls I went to the prom but can tell you every car I drove. Like my senior prom I drove a 1962 Corvette, Tuxedo Black with Red interior, 327 with optional 340HP, four speed, and 4:56 posi-track rear end. Personal transportation while growing up included several muscle cars including a 1972 Pontiac Grand Prix with 455 and 1969 Camaro in high school followed by a 1973 Camaro in college. Since I left home we've owned several Corvettes to include a 1968, 1989, and 2001.
Given my sons were starting to fight over "who rode with Dad in the Corvette" my wife declared we should get a family fun car. Well, this made some sense so I started pondering the idea of something other than a fiberglass car. The initial pick was to restore a 1961 GM car (Buick Invicta, Chevy Impala, or Pontiac Bonneville) – in other words, a bubble top. Low and slow would be the theme so equipped with the power of the internet off we went on our search. After doing research all over the nation for some time, I was starting to get discouraged. Finally my son asked me "Dad, what was your first car and what did it look like"? Well, the first car I had was a 1955 Bel Air, India Ivory and Harvest Gold exterior with Light/Dark Green interior, 265 V8 with 3 speed on the tree with chrome reverse wheels. I input the search information into eBay to pull up 1955 cars and the first car to pop up was the Handyman.
We weren't looking originally for a station wagon…but what could epitomize a more fitting family hot rod? The more I showed my son the car the more I got excited. I finally decided to contact the owner and learn more about the car. The owner needed to free up some cash in order to buy some land in Missouri and so was motivated with a decent cash offer. My four year old was so excited about the new addition that he decided to fly up to St Louis with me to take delivery of the car. We ended up making a three day road trip on the return and stopped over in Branson to take in a show (you gotta see the Baldknobbers). Everywhere we went people would stop and question the car – "did they really make a two door station wagon?, did fuel injection get offered in 1955?, I remember having a 1955…". We really validated there are some great ole soles out on the road having talked to many people, posed for pictures with them, and just talked about cars with chrome. It was a great trip.
The research on this cars revealed that it was originally built in the Los Angeles factory and delivered Neptune Green, green interior, and six cylinder engine with manual three speed. The car spent most of its life in the LA area until it was restored by a hot rod shop in Riverside a few years ago. The restoration was very close to my plans that I had drawn up for the still elusive bubble top so I suppose it's another reason why we decided to move on this one. The paint is PPG PR-4 "Really Really Red" on a completely stock and uncut body, frame, and floor. It's powered by GM Crate Ram Jet 350 complete with Hooker ceramic coated headers and three inch stainless steel exhaust. A TH350 with B&M shift kit along with 3:55 Strange Engineering gears with limited slip differential complete the power train. The stance is accomplished by two inch dropped spindles on the front, three inch lowering blocks on the back, and a set of Randy Coy's C-56 wheels (18x8 front, 20x9 back). Power steering and power disk brakes aid with drivability while engine and oil coolers help with reliability.
The Boys and I have had a great time with the car thus far and really enjoy hitting the local car shows. We traveled to Ark City KS in the car in September '09 to take part in The Last Run car show – over 800 cars showed up. Our plans for 2010 are to drive (trailers are for horses) to Detroit for the venerable Woodward Dream Cruise in August – over 30,000 cars anticipated.
Lastly, would like say how much we appreciate the folks in DACC. We've been part of the club for only a short while but will have to say honestly what a great group of people. It's what a club is supposed to be all about – folks and their love of cars.
Geoff and Angela Clark
McKinney, Texas
photos by Chris Graves - MaxCacklePhotos.com