Dallas Area Classic Chevys
Feature Car
October 2009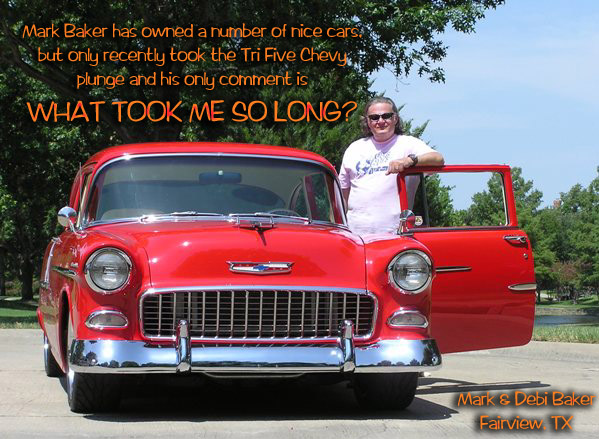 I have always loved the look of a '55 Chevy as far back as I can remember. Why it has taken me this long to own one I really do not know. Since 1999 I have owned a total of seven collector cars starting with four that I do not have anymore, a 1937 Plymouth business coupe, 1933 Ford Vickey, 1932 Ford Hi Boy (national show winner) and a 1937 Ford truck (Australian Ute) to the three that I now own, 1937 Ford Cabriolet, 1967 Ford Eleanor Mustang (one of the 11 original ones from the movie) to my red 1955 Chevy. I guess you can say that I saved the best for last!
Buying the '55 Chevy started out being a possible trade. For almost a year I had my sights on one of my best buddies '55 Chevy, Doug Pederson's Bel Air Hardtop who also belongs to Dallas Area Classic Chevy Club. I had put my 1937 Ford truck up for sale and with that sale I was to buy Doug's '55! A gentleman by the name of George Huxhold from Wisconsin saw my ad and called to see about a possible trade of a '55 Chevy for my truck but after talking to him the numbers did not work so I blew him off. He did send me a large number of pictures before that and I was very interested in the car. I let it sit about two weeks and then George called me again to see if we could come to a fair price to just buy his '55. I asked him to send pictures of every corner of the car, from underneath to door jams etc to me, which in turn I sent to my body man (Wade Faustman of Wade's Custom Rods). He also sent me the builders name so that I could ask questions which I turned that info over to Wade also. After looking at all the pictures and speaking to the builder of the 55, Wade came back to me and told me that he felt that George had about $62,000 into the car and was impressed with the build and told be that if I could get the car for $45,000 it would be a steel. He was asking $58,000 and I offered $40,000 and we finally settled on $46,000. My buddy Pete and I met him in Kansas City on 6/23/08 with my trailer. I drove the car and looked at every angle, then made the deal and off we went.
The '55 was a two owner car, now a three owner. The first owner from Florida, owned the car since it was new and sold the car to George six years ago. It was a four year build and the only thing that George kept was the body. The build includes the following, paint (bright Porsche red), interior (ultra leather with a one off back seat), engine replaced (ZZ4 with 365 horse power), 700r transmission, 605 power steering, Ididit steering column, rebuilt front end, sway bars front and rear, Aluminum cross-flow radiator, Dakota Digital dash, Foose nitrous wheels (chrome) 18 &20's, BF Goodrich G force tires, Vintage air, all new wiring, ultra leather interior and matching trunk, new bumpers front and rear, new grill along with an engine shroud to cover the fan and wiring in the engine compartment, plus a great looking air cleaner cover with air brushed '55 hood ornament emblem. Most of the engine compartment has been chromed out. New exhaust system with dual exhausts and Magna Flow mufflers was put in for that muscle car sound. I bought the car at the end of June 2008 with only 2,900 miles on the car and after the trip to Houston for the '09 Lone Star Classic Chevy Convention I now have over 5,900 miles on her. It is a great driving car, very comfortable with a great sounding stereo!