Feature Car
September 2009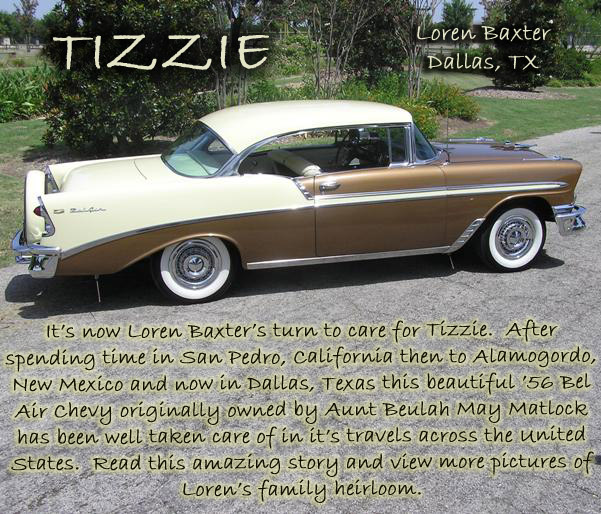 I think I am a little different than most Tri-5 owners. As a kid no one in my neighborhood owned a Tri-5 and I was never a car enthusiast. I didnít know what a Chevy Bel Air was until Tizzie came into our lives. Here is that story.

In early 1978 I was 13 years old and we were living in Alamogordo, New Mexico. One night my mom got a call from her Aunt Bea, whose husband had recently passed away, and she was no longer able to drive. She asked my mother if she still wanted the Chevy that my mom always loved. My mom said they could not afford to buy the car from her. My great aunt Beaís reply was ďDid I say anything about buying it?Ē So we packed up the truck and camper and off we went to San Pedro, California!

My great aunt, Beulah May Matlock, called the car Tizzie Lish but we just call her Tizzie. Tizzie is a 1956 Chevrolet Bel Air two-door hard top, built at the Los Angeles plant in August of that year. She has all the extra chrome on the outside including fender birds, spot light/review mirror, wire wheel covers, locking gas door and a continental kit. Under the hood she is your basic 265 with a two-barrel carburetor and two-speed Powerglide. They did give her dual exhaust but no A/C, power steering or power brakes. She came painted in Grecian Gold and Calypso Cream. The interior is a charcoal/yellow pattern cloth with cream imitation leather.

I have heard two stories about Great Aunt Bea and where she first saw the car. The first one is that she saw the car at Seaboard Motors in San Pedro, California and wanted to buy it but was told the dealership was not finished with the car yet, so she waited. With all the extras on the outside we believe the dealer was using Tizzie to help promote the last of the Ď56s before the Ď57s arrived. The other story was told to my dad by her husband who said that they saw the car on display at the county fair or the state fair and Great Aunt Bea had to have the car. Either way I have the original Dealerís Report of Sale and Application for Registration and I know she financed the loan through GMAC and drove Tizzie home on September 17, 1956. I only wish I knew how much she paid for the car.

In 1978 we arrived at Great Aunt Beaís home and I soon discovered what a Ď56 Chevy looked like and why my mother loved it. Over the next few days my dad went over the car getting it ready for the trip. I helped when needed and studied the car in great detail. I soon discovered that I could not find the gas cap. Dad chuckles and tells me to ask my great aunt. She laughs at me too and gave me one clue: look for a key slot (remember this í56 has the locking gas door). Back out to the garage I went but the only key slot I found were for the doors. Itís not behind the licenses plate because there is a spare tire there and itís not in the trunk. Around and around I went. Now Great Aunt Bea, mom and dad are standing there laughing and enjoying the show. Finally they pointed out the left tail light. I have to admit that I have my fun when I ask people to find the gas filler door.

March 22, 1978 we started our trip back to New Mexico. Tizzie has 21,090 original miles on her at that time. It was fun riding in the car and seeing the people honk and wave. She used a couple of quarts of oil but other than that it was a smooth trip home.

Once we got Tizzie home it was time to clean her up. My job was to polish the chrome. I never knew a car could have so much chrome. In 1979 Dad restored the engine compartment and got it ready for some local shows. Tizzie won many awards at the car shows and I enjoyed going when I could. In 1987 the primer was starting to show through the paint so she was repainted.

Sometime in the middle of 1990 Mom put Tizzie in a storage unit to keep her out of the elements because there was no room in the garage. That was the last time anyone saw her for 18 years. In 1995 I moved to Dallas but never forgot about Tizzie. I visit my parents every year and every so often I would ask mom if she wanted to check in on Tizzie but she always said no. I think she was afraid of what she would find like rats having eaten the interior, rust, or no car at all. In early 2008 I convinced mom to let me have the car. On March 13, 2008 Mom and Dad opened the storage unit to see what kind of condition Tizzie was in. They pull off the car cover and the worst they found was dust and 4 flat tires. They called me that night with the exciting news. We knew Tizzie would live again.

Now the planning began. Dad came up with a work list and I set out trying to find parts. This is when I really started learning about Tri-5 Chevyís. On April 12, with help from a friend, my parents went to the storage unit to load Tizzie on to a trailer and bring her back home. As mom sat in the drivers seat to steer the guys pushed. Mom soon discovered there were no brakes and the parking brake was of no help either. To moms horror there was nothing she could do as she rolled backwards (serves her right after she laughed at me for not being able to find the gas cap as a kid)! Luckily there was a curb and an empty lot behind her, so no harm done.

Dad started working on Tizzie, starting by dropping the fuel tank. Years of leaded fuel had plugged up the strainer. About two weeks later, on a Wednesday, I arrived from Dallas and the work began. The rear freeze plugs were removed on both sides to clean the rust out of the engine block. Spark plugs were removed so that an upper cylinder lube could be sprayed in. The fuel lines were cleaned out and a new fuel pump installed. The engine oil and filter were changed along with the transmission fluid. Without the spark plugs in it we spun the engine over and dad noticed the oil light went out. She had oil pressure. So far, so good.

On Thursday we were ready to fire her up but the fuel tank had not been installed since we were waiting for a filler tube o-ring. So instead we made a temporary gas tank from an oil bottle and crossed our fingers. With the fuel system primed Dad turned the key and she started right up. Both of us had a smile on our faces from ear to ear. After running a flush through the cooling system Dad replaced the radiator while I replaced the heater core. The next two days were spent rebuilding the brake system, reinstalling the fuel tank and going over the electrical system, just to name a few things.

By the weekend Tizzie was ready for a test drive. I had the honor of being behind the wheel. The first thing we noticed was the speedometer did not work and then we quickly discovered the bias ply tires, having sat flat for so long, were no longer round. But at that time we didnít care, we were cruising down the road in a Ď56 Chevy!

Soon I had to head back to Dallas and do my part by making sure the garage was ready for Tizzie when she would arrive. I had to build a shed to make room in the garage and extend the garage by three feet to make sure she could fit in there with the continental kit. Back in Alamogordo the work on Tizzie continued. I financed the work, Dad did what work he could do and Mom supervised. All rubber bushings for the control arms, steering linkage and rear springs were replaced along with the shocks. She needed new tires and I stayed with the bias ply because I think they have the correct look.

I arrived back in Alamogordo in October and the first thing we did was remove the distributer for an inspection and cleaning. After reinstalling the distributer, Tizzie never ran right. We spent a good day or more trying to figure out what went wrong. The only way she would run right was to leave the vacuum disconnected from the distributer. We took Tizzie to a Saturday car show up in the mountains at Ruidoso Downs and had a good time.

Soon it was back to Dallas for me, leaving my dad with the distributer problem. During this, Dad learned a valuable lesson one day. Do not rest your arm on the battery especially if you have a metal watch band on. His watch band shorted between the positive terminal and the battery hold down causing a bad burn on his wrist along with a new dance and a few choice words. But Dad did find the problem with the distributer. It turns out that I had the wrong size screw in the wrong place so that when the advance plate moved the condenser touched it causing it to short out. Next Tizzie had to go in to have her transmission rebuilt. I encouraged Dad to drive Tizzie and he took me up on it. Both him and mom enjoyed cruises at the Sonic with the local car club. Dad even took Tizzie to the Senior Center to let the seniors sit in her, have their picture taken and relive the past.

On April 22, 2009 I was once again back in Alamogordo, this time hoping to drive Tizzie to her new home in Dallas. One problem remained, a rear main oil seal leak that the mechanic could not fix. We picked the car up from the garage on Thursday and by Friday we knew the rear main seal was still leaking. We decided to use the weekend to think about our options and took Tizzie to a car show on Saturday. At the car show Tizzie took first place in her class along with $50! That evening it was cruising the Sonic with the local car club where some of the members said goodbye to Tizzie.

To drive Tizzie to Dallas or have her transported there, that was the question. We decided that the oil leak was not that bad and that a car should be
driven and enjoyed. So with that in mind, on Monday the 27th, at 6:30 am, with Mom in her car and Dad behind the wheel of Tizzie, with me riding shotgun, we began our trip to Dallas. This time Tizzie had 28,110 miles on her. The trip could not have been any better. She only used one quart of oil during the trip and averaged 15 mpg on the flat lands cruising a 65 mph. We all took turns driving her and I made sure Dad had the most time behind the wheel. He had put so much hard work and love into her and I wanted him to enjoy his last adventure with her. I pulled into my driveway in Dallas at 9:30 pm that night.

Now what for Tizzie? As Dad put it, he had the easy part getting her mechanically ready and was leaving the hard part for me, the cosmetic work. I will need to do another restoration of the engine compartment along with the under carriage. Time has taken its toll on the interior and it needs attention. And all that stainless steel trim needs a good polishing. Mom gave me a lot of documentation on the car as she had almost all the vehicle registrations starting from when the car was new. She also had almost every receipt for parts bought and any services done on the car while she owned her.

I canít thank my parents enough for all that they have done for me. Mom for giving me the car along with her advice and research she has done. Dad for his hard work in getting Tizzie running. He called it a labor of love. One day when I am no longer able to drive I will pass Tizzie along to someone in my family. But until then itís my turn to enjoy Tizzie.