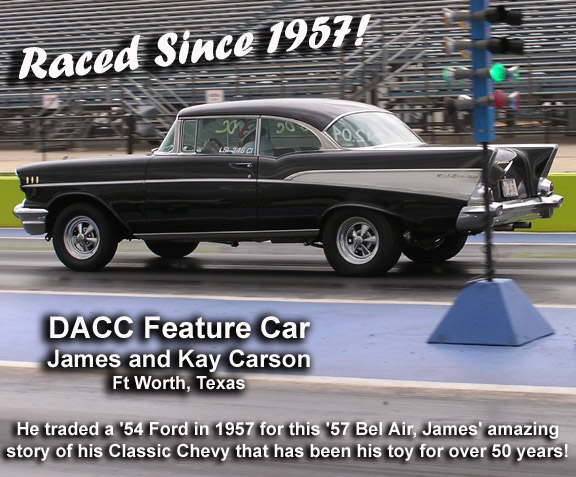 In 1957 I traded a '54 Ford Crestliner and $1200 for this '57 Bel 2 door hardtop, black with a black/silver interior along with a 270 HP 2 four barrel set up, 3 speed tranny and 3.55 single track rear end. This was in February of 1957 and the only drag strip open that time of the year was Yello Belly Drag Strip (the oldest operating drag strip in the country). The car ran 16 seconds flat at 90 MPH crossing the finish line in second gear. This was our family car until 1960 when we purchased a 1959 station wagon. The '57 was raced often and as I could I saved money and bought speed parts for the '57. First headers, then cam, floor shifter, 4.56 gears etc. When the 283 threw a rod it was replaced with a 292 cubic inch motor, then a 327, next a 355 and I raced the '57 at long closed drag strips in the area like Richland Hills Drag Strip, Forest Hills Drag Strip, Green Valley Raceway, Temple Drag Strip and Cedar Hill Drag Strip. I ran 27-32 times a year through 1995 when I parked the car for 10 years when electronics took over.

Then in September 2004 I had LNJ Street Rods (Larry Sanders) put in a '99 LS1 from a wrecked Corvette, all aluminum motor with a 4L60E tranny, rack and pinion power steering, power disc brakes, tilt steering, 12 gallon fuel cell, Aeromotive fuel pump, long tube stainless steel headers, Comp cam, ported heads, Cal Trac traction bars, 3.73 gear and Eaton Posi Trac, Moser axles, Mickey Thompson street radials, 2 transmission oil coolers and twin K&N air filters. I thought I would be satisfied with 7.90 ET's in the eighth mile. The quickest I had gone with the 355 small block, 4 speed, 5.86 gear was 7.64 in the eighth mile and 11.59 in the quarter mile. The car ran 8.03 first time out and finally I got it down to 7.90's after tuning the car on a dyno.

A year went by and the oil pressure showed zero at idel and about twenty five at maximum. The motor must have run upside down in the wrecked Corvette I got it from and starved the bearings. So I got a Lingenfelter long block, forged rods and pistons, APP bolts and was balanced. One year after that I had Extreme Horsepower (Arvil Fowler) put in a larger Comp cam, Stage 2 heads, larger injectors, 90mm throttle body and on the chassis dyno I got 383 rear wheel horsepower. Still I had oil pressure issues and so I pulled the motor and the bearings had to much clearance from the builder. Extreme Horsepower rebuilt the motor and now the car has run a best of 7.51 in the eighth mile with 1.60 sixty foot time. In 2007 I won the Texas Muscle Car Club Challenge event in the King Muscle class at Texas Raceway in Kennedale.

The car has the original paint and interior except for carpet and I had the front seat recovered in the original style material. My '57 has all the original chrome and it is just my clean daily driver/racer. But with me having it set up for racing (solid motor mounts, 5.86 rear gear with a spool) it is not street friendly.

I always wanted a hot rod to drive on the street and take to the drags and race. My wife told me to sell the '57 and buy a street rod – UNTHINKABLE! A buddy took me for a ride in his Z06 Corvette with 405 HP, 6 speed, 3.42 gears and 355 street tires, shifting at 6200 rpm. We went from zero to 100 and stopped all within a quarter mile. Of course the Vette only weighs 3150 lbs and my '57 weighs 3600 minus driver. I told my friend that I knew what I was going to do – Buy a Vette! He said NO, put the running gear of a Vette in my '57 and I would have the best of both worlds!

UPDATE – at the first Texas Muscle Car Club Challenge event for '09 in Kennedale my '57 ran back to back 7.48's!