June 2009 Feature 'Truck'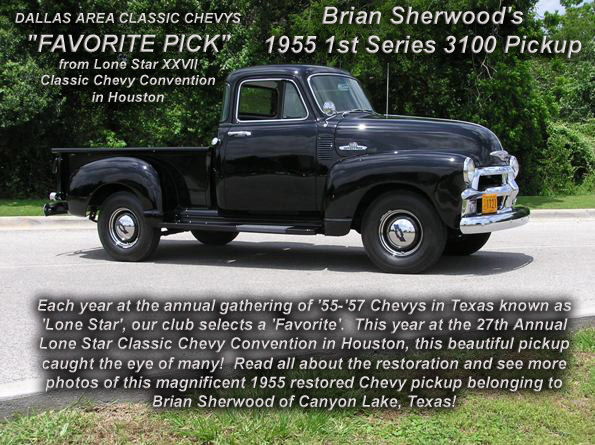 Hello - my name is Brian Sherwood and I am 39 year old lineman from Canyon Lake, Texas. My 1955 1st series 3100 all original truck started as a 'POS', as my wife called it. But luckily I could see potential. I meet a guy named Jerry, who by the way was introduce to me by my wife and I only mention this information for 'evidence' purposes, as SHE STARTED THIS! Jerry had about 100 different old cars, trucks and alot of corvettes which he didn't want to part with. He had some very interesting things but I was new to all of this restoration stuff so I started to Google everything about every car he had and come to find out the early Chevy trucks were said to be a good starter restoration project because of there simplicity. So I had to make the deal and Jerry and I talked and talked. I didn't even have a shop yet, but I would worry about that later! So I work a deal out with him to work off the price of the truck by helping him. I decided I would start building my own shop in my spare time for this project. I had gone to a auto mechanics school right out of high school and had done some back yard body work before, so I figured I might be able to pull this off. In December of 2002 I drew up some plans for a shop – a 30x30 with a 30x25 car port in front. Well a year later I finished the shop and then in early 2004 I brought the 'carcass' home. This is where my wife's 'POS' comment comes into play! I pushed my pride and joy into my newly built garage and rolled the door down and dug in. One of the ways I work the price of the truck down was to scrap some of the trucks Jerry had that had good parts. After stripping three '47-'54 trucks to the frame I had a good idea how they came apart! So I started on my truck. From early 2004 to February of 2008 I can't tell you how many hours, long weekends and late nights were spent on my truck, nor can I tell you how much cash was spent because the drawer with all the receipts has never been added up. About 2 ½ years into the project I did close the doors for about 6 months because I was disgusted. I had a rolling running frame, a bunch of body work done, but no paint and I still couldn't drive it. So one day I decided to either crush it or finish it, and I decided to go back to work on it and this is the finished result. I had a lot of help finishing my truck from some great friends, Daniel Kraemer, David Mortenson and my father Jim Sherwood and a lot of support from the woman who started it all. In 2008 I went to 9 Shows and did pretty well with plaques and trophys - but what has meant a lot more to me have been all the compliments about the work I have done. That has made it all worth it! This hobby has some the best people in the world and I am very proud to be part of it!
Options:
Exterior - stock, color black, chrome grill, chrome bumpers, side tire carrier, opt. pass. Rear view mirror, Deluxe license bracket, Opt. Pass rear tail light, Stainless windshield trim, Stainless door trim, pine bed wood, vacuum wipers, dealer step guards, green tint glass.
Interior - stock, deluxe cab, color pulsar grey, upholstery black, original 6V radio AM, factory turn signals, rubber mat, opt. pass. Sun visor, jack, tool kit.
Motor - stock, 235 cid full pressure insert motor std bore, oil filter.
Chassis - stock, three speed trans, 3:90 rear end, bias ply tires, drum brakes, opt front sway bar.