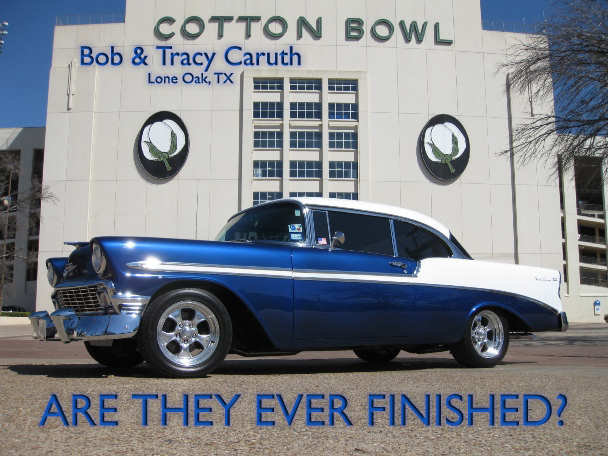 DACC FEATURE CAR
APRIL 2009
I have been a gearhead for as long as I can remember and have had many toys including a 308 Ferrari, many Corvettes, a '57 T-Bird, a couple of '64 ½ Mustangs, a '64 GTO, Cobra, Auburn, a '69 Superbird, a couple of 409's and even a couple of MGs but my two favorites have always been the '64 Chevelle and '56 Chevy. I found my Chevelle out in California in '92 and it has been in a constant state of evolution since and was finally nearing completion so I started an earnest search for a '56. My brother George has always had '57's and I thought about one of them, but not, and the '55's were too boxy so it was still a hunt for a '56. The whole time I was working on the Chevelle I had my eye out for the perfect '56, but never found the right one at the right time for the right price until July of '05. I had been half heartedly looking in Hemmings, Old Car Trader and all the other magazines until one day I was on EBay looking at some Ed Roth stuff and looked under '56 Bel Air and saw this ad for one with the right color blue and new interior (which was a major point because I didn't want to do any body work or seat recovering), all new glass, chrome, stainless etc. I called the owner and he was tired of this car and wanted a Corvette but he wanted the bidder to see the car before buying, Being a private pilot with a plane I was able to do just that. After an hour and a half flight to Berryville Arkansas, with a landing strip only 3000ft by 75ft set on top of a hill, on downwind I looked in the parking lot and saw a large crowd. Upon landing the crowd was gone but this beautiful dark blue and white car was still there. Before Rex Wisdom and I got down to the business of haggling over the pros and cons of the car, I knew I would own it before I left. We went for a test drive on the winding roads and it handled nicely, but with a 350 and TH350 and 3.55's out back I was looking for another shift and looked on the indicator to make sure I was in high gear when Rex said "Yeah it needs a higher gear ratio". That was no deal breaker and I said I'll take it if the fuzzy dice came with it and he said "they did".
Flying home I'm trying to figure out how to get it home because all I have are hay trailers and they are none too street legal but I have a neighbor who is a dirt track racer with an enclosed trailer. He wasn't racing that weekend and said he would go get it if I bought fuel for his truck and him, I agreed and two days later the car was here but no fuzzy dice, Rex's wife had kept them. When it came out of the trailer the oil pressure light came on immediately, but adding 2 quarts cured that and I drove it for two months before parts were ordered and the interior changes began.
First on the list was a new instrument cluster and all went well until we hooked up the oil pressure line. Upon starting the engine it showed 45 lbs but slowly dropped to 5 lbs, and this full of oil. We put another external gauge on it with the same results, so out comes the motor. Pulling the pan showed nothing but after taking the crank out all sorts of pretty colors showed on the main bearings, which was not good. Since a new short block was going in (ZZ4 because I wanted the forged crank) we started going a little overboard, (isn't that how it all begins) and ended up with a Crane full roller valve train, Edelbrock aluminum heads, Doug's ceramic coated headers, MSD ignition and March serpentine belt system out front and a TH700r4 out back with tubular control arms, a new rack and pinion steering and disc brakes below, all I had left from the original motor was the GM TPI on top and I had it chromed along with other select pieces. It all came together last January but the front end didn't line up right.
I had bought a trailer by this time and took the car over to Josh Ottmann who had just enough time to detail the car for the Autorama, but the front end still bothered me and after the show I left the car in the trailer and went straight to club sponsor Barry Wilson at Wilson Auto Repair and ask him to find the problem. I left the car there in the trailer and got a call two days later saying "we have to talk", never a good sign. With the car on the lift and bright lights you could see where the front had been wrecked and rewelded several times, and it had all started breaking free. Ok, no alignment is going to fix this so bite the bullet time: new frame. And if you are going to bite, take a big bite. I looked at a Morrison frame but I wanted an independent rear suspension so I called Russell at Hot Rod Jim's and ordered a new tube frame with Corvette C4 suspension front and rear with QA adjustable coil overs but with a 3.42 ratio. The first one wasn't correct so Russell built another and this one was close enough to modify. The motor mounts were too high and too far forward so those were cut off and repositioned .The rear transverse locator needed to be strengthened where it attached to the frame, but then the rear tread width was too wide for my wheels. I like my American Hopster wheels and didn't want to order new wheels with a deeper offset; so the half shafts and support rods had to be shortened 1½ inches per side for the wheels to fit in the wheelwells, and the frame needed to be notched for the headers: which Rich's Performance Muffler made a great system with his X-pipe and it sounds great. The last problem was that a wedge needed to be cut from the frame in front of the radiator support mount lowering the attachment points for the front clip. The electric windows are now finished and custom door panels are installed now all that's left to do is an alignment, come to think of it that's where this round started.
Now about that interior again……?