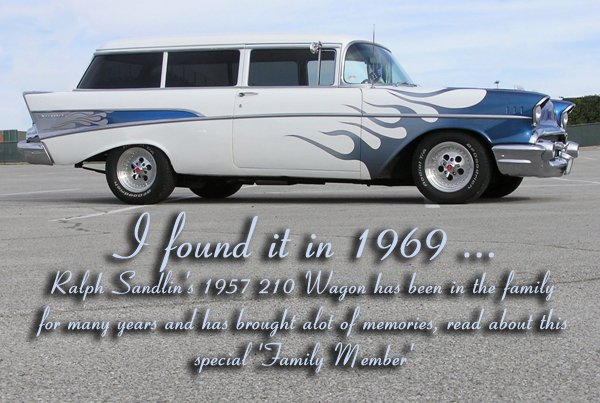 I was driving down 28th Street in Fort Worth, the year was 1969. I looked over on a used car lot and thought I saw the front of a '57 Chevy. Out of curiosity I turned around and found there were THREE '57 Chevy two door wagons! Only one ran and it was beige with a brown interior. The original 6 cylinder and 3 speed transmission were intact and the odometer showed 48,000 miles. I drove it home that day for $500.
I added corvette rally wheels and wide tires and that made the wagon really stand out. Back then in Lewisville, Dallas International Motor Speedway held several NHRA National events and my wife and I attended one. As we parked I looked around and wouldn't you know it there were 2 more '57 wagons nearby! Talk about a let down and your ego hurting! I looked back on that time and wished I had bought the other 2 wagons even though they were not running.
My wife Janice and I drove it on the weekends with the 6 cylinder in it until she broke the shifter in downtown Fort Worth on the way home from work one day. That is when I decided I wanted to change things up and go drag racing with it. I put in a V8 motor, Lakewood motor plate and turned the 6 cylinder radiator around for the V8. The motor I built was a 60 over 350 with a 4 speed. I put slicks on the new posi traction rear end and went drag racing in F/Gas at Green Valley Raceway through the 70's. We couldn't afford a trailer back then so we used a tow bar to get it to the track each weekend. We race it until the late 70's (we had a trailer by then thank goodness!). The racing life for this wagon ended when I let my wife take it by herself to the track and she twisted the rear end housing and left it at the top of the hill at Green Valley!
We parked the car for about 5 years when I started noticing how the car was deteriorating just sitting there – so it was either fix it and drive it OR sell it. So I decided to start fixing and painting it. It went from the green it was to the white with two tone blue flames and also repainted the inside. We put it back on the road with a 283 30 over along with a Turbo 400 tranny with a Camaro 3.70 rear end.
I have been going to car shows since, while my boys and wife continue to race. Funny thing is I have run into people who my wife and sons race with and it becomes a small world as we all simply love to play with our cars. This past winter I decided to change motors and used the one my son had on a stand for 10 years. So now my '57 has a home built 355 and as you might guess the rest of the family wants to take it to the track! I will stand by just in case my wife breaks something again!