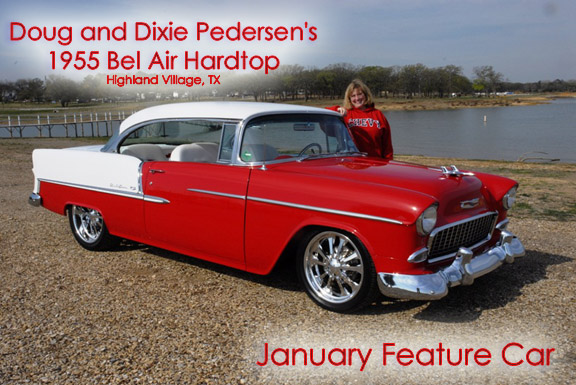 My first car was a 1955 2 door Bel Air hardtop. It was a stripped with no motor, transmission, glass, interior or rear suspension and had been abandoned. The car was ugly, full of bugs and garbage but it was the love of my life… I was only 15 years old. The car was on the road by the time I was 16 and I took my driving test in it. I owned the car all thru high school and I said I would never sell it …. but as time goes - so did the '55. I always said I would get another '55 but for some reason I never did.
Then some 35 plus years later I spotted a real nice red and white '55 for sale. I took one look at her and the wheels in my head started turning! I knew just what I wanted to do to her to make her ours, but as things go the air came out of my tires and that's as far as I went. I talked about the car for the next 16 months telling my wife Dixie how we needed to get a '55! I didn't know it at that moment, but as time went on I found out my wife wanted a '55 as much as I did. I still had the phone number of the guy who owned the '55 so I called him up … guess what … he still had the car!
Dixie and I talked about the car but the same question came up - do we need or more notable can we afford another car? (At the time we owned a '37 Ford). The air just went out of my tires again but my wife still wanted to go see the car. After looking at the car again we decided it was a really nice car but we really should wait. My birthday was two weeks later and guess what - Dixie bought the car for me!! (Well, talk about over inflated tires, I had them and they were turning). Don't let Dixie know I know, but Dixie bought the car for Dixie. She loves it!
Many of you knew the car when we got it and know the changes it has gone thru since we bought it. The car has a 383 stroker with a custom built 700R transmission, air gap 24 manifold and much, much more. The interior was done by Bob Fuller. Wheels are 20" and 17" Budnick Rockers along with dropped spindles and lowered front and rear springs. A polished tilt column along with the 500 power steering box were also installed. After adding a ton of chrome under the hood, flow master exhaust, new brake system, painted gas tank and much more the car is now how I saw it in my dreams. The dream my wife made possible…Thanks Dixie.