November 2008 DACC Car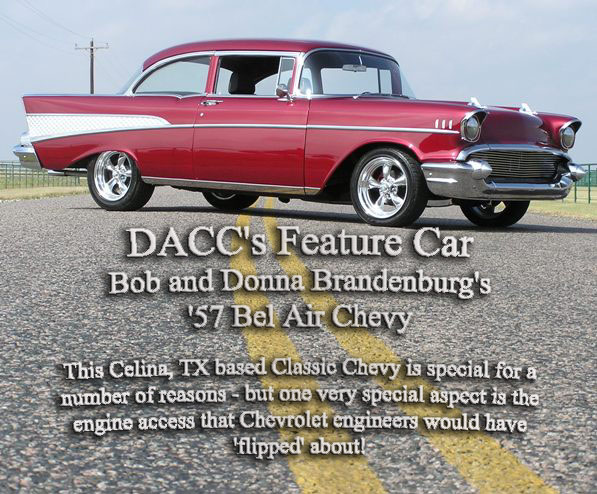 My love for cars all started back in the late 60's. One of my friends knew all about engines and another painted well so together we purchased, fixed up and sold numerous cars during our latter high school and early college years. Our "collection" contained the likes of a 64 Nova, a 69 Camaro, two 57 Chevys, a 69 GTO, a 64 Malibu and so many others I don't even remember them all. Oh, if we had only kept one or two of them!

Unfortunately, when I entered the Army in the early 70's, my hobby fell by the wayside.
It only took about 30 years for the desire to venture its way back into my blood. I started looking for a car "to tinker with" about seven years ago. I spent the better part of two years trying to find that, not-too-good, but not-too-bad, 1957 Chevy. I had actually given up the hunt and was about to purchase a new sports car when I received a call from a friend that knew I was in the market. He had seen a 57 on a street in Plano, with a 'For Sale' sign in the window. He wrote down the number and gave it to me. After a little pondering, I decided to call. When I talked to the owner, he wasn't so sure he wanted to sell the car, but given the choice by his wife to pick one 'toy', he picked the Harley. I was there by that afternoon just to look at the car. It was in pretty good condition, but with my time limited, I asked if I could return the next day. This time, I brought a friend along that also had classic car interests, for a second opinion. We studied the car, test drove it, then I wrote him a check!

I actually drove the car for about a year prior to changing anything with it, then it all started. I entered the "I want something different" phase. Not just a different color phase; I wanted something that would create that "Wow" effect. I envisioned an all metal tilt front end, but I also wanted the hood to continue to work as normal. I visited a few restoration shops and mostly received the "you want to do what" question. I finally found a shop in Plano, Collision Pro, to actually tell me they could take my vision and make it a reality. Together, we sat down and created some conceptual drawings for guidance. With only these drawings as a guideline, we worked through eight or nine different iterations of the how-to phase. We finally hit pay dirt when Paul, the owner, suggested taking it to a friend of his up the street at Keith Craft Motorsports. Keith Craft was not only able to come up with a working front end within weeks, it worked by remote control.

It was about this time that I read about, then joined the DACC club. I was pleased to meet many other car enthusiasts with the same hopes, dreams and visions for their Tri 5s. I started entering the car into some small, local car shows and did satisfactory; but the engine compartment and the paint job didn't compete well even at local shows. I went back to Rob, at Keith Craft, and we started developing a list of things we should do – and what a list! They had the car for just over a year while stripping it down to bare metal, doing the body work, removing all of the emblems, recessing the license plate, obtaining new chrome on certain parts, adding the A/C, installing the rack and pinion steering, adding bucket seats, fabricating a console, and applying the finishing touch - the incredible paint job.

I took it back on the road, dropping in to those local shows since finishing it. At the very first show, the DACC show at Reliable Chevrolet in March of '08 - we received the "Best 57" award.
Information on my 57 Chevy
• Color: 2008 Lexus 'Matador Red'
• Rims: Torq-Thrust II
o Front – 17" x 7"
o Rear – 17" x 8"
• Tires: Goodyear Eagle F1
o Front – 215/50ZR17
o Rear – 235/55 ZR17
• Gauge Cover by Pete's Fabrication
• Gauges by Auto Meter – Artic White
• Shifter by B&M Sport
Tilt Front End
• All original metal with operating hood
• Electrically operated
• Actuators: HIWI Microsystems
• Actuator Remote: Linear
• Engine - 400 ci Small Block
• Carb by Quick Fuel Technologies 780VS
• A/C by Classic Auto Air
• Rack & Pinion Steering by Ecklers
• Headers by Hedman
Restoration Work by:
• Keith Craft Motorsports
Plano, TX 75074