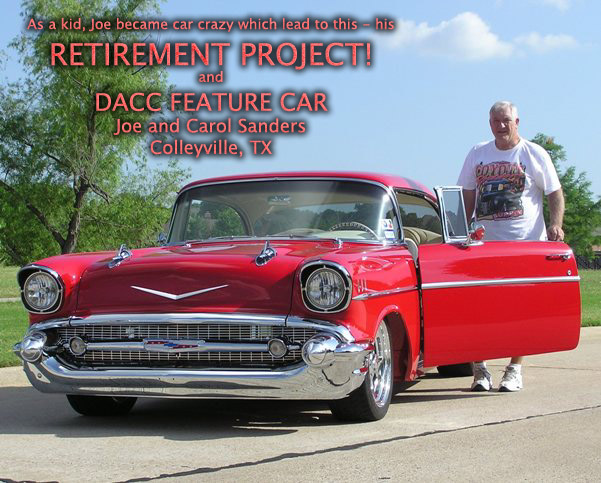 I have been car crazy since I was a little boy. It started I guess when I used to customize model cars when I was about 12 years old. I graduated from a vocational school where I learned auto body repair and I had a small body shop while in high school. I became a co-owner of a body shop for 10 years in Ohio. Later, much later in my career, I was President and co-owner of two large collision repair shops in Tarrant County. In 1997, I sold the shops to Caliber Collision Centers, and spent the next few years handling their acquisitions.
During my lifetime career involvement in or around automotive collision repair, I was very active in industry related activities. I served on the Board of Directors for ASA (Automotive Service Association) and served as Chairman of the Collision Division for 2 years. Also I was involved with I-Car (Inter-Industry Conference on Auto Collision Repair) as a national board member and served as a member and Chairman of the local Fort Worth I-CAR committee. Add to that I was involved with ASE (Automotive Service Excellence) as a board member for 7 years and Chairman of the Board in 1996, and I served with the NACE (International Autobody Conference and Exposition) as a member of advisory panel and held management training seminars, and was Chairman in '96.
Over my adult life, I have owned seven different '57 Chevys including a "D modified Production" class drag race car in 1969. Although it never broke into the 11's, it was still very fast and fun to drive. Most of the hot rodders in our club can relate.
Today, two of the '57's I built are in our club. Shortly after starting on my current 57, I sold my last one (a red 502 big block Bel Air 2 Dr Sedan) to fellow club members Ernie & Debbie Guido.

Now for my current '57 - "My Retirement Project". After building a garage/workshop beside my house, it was my time in life to go all the way with this '57. I started with one of those '57's that looked pretty good – but was loaded with rust. I figured being retired I had more time than money so I could spend all the time needed to replace rusty panels. Unfortunately the rust repair included the replacement of full floors, partial trunk floor, inner and outer rockers, new quarters and outer wheel houses and both door skins. I wanted the repairs to last, so every place I could get a replacement panel I did. It is painted with Spies Heckler paint and is Lexus "Absolutely Red". The body only has a few modifications like 'frenching' in the rear license plate frame and painting the Bel Air side trim instead of using the aluminum insert. Under the hood is a "Shaver Specialties" 600 HP big block Chevy engine. It is surrounded by all custom home built fender wells, radiator support and firewall. Inside is a FULL custom all leather interior. The touch screen radio/DVD player sets apart the interior as "one of a kind". Other features of my 57 are
• Art Morrison Chassis
• Be Cool Radiator and Condenser
• Billet Specialties Vintec Dish wheels
• Classic Auto Air
On other point of interest, my son Mark built an equally as nice '71 Camaro in my garage at the same time. It was lots of fun working on these projects together!

Oh and I recently purchased my next project car. It is a '55 Nomad. Only this one has NO RUST! My son also recently picked up '64 Nova. We hope to have them ready to show in the next year.