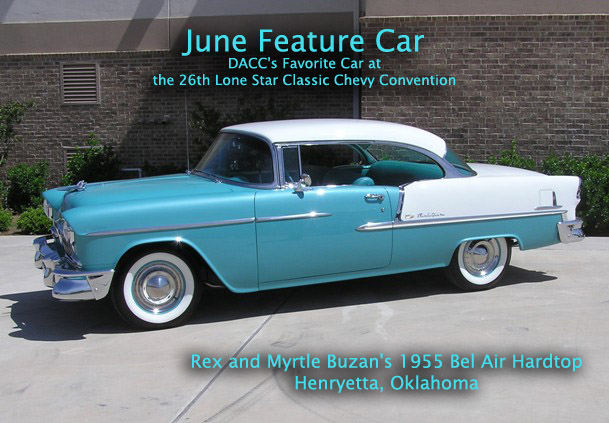 DACC's Club Choice Award at the 2008 Lone Star Classic Chevy Convention in Waco went to Rex & Myrtle Buzan of Henryetta, Oklahoma. His 1955 Turquoise and Ivory two-door hardtop is about as originally restored as you will ever find. It has "numbers-matching" 265 engine and power glide transmission. It has the original treadle-vac power brake booster, power steering, tinted windows, Wonderbar radio, but no air conditioning. It has the front grill guard and fender guards and is equipped with original-style spiral shocks. There is a great deal of attention to detail and originally. Most of the bolts and fasteners were salvaged and refurbished from the original car during restoration. Things that couldn't be restored were replaced with good ones from salvaged cars, not reproductions. This car's been some interesting places recently. It was one of 100 cars chosen to be displayed in the pavilion during the Oklahoma Centennial Celebration at Tulsa, when they dug up and displayed the 1957 Plymouth Belvadere time capsule. It was chosen as the Best 1955 at the 50th Anniversary Celebration of the 1957 Chevy in Detroit last year. Rex also won 1st at the Starbird Rod and Custom Show in Tulsa this year. Rex loves to drive his car, but generally trailers it, because he likes for his wife to go to the shows with him. Myrtle really enjoys the comfort of air conditioning, so she urged him to get their enclosed trailer, so she and the car could both be comfortable.

Rex has a true passion for 1955 hardtops. He was in the Army, when he saw a brand new 1955 Turquoise and Ivory hardtop at the Chevy dealer and fell in love forever. After his discharge in August 1955, he made a deal to buy a new one in Connecticut, just like that first one he saw. Unfortunately there was a flood before he took delivery and he witnessed his '55 floating in the showroom window. Eventually he got a new Turquoise and Ivory 1955 two-door hardtop, which he drove until a drunk driver hit the car in 1958.

Work and family diverted his attention until 1976, when his 14-year-old son was nearing driving age. Rex convinced Marshall that a '55 Chevy was the neatest car to have. They found a '55 four-door sedan with every possible option except air conditioning. But soon after buying it, they found a '55 two-door hardtop and Marshall was as crazy about it as Rex had always been. They restored it and painted it Gypsy Red and Shoreline Beige. A few years later he built another one just like it for his daughter... a dad's got to be fair! Remember this is three '55's and counting.

In late 2003 Rex was recuperating from a broken leg, minding his own business, when a neighbor found this original 1955 Turquoise and Ivory two-door sedan for sale. Rex asked the owner to hold it until he could walk again. In 2004 he began renovating the car that we saw at the Lone Star Convention. He credits Gene Shockley of Tulsa with helping him immeasurably with the details of the restoration. Also Pete Sawatzky of Stroud, OK for finding him all the parts he needed. Rex trailered the car body on a roll away frame to Gary Robbins in Virginia for the paint and body work. Meanwhile, Rex did all the rest of the work on the frame, suspension, etc. himself, including building the motor and rear end.

If you ever need to know anything about a 1955 Chevy, ask Rex!