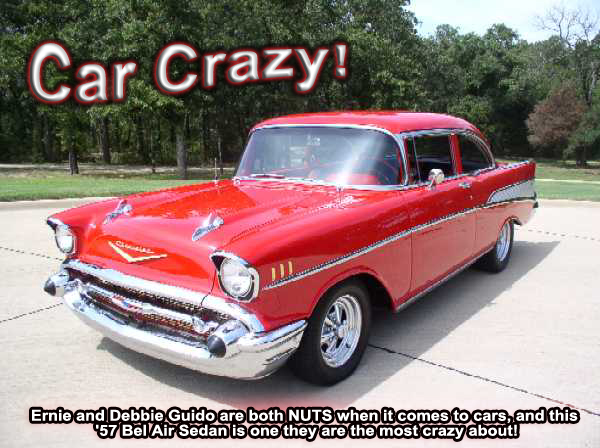 "Red '57"
The car you always remembered…
Wish you had one…
Knew someone who had one…
It all started at the age of 6 or 7 years old for Debbie and Ernie Guido. When Debbie was playing with Barbie and "Chatty Kathy" dolls, Ernie was playing with Matchbox cars and Hot Wheels. Ernie's favorite was the Red '57 Chevy.
Growing up in Chicago, his neighbor had a Red 1957 Chevy hot rod with a 283 and a tilt front end. Ernie would hang around there with all the older guys, and would dream that one day he would have a Red '57 Chevrolet. He graduated to building model cars and slot cars with the Red '57 always being his favorite.
In 1975, at the age of 16, Ernie still had "Hot Rod Fever". After driving his parents' car for the first year, he decided to buy a 1969 GTO. His parents didn't want him to have it, because of the high insurance rates, high gas prices, gas shortage and the fear of youthful speed. Ernie's godfather (Not the kind you are thinking of!) helped Ernie talk his parents into letting him buy the GTO. After one year of high insurance rates, a few speeding tickets, and expensive repairs, the GTO was sold and gone for a more practical car…
Life went on… college, getting married, career, and a son, later put all that on hold until he and Debbie, at Debbie's urging, wandered into a local car show in the summer of 2000. They went to all the shows the first year admiring all the beautiful cars and having an appreciation for all of them. Debbie started looking for cars on the internet and found one she thought Ernie might like. They bought their first Hot Rod in August of 2001, a 1970 Z/28 with a 454.
Debbie always loved cars and in her teens and 20's owned such cars as a Triumph TR7 and an MGB, which you may recall was owned by British Leyland and did not have a good reputation for being reliable. In fact, she had so many repairs on both cars that she ended up dating a mechanic!
Debbie always loved the '57 Chevrolet and always wanted one but never thought she would own one. That summer day, that first car show in 2000 fueled her passion to have a car. She mentioned to Ernie that they should buy a car … it was music to his ears… like the sound of headers and horsepower. No objections from Ernie! So the search was on!
At that time getting an awesome '57 like they wanted was out of the price range, but was always in the plan for someday in the future. In June of 2002, they found a 1932 Hi Boy Roadster. In October of 2004, a 1967 Chevelle was added to the collection. Hot Rod Fever was becoming hotter than ever for them.
The dream of the Red 57 Chevy was still there. Out of the blue a beautifully restored Red 57 Chevy presented itself for sale from a hot rodding friend in September of 2005. It was hard for their friend, Joe, to part with the car after restoring it and loving it for many years, but he was going on to do another 57 project car. The Guidos were thrilled that they were going to be the new owners: They promised that they would love it and care for it as Joe did…
Ernie and Debbie, little by little, personalized the Chevy, like changing a few things in the engine bay and a few items in the interior.
The Guidos and many fans of the car really like the fact that the exterior and interior is totally stock and includes the original steering wheel. Cragar wheels give it the old school look. Under the hood and drive train is where "old school" meets "new school" with a GM performance crate motor 502 cubic inch, 502 horsepower with 567 pounds of torque, backed up with a 700 R4 4-speed automatic with overdrive spinning 4:10 gears through a Chevy 12-bolt rear end. The 57 sounds great and is very fast but has awesome street manners.
The Guido's dreams have come true and the excitement will always be there. They say, "Hot Rodding is a wonderful hobby. The cars are part of our history and they are art that we can touch and enjoy. We have met and made some great new friends especially in our Dallas Area Classic Chevy Club. Looking into the future, Hot Rodding will always be part of our life. With our collection of cars growing to four (a black '65 Chevelle was acquired last April), We Are Car Crazy!!"
"Our Red '57 is still our favorite and is a keeper for years to come. We hope to see you at the next show or club event or see you down the road! Happy Hot Rodding!"