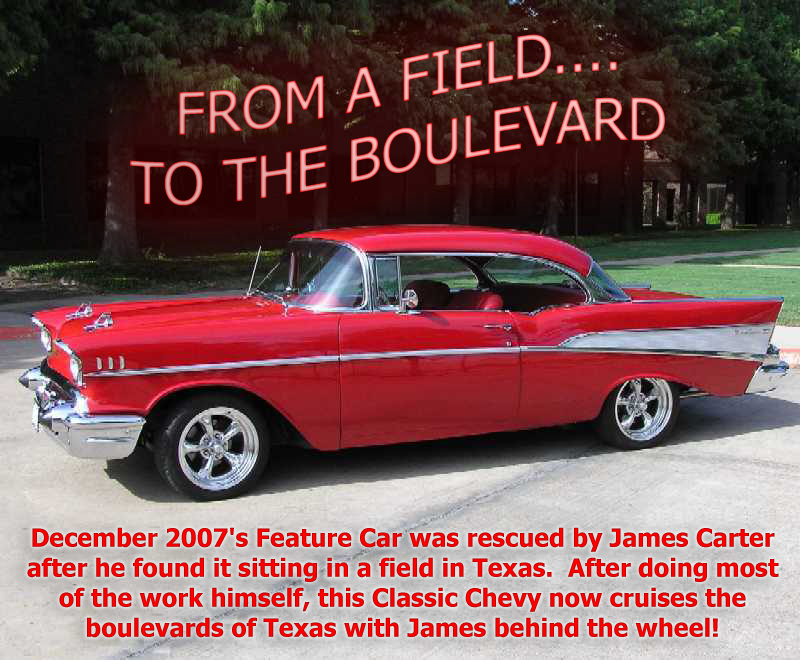 James and Denise Carter
Terrell, Texas
I started working on cars when I was just a kid, and itís been a hobby all my life. I built 1968 Camaros for each of my 3 kids when they turned 16, restored a 1968 Corvette Stingray convertible in the mid-1990ís, and worked on a lot of cars in between. But I always wanted to restore a real classic, a 1957 Chevy Bel Air 2-door hardtop. I waited until just the right opportunity came along, and that was in November 2002.
I found the frame and body on ebay one day, and it looked promising. Instead of bidding on it, I talked the guy into letting me negotiate for it over the phone, and we made a deal. The next day, I drove out to Van, Texas, and found what I was looking for sitting in the middle of a field. I brought it home on a trailer that day. Denise and all my neighbors thought Iíd lost my mind, and couldnít imagine what I was going to do with such a piece of junk! But I knew it was going to be a beauty.
I started work on it in May 2003. I had to do major sheet metal repair, changed out the rear end and installed disc brakes in the front. I put a 327 in it, and I did all the painting, Victory Red. I cleaned up and used as many parts as I could, and bought new ones when I couldnít find what I wanted anywhere else. Normally I take care of the interior work, but this time I wanted something special. I installed the carpet, dash and gauges, and built a custom console. Then I took the car to Morris Custom Upholstery and had them cover the seats, door panels and install the headliner. They did a great job. I did all the other work, and believe it or not, did it all in a 2-car garage at home, even the painting!
I took my time, and after some long waits for parts and a few delays, I finished it in 2005. I added some special touches of my own, like a cover for the spare tire, which Morris also helped with, and a compartment in the trunk to keep my cleaning supplies. Iím proud of the way my í57 turned out. We have a great time taking it out for shows and just driving it through town. We enjoy belonging to Dallas Area Classic Chevys, and appreciate the recognition weíve gotten for our classic í57.