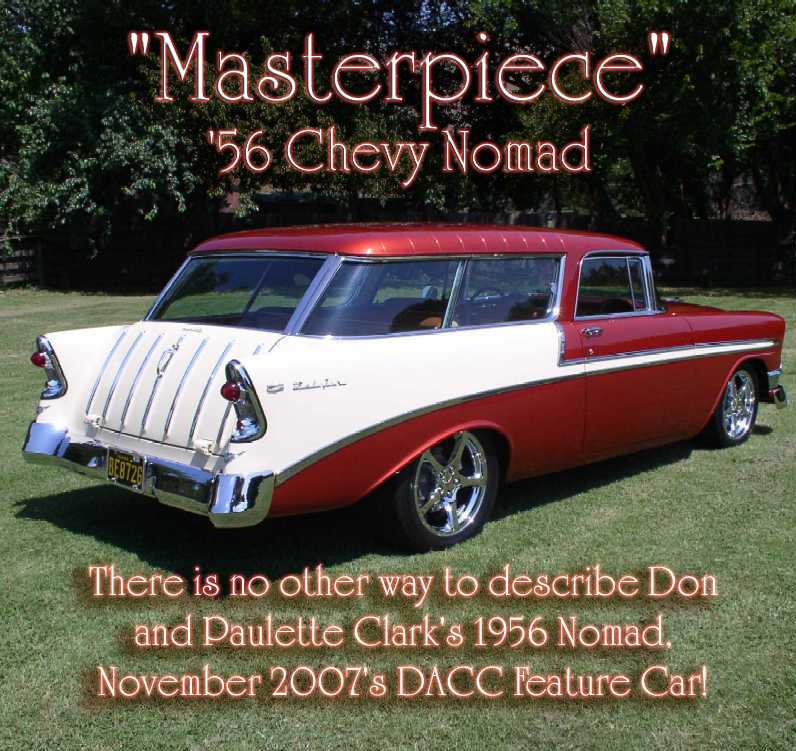 This stunning customized 1956 Nomad belonging to Don and Paulette Clark of Lucas, Texas took the 2007 Chevrolet Nomad Association convention by storm in San Antonio. It won every award for which it qualified: Best in Show Modified, Best Engine Modified Trailered, Best Interior Modified Trailered, Best Paint/Body Modified Trailered and 1st Custom Trailered Combined Class. Oops, I forgot, this Texas-owned beauty didn't win longest distance.
At first glance this car looks like a stock Sierra Gold and Adobe Beige 1956 Nomad with Bel Air trim and cool wheels. But you know there's something special... that's not Sierra Gold! The subtle but eye-catching paint color is Daytona Sunset Orange, which is a stock 2005 Corvette/HHR color.
All of the body panels, glass and exterior trim are stock, immaculate and perfect. The bumpers have the mounting bolts and bumperettes shaved off to give the car a smooth, chrome line coming and going. The wheels are replicas of stock-style 2000 Corvette chrome wheels, 17" in front and 18" in back. The tires are 245-45-17 and 295-45-18 respectively.
Look inside and you get more of the tasteful design and quality workmanship that went into the whole car. The leather interior copies the exterior colors with beige as primary. The darker color is used in a way that is reminiscent of the stock 1956 Nomad interior. Lexus power seats with the headrests removed are used in the front. Rear seat is stock configuration. The headliner is matching beige leather retained by the distinctive Nomad bows.
Vintage Air cools the car. The upholstered front seat console houses Secret Audio equipment and air conditioning ducts to cool back seat passengers. The driver enjoys an Ididit tilt steering column and custom gage package.
Raise the hood of this fantastic car and there's no hint of subtlety! Customized fuel rail cover and engine surround panels are painted the body color. Combined with the bright work on the accessories, the engine compartment gives an impression of power and sleekness. The engine surround panels and fuel rail cover were meticulously hand-crafted in mild steel. The BelAir insignia painted on the fuel rail cover gives the car a special touch .
The engine is a Chevrolet LT1 with a 4L60E transmission. The car has a Newman chassis using a one-piece stock Chevy frame and Corvette C-4 front and rear suspension.
Don Clark developed the concept of this Nomad over a lifetime. Like most of us, he became a "car guy" at about 12 years old. He recalls influencing his dad's first new-car purchase. Dad was going for a 4-door Pontiac Tempest, but Don talked him into buying a 1963 2-door Olds Cutlass! The Cutlass, "Betsy", eventually became Don's hot rod. He dated his wife Paulette in it, and he still has it in beautifully restored condition. They're still fond of cruisin' in it. Paulette says, "You can't cruise with air. People can't hear your tunes and tell you how neat your car is." ...she's a "car gal".
Don also has a weak spot for 63-67 Corvettes. Another one of Paulette's early boyfriends had a 64 Vette, and Don was determined to have one someday, too. He's very motivated by his love of cars.
After buying a 1956 Chevy 2-door sedan in 1995, he realized he really loved the look of the 1956 Nomad. After casually shopping for one for several years, he found the Nomad we see here. It was a California car with no air. It had been restored to original condition in Reno. It was driver quality and the Adobe Beige and Sierra Gold that Don and Paulette love.
In 2003, Don upgraded the Nomad with a 9" Ford rear end, an LT1 engine and 4L60E transmission. He also added coil-over shocks, which didn't improve the handling like he'd hoped. In 2005 he began the current complete restoration. He had put Newman chassis in two other cars and wanted that for the Nomad. The restoration was done by a shop in Colorado. They did all the paint and body work, married the Newman chassis, reused the LT1 engine and 4L50E transmission and created the interior.
The Nomad was in Colorado for nearly two years. The first seven months it was waiting for the Newman chassis. Don and Paulette did get to see the Nomad twice during that time. The restorer brought it with his own display to 2006 Good Guys in Fort Worth before the interior was in. Then he took it to his display at 2007 Barrett-Jackson Auction in Scottsdale, where Don got to see it almost completed.
Every restoration has its special stories. Don's lift gate had a life of its own during the restoration. Don shipped the car to Colorado, but the restorer had no experience with Nomad restoration. The restorer shipped the lift gate back for Bill Preston and Larry Myers to straighten in Oklahoma. Not happy with the chrome on the lift gate, Don had it re-chromed in Texas and sent it back to Colorado. Unfortunately the chroming process had warped the lift gate again. So it came back to Texas and Bill took it to Larry's again to straighten... just hoping he could do it without damaging the new chrome! Back again to Colorado where it fit PERFECTLY!!!