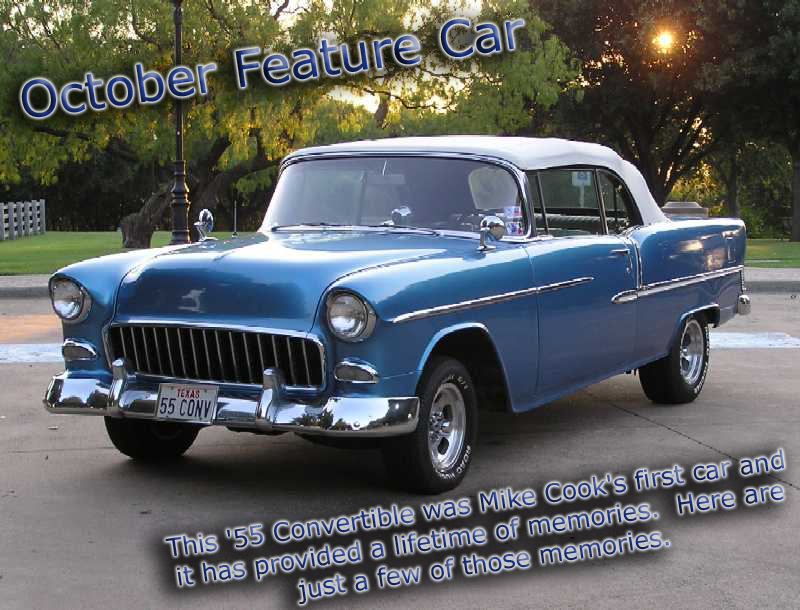 Mike Cook
Carrollton, Texas
I bought this í55 Chevy Convertible in 1966, it was my first car and has provided me a lifetime of memories. I was in high school in my home town of Fredericktown, Missouri when I found my Chevy. This car with me behind the wheel saw a lot of action in those days.
I can remember my first ride in it. It belonged to Jim Higby who got it from a salvage yard to replace the í55 convertible that he had just wrecked. It needed a lot of work. The rear springs were weak and the front shocks were shot. He put a 327 in it which was a pretty hot set up in those days because everyone else had a 265 or 283. He traded his single 4 barrel intake for a dual 4 barrel intake from a 1956 Corvette. He took me and my friend Chris Kinder for a test ride one day. When he got on it, the car squatted hard and the front end shot up. It felt like it pulled a wheelie, but it was hard to tell because the front seat wasnít bolted down and flipped over and we were on our back until we managed to upright it. I knew then that I had to have it! It sat in front of the Jimís house for months after he lost his driverís license while driving it. I finally worked a deal and bought it for $500. That doesnít sound like much, but it seemed like a lot to my Dad who did not approve of me buying this junky old car, especially considering the shape it was in. That ate up most of my savings and I didnít have much left to fix it up, but I finally had it.
When I bought it, the starter didnít always work. You had to start it by getting it rolling and popping the clutch. So I parked it on the hill next to our house. Also, I put it in reverse to keep it from rolling, because the emergency brake didnít work either. My dad would put a small brick under the front wheel to serve as a brake just in case. Right after I got it I was inside the car polishing the chrome as it was parked on the hill, when Dad wanted me to see if it would start. I put it in neutral and gave it a try. The solenoid caught, and it started right up. Then he told me that I needed to call my neighbor about mowing his yard (the going rate for yard mowing was $1 back then and I needed money for my í55). I shut off the car and ran into the house. Well, the car nearly beat me there. It jumped the brick, ran down the hill, and smashed in the side of Dadís í64 Chevy station wagon. I had forgotten to put it in gear. If his station wagon hadnít been there, my car would have crashed into the stone wall down by the creek. Well, Dad was pretty mad because he had just had his car fixed after I had driven too close to the guard rail of the ticket booth of the drive-in and creased the whole side.
The gas gauge and speedometer didnít work either. You had to use your best guess when it came to knowing when to get gas. Brakes seemed to be an option so downshifting was essential. I still remember the sound of metal on metal as I drove the hilly roads in Missouri.
Another feature of the car was the $9 shift linkage from J. C. Whitney. You could screw in different sizes and shapes of shift handles but unfortunately it didnít work as well as it looked. I spent many times under the car trying to get the transmission out of first gear. That was until one Christmas I got a heavy duty Fenton shifter that solved my problems. Santa is good.
I rebuilt the front suspension with a 3/8Ē drive socket set, and a leaky hydraulic jack in true shade tree fashion. I raised the front of the car with some twist in spring raisers and the rear with homemade rear shackles. I ran chrome scavenger pipes that stopped in front of the rear end, until they were outlawed. Then I swapped them for a pair of glass packs and tail pipes along with some big chrome dump shots. They looked cool, but I was afraid to drive with them open.
I covered the seats with white roll and pleat seat covers. I installed a tiny 9Ē steering wheel for a while and it worked okay on the road, but parallel parking was impossible. I didnít have a radio so I bought a powerful 8-track stereo from a classmate and mounted it under the front seat. That was the hot setup. Come to think of it, the stereo probably was hot (stolen).
Next I sanded it down and got it ready for paint. The front bumper was off one night during this stage of my car restoration when I left the school hangout called Teen Town one Friday night in a hurry to meet up with some friends. I made a rolling stop at an intersection by looking both ways, then I stomped the gas pedal. Unfortunately, I didnít see the old black Chevy in the middle of the intersection. I smashed him right in the side. The front end of my car was a mess. The fenders and hood were all crumpled. The radiator was hissing where the fan had hit it. The clutch linkage jumped the ball and I couldnít shift. I donít think the other guy had insurance, because he suggested that we just fix our own and left. I started my í55 in gear and limped it the few blocks to my house. The next day my Dad and I went looking for parts and found a front clip in a salvage yard for $20. It was complete with working horns, lights, and everything. I bolted it on myself, had the radiator repaired for $15 and I was back in business. Finally got it painted for $45 with the color of Marina blue. Thin line white walls and baby moons completed the look.
The week after it was painted I backed into a parked car and crumpled the tail light. I was sick. My friend Chris Kinderís uncle Baldy ran a fleet of í55 Chevy taxicabs. (Chris had a í55 too, but that is another story.) I got a taillight lens and chrome bezel from the taxicab graveyard for nothing. I took my car back to the shop and they straightened out the fender and repainted it for $4.
The car had terrible wheel hop when I accelerated. I wanted some traction bars for the rear end, but I couldnít afford Traction Masters. I had a guy make me some traction bars from some old Buick tie rods, but they were too flimsy. They did little more than rattle. Later I beefed up the rear springs with some truck leaves and I had another guy weld up some massive lift bars from 3Ē angle iron. The wheel hop stopped, but the suspension was too solid. It would bounce you out of your seat and the welds wouldnít hold, so I took them off.
I drove the car through high school and college. When I moved to Texas in 1972, I parked it behind my parentís house. It was looking kind of sad. It had primer spots and some rust. I wanted to move the car to Texas, but I was afraid to drive it that far. This was in the middle of the gas crisis and I wasnít sure if I wanted to pour money into a car that drank a lot of gas.
One night I dreamed that I was back home riding down some back road. And there I saw my car out in a field rusting away with broken windows and weeds growing all around it. Then in real life the next day Mom called to tell me that some kids had been looking at my car. They wanted to know if I would sell it. A few weeks later I had another dream that I was back home. I went out to check on my car and my Dad had made it into a trailer! Then again in real life the next day I got a call from a guy that had been looking at my car. He wanted to buy it. I figured it was time to go get it. This was in 1975.
So I had my Dad get a towbar and buy some new wheels and tires. The Western aluminum slots are still on it. A friend of mine drove up from Houston in his Blazer to help me go get my Ď55. We drove from Dallas to Missouri taking 11 hours. After 3 hours sleep, we hooked up the towbar and lights and hit the road. It was foggy and with the short wheelbase Blazer oscillated like a snake pulling the í55 it took 19 hours to get back to Dallas. Then my friend had to drive to Houston.
Now with my í55 with me in Dallas, the engine smoked pretty badly and it was time for a rebuild. I didnít know who to take it to but someone at work recommended a place. The front man at the garage only knew one buzz word Ė High Rise. He called me and said that they were having trouble doing a compression check because of the high rise. I scratched my head, because it has a low profile Corvette 2-4 intake. Then he said that it was the high rise camshaft. He meant high lift. That is still odd, because it had a stock hydraulic cam and even a lumpy cam wouldnít prevent a compression check. Then he said that my high rise was stuck. I finally figured out that he meant exhaust heat riser. All of that should have told me something. I told him to make sure that he painted the engine while it was out. He did Ė Ford blue. And to make things worse, he couldnít figure out the carburetor linkage, so he bent it up and added a bunch of nuts and washers. I managed to correct both the paint and the linkage once I got it back.
The resurrection continued as I had Herbís Paint apply fresh paint of 1975 Corvette blue. I bolted in a new trunk to replace the one that was rusted out as convertibles do that are left outside. I replaced all of the wiring and added a cassette stereo from Classic Autosound. Inside got all new white roll and pleated interior and a new convertible top also. The tired 3-speed was replaced with a Muncie close ratio 4-speed and Hurst shifter. I modified a set of Hedman headers to fit the unique convertible frame.
I used to take it down to Forest Lane on the weekends to show it off where a lot of hot rods and young people hung out. It was a Dallas version of American Graffiti. I met David Graves there one night. We have been best friends ever since and we now live across the street from each other.
David and I were both early members of DACC. We were very active with my í55 at many of the indoor car shows during these early years. David and I would caravan on Friday night to out of town shows in Waco, Tyler or Wichita Falls then spend hours waxing and cleaning, and then drive back to Dallas after midnight. Then we would drive back on Sunday for the trophies and teardown. Four hundred miles for a plastic trophy and a dash plaque, but the memories were priceless.
The previous owner Jim Higby and I both went to the same college Ė the University of Missouri at Rolla. After I graduated I moved to Dallas and amazingly later he moved to Dallas. One night I went to a college alumni gathering in Dallas and I thought Jim might be there, so I took the Ď55. It was my pleasure to give him a ride down LBJ in the í55 that we both shared. Only this time the seat didnít fall over.
That was some time back. Not much has been done to the car since then. It still has the 327 with 2-4ís and a 350HP hydraulic cam. I replaced the rear end with another 4:11 posi after the original one exploded. I have also replaced the convertible top, top cylinders, and top motor. I even had to replaced the tires last year even though there was lots of tread left, but I guess you are supposed to replace them after 30 years. I was shocked that no one had heard of G60ís.
I keep it licensed and inspected, but I donít drive it much. I am slowing down I guess. It still looks good from a distance, but it needs some attention. There are a lot of things I would like to do to it. The main thing I need to do is drive it!