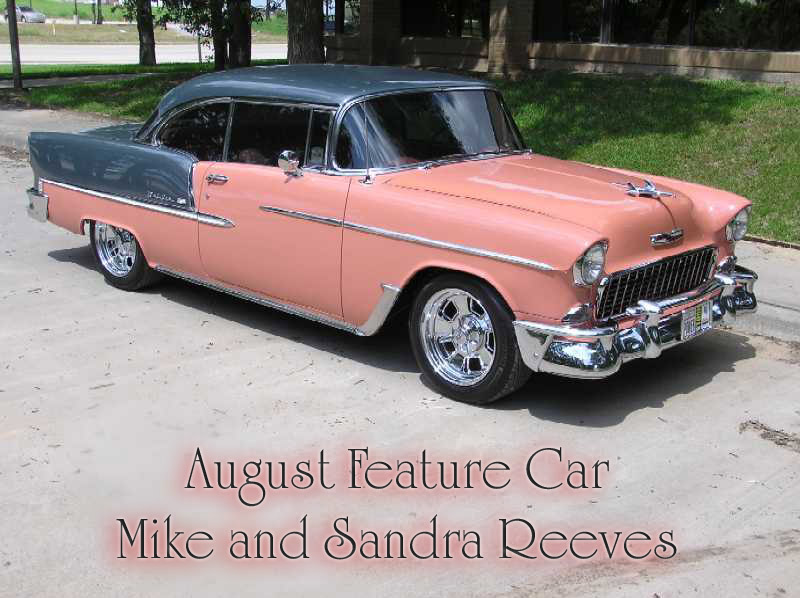 This '55 Was Once Lost, But Now Is Back Home For Good!
Sad headlights dripping tears of rust, the old car sulked in the corner of a crowded automotive junkyard, waiting for the scrap man to deliver it from a hollow existence. Windows smashed, body bent and bruised, this old '55 Chevy had weathered blast furnace heat and arctic cold, year after year, in its plot among the skeletons and scattered bones of a west Texas wrecking yard. Miles away, in a small Texas town, the former driver Mike Reeves, was secretly longing for this old '55 he had once proudly owned.
As a teenager Reeves had saved nickels and dimes from shining shoes in a local barber shop, and doing other odd-jobs, the youngster (with Dad's okay) bought the '55 for the first time in 1963, at the low-low price of $550.00. "My dad and I went to look at a '57 Chevy, but it was a four door. "I told my dad I didn't want a four-door car. So as we were leaving, the old man's wife drove up in a Coral and Grey colored '55 Chevy Bel Air 2 door hardtop. "It is pretty much a hot-rod" the old man said. Dad asked the old man "is that thing for sale?" And the old man replied, "Everything I've got is for sale!" Reeves had saved a total of $500.00, and the old man wanted $550.00 for the '55 Chevy, so Mike's Dad loaned him $50.00, so he could purchase this '55 Chevy that would become a big part of Mike's life. Pontiac's GTO was a "mean machine" among high schoolers in the mid 1960's but it was also expensive, so Mike settled for the classy '55 Chevy, "so I could have 'wheels' to get around town in," he said.
"In high school we used to spend all our extra money on our cars," Reeves said, "I put in a dual exhaust, chrome air cleaner, Corvette valve covers, and mag wheels," he said. Mike kept is car very clean, and even in a crowd of shiny new GTO's, his old '55 held its ground, he said. The Beatles were popular, Vietnam was raging, and the high school boys were peeling-out of the school's parking lot, racing on the weekends in a hot-rod tradition passed along, from father to son somewhere in the genetic structure.
"That's why I wanted to find the car again," Reeves said. Because it represented freedom to me. I started longing for an old Chevy in the early '80's, but I never thought I'd ever find my old '55 Chevy again. I really thought it was gone for good." The car was sold to a man in Houston in 1973. A few years later, it was sold to someone in Dublin, Texas. But Reeves lost track of the '55 Chevy in 1973 when it went to Houston. Then, in 1983, Reeves went to Gene Ford's Auto Salvage in Dublin, Texas, looking for a car to restore. Mr. Ford remembered Mike Reeves and his Coral and Grey '55 Chevy from the boy's high school days in Burleson. "He said he had a '55 Bel Air like the one Reeves used to drive. Mr. Ford took Reeves out in the field and there it was! Reeves knew it was his car as soon as he laid eyes on it! Because of the special upholstery, a tachometer and special gauges he, his father and brother had installed several years before. Mr. Ford wanted $2,000.00 for the '55 Chevy, which Reeves thought was pretty steep, but Mr. Ford threw in some extra parts and a paint job, and said he'd fix it up so I could drive it out of the wrecking yard." Reeves told him that he would think about it. But a few days later Mike came back to the wrecking yard and bought the car. Reeves said "I'm not really sentimental, but it was really a strange feeling finding the old car again after so many years, and it really brought back some memories, so well maybe I am a little sentimental."
Forty-Four years – and several owners later, Reeves has his grasp firmly on his high school hot rod, with no intentions of ever letting it go. Reeves has been restoring the car since re-acquiring it in 1983. This is no trailer queen! He enjoys driving the car to club functions and shows whenever he can including the 2004 Hot Rod Power Tour. At the 2006 Lone Star Classic Chevy Convention in Dallas, Mike took a Silver Award in the '55 Custom Driven Class and at this year's 25th Annual Lone Star Convention in Austin Mike took 2nd Place in the Custom '55 Class.