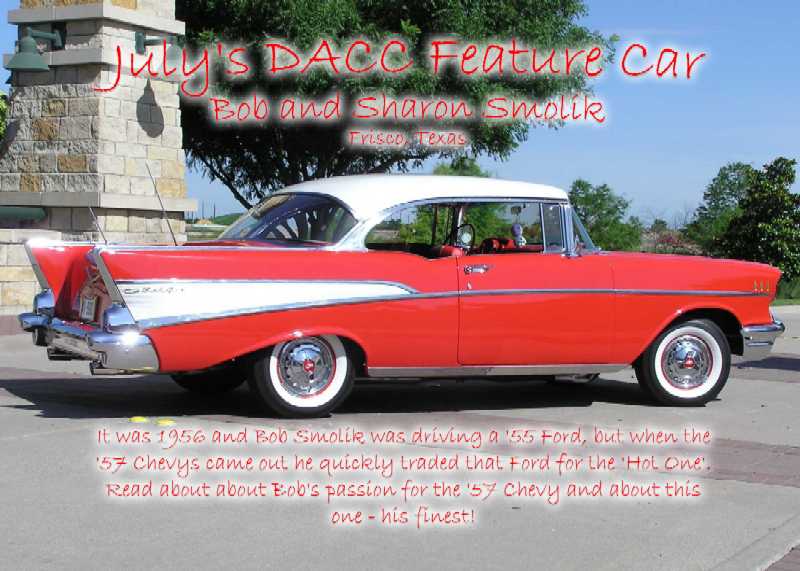 In early 1956, I was the proud new owner of a used 1955 Ford two-door Fairlane but for only about six months. My interest shifted quickly with the debut of the 1957 Chevy Bel Air. It was so fast and sleek. I quickly realized that I wanted to see myself behind the wheel of that hot car.

I knew it would take several convincing discussions with my mother to achieve my dream car. It took a week or two before my mother finally allowed me to order one from the local dealer, Bill Becker Chevrolet in Chicago, IL. The agonizing wait time was about 4 weeks! I was so excited to place my order for a Bel Air 2-Door Hard Top, all white with red and black interior, standard shift, power pack engine - total cost approximately $2,300, tax, title and license.

During this time, I was dating a lovely girl named Sharon, who later became my wife. I would pick her up at the high school and we would have lunch together. However, I always found that my car somehow steered its way to the dealership before our lunch date. I had to check to see if my Chevy had arrived. Sharon and I were married in June of 1960 with the '57 Chevy as our first official family member.

In the 1950's, it was popular to customize your car. I participated by having my Chevy nosed, decked, pin-striped. Continental kit and added many engine updates. In 1961, Sharon and I started our family; therefore, my beloved Chevy had to be traded because it just wasn't suited to be our family car. After raising three wonderful sons, I found myself being pulled back in time to my love of the '57 Chevy.

I discovered that my senses were becoming finely re-tuned to anything Chevy related. My newly awakened Chevy interest led me to attend the Tri-Five Chevy show at Reliable Chevrolet in the spring of 2005. It was there that I picked up an application to join the Dallas Area Classic Chevys which ultimately enabled me to become reacquainted with my love for the '57 Chevy.

I began an EBay search for the car of my dreams. Luckily, I located one I really liked in Atlanta, GA. When the bidding was all over, the owner's reserve was not met. However, I was able to contact the owner by phone and we agreed on a purchase price. The Chevy had been re-painted a few years ago, but it was not a chrome-off job. I truly felt nostalgic as I drove the car from Atlanta to its new home in my Frisco garage. Therefore, I decided to treat the car to a new, professional paint job complete with chrome replacement. I chose Avery Paint & Body in Balch Springs in November 2005 to do the initial work and finally finished as of April 2006. The car still needed some loving care to meet my high standards, but I use my weekends to refine this true classic. For example, I have added ceramic headers, CD player, glass pack mufflers and more chrome to chrome to the engine compartment just to mention a few of the "Smolik-upgrades."

In some small way, I have passed on my love for classic cars to my middle son, Tom. Also, my grandchildren really enjoy riding around town in the '57 Chevy with me. It's truly a way for us to connect and close that generation gap.