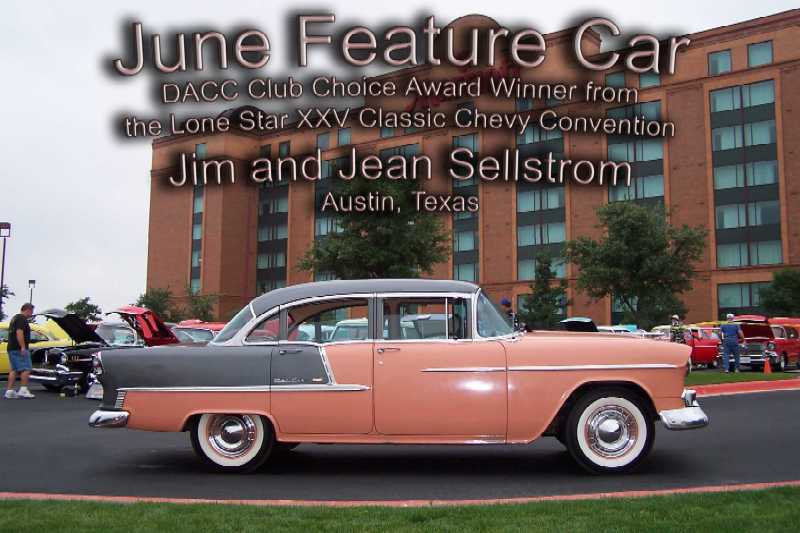 Our car's original owner, my father, lived 64 years on a the ancestral farm which was located just across the highway from the Marriott Hotel site of the 2007 Lone Star XXV Classic Chevy Convention in Round Rock. It felt like bringing the car back home again when we came to this event.

This 1955 Chevy Bel Air was bought new by my father from Henna Motor Company in Round Rock, Texas on October 1st 1955. The dealer gave him a matching coral and gray colored Papermate pen to use when he "signed the deal". The dealer also gave him a yardstick advertising the 1956 Chevrolets - as it was so late in the year, the new 1956's were coming out - and the dealer was out of the 1955 yard sticks. We have both the Papermate pen, the yardstick and even the original spare tire to display.

After my father bought his 1955 Chevy, I decided to buy a new Red and White 1956 "Del Ray" Chevrolet coupe. My wife and I just loved that car! Our son was in the Navy and he drove it to Norfolk, Va. in 1972, returning from Vietnam in 1974, to find our 1956 had been stolen!

In August 1971, my mother wanted a new car - a 1971 Oldsmobile Cutlass. The car dealer offered them $400 trade-in on the 1955 Chevy. Well I paid my Dad that amount and bought the car! At that time it had 33,000 miles on it. We drove it for a little over a year and put another 11,000 miles on it. As we were having relatives coming from Sweden in July 1972, we bought a 1972 Chevrolet with A/C to help keep them cool! In 1972 we took the 1955 back to the home place and stored it in a barn until 1986. During the time it was stored, I started it often, but did not drive it much. In May of 1986 we replaced the floor mat in the trunk. In 1988 I put on 4 new white wall tires -replacing the 2 black tires and the 2 whitewalls which my father used on it! I wash it using VERY little water - keeping it as dry as possible and it is always covered in the garage. I have polished it often, protecting it's original paint. After we started driving the car again the gas gauge had stuck at half full, now it is working correctly. I have done very little to the car, only what was necessary - which has been very little.

We joined the Central Texas Classic Chevy Club in April, 1987, and, we have enjoyed going with them to many car shows and on "cruises". Our 1955 Chevy had 53,754 miles on it when it was displayed at Lone Star XXV. Our car won 1st place in the Unrestored 1955 Chevy class, as there are so few remaining. However I think it is well deserving of the honor. At Lone Star IX on July 5-7, 1991 our car scored 937 points on the 1000 point judging system.

An interesting thing happened recently. I wanted to be sure our car would start when we went to the 2007 Lone Star Convention. Although it was still working, I removed the Delco battery and took it in to buy another one. It looked so nice and new the Delco dealer was very surprised to find that the CODE NUMBER showed it had been made in 1987 .... 20 years ago for a 60 month battery! AMAZING!! I usually do not keep the battery connected - until I plan to drive it, and that must have saved the battery for so many years.

I also have another old car that I enjoy. From 1945-46 I served in Germany with the Army of Occupation as a "Peace Keeper" with the U S Constabulary. Upon returning home, I bought my first car in 1946 - a 1930 Model A Ford with a rumble seat, which was the only car I could find at that time. I still have this car 61 years later. I worked for Southwestern Bell Telephone Co for 39 years and have been retired 20 years.

Jean and I have been married for 58 years, and are very proud to have 3 children, and 6 grand children. We like to travel - Jean has gone 6 times to Sweden, me 3 times as we have relatives there. Also the Western USA is often our favorite travel destination. I like to work on my other old cars which consist of a 1954 - 5 window pickup (bought in 1960); and a 1976 Chevrolet pickup I bought new; Jean's 1987 Oldsmobile Cutlass Supreme, which she wants to replace with a new 2007 model car - but this is still a good car!!! I also have a 1995 Chevy pickup, we like to drive it when we travel. When I want something else to work on, I have my 3 FARMALL tractors: 1938 'F-12', 1948 'Cub', and 1949 'C'; plus, a 1937 General Purpose John Deere. Good thing we live on 3 acres just outside the Austin city limits - since both Jean and I collect many things! Jean is a "Texas and Swedish history buff" and has translated many books and other papers. She is also very interested in sewing and Swedish folkdresses.

We have always loved the 1955, 1956 and 1957 Classic Chevy's, as there is something unique and very special about the colors and the designs of these beautiful cars. They are also so recognizable - today's cars all look the same!! Of course, we have always been very "true" supporters of GM cars. (Except for my old Ford!) In 1949, I bought a maroon colored 1947 Chevrolet 5 passenger coupe, as I was sort of embarrassed to drive Jean around in a 1930 Ford!
Thank you for recognizing our Chevy as your club's Favorite '55, '56 and '57 Chevy at Lone Star XXV.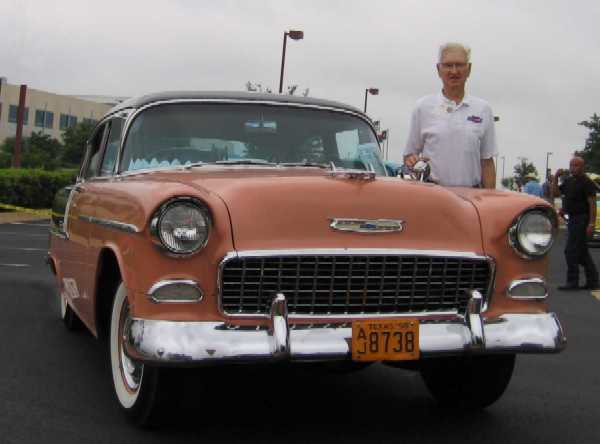 Jim Sellstrom with his '55 Unrestored Bel Air at the 2007 25th Annual Lone Star Classic Chevy Convention in Austin