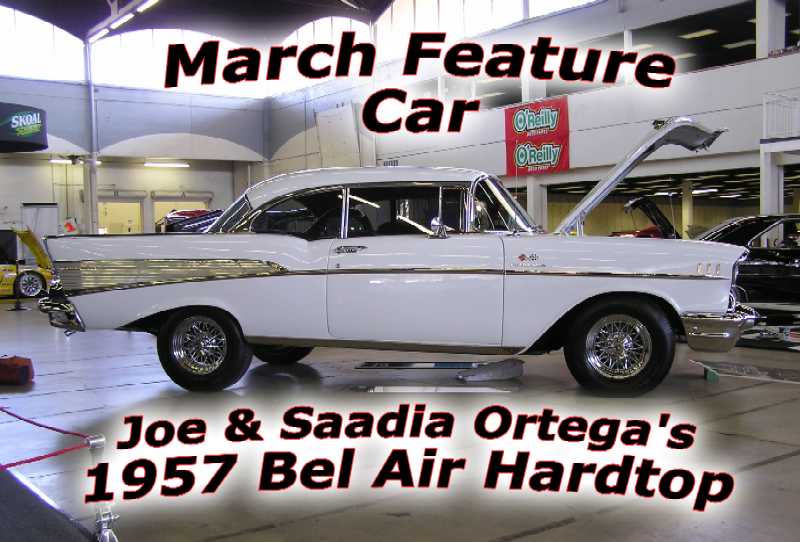 Originally I joined The Dallas Area Classic Chevy's car club in August of 1978 and to this day I still have some of the newsletters and original hat from that time period. I remained a member for a couple of years then lost touch with the club and dropped out. Later in 1995, I was off and on again with the club, and eventually lost basis with the club. As of August of 2006 I have rejoined the club and am proud to say that I will be here for good with my #581 local club number.
My adventure began in April 1976, when I spotted a 1957 Chevy Bel Air two door Hardtop in front of a paint and body shop called Connie Bakers off of Jefferson in the quiet suburban area of Cockrell Hill which is located near Loop 12 in Dallas. So I stopped in and asked the owner of the body shop, and was quoted $950.00. The heart of this she devil was the original 265 CI motor with "three on the tree" but was moved to the floor. The original hubcaps were still holding on, aftermarket bench seats, the interior was black nag hide in "ok" condition. She had no radio, no air conditioning, but on the bright side she was running at the time.
After weeks of attempting to convince the car's owner to allow me to pay him week by week for her he finally agreed. On the other hand, if I skipped a payment I would loose the money I had already paid him, and loose the car. He soon recognized how bad I wanted the car after he discovered that I was working hard in order to pay him. I thought I would never finish paying for this gorgeous ride (which looked pretty bad paint wise) I could not wait to get behind the wheel and drive it off his lot forever. Just the thought of cruising in this black and metal flaked 57 three speed on the floor, side exhaust, glass pack mufflers was an itch I was ready to scratch.
Finally I paid the body shop owner off, and my dream car was finally mine to take home. At last, my itch had been scratched!! I drove it home, and of course the first thing I did was give it a good cleaning and polishing. Even though I finally had my prized possession in my driveway that night, I did not get much sleep. Many times I found myself peeking out my bedroom window fantasying about what she would come to look like in the future once she was totally restored.
It did not take very long before the 265 motor gave out, so I put a 350 with a Muncie four speed. Also I changed the headers, the glass pack muffler to thrust muffler which made her even louder, waking up my sleeping neighbors, and causing complaints.
In a major life decision, I moved to San Jose, California for a short time, driving the '57 pulling a U-Haul with all of my possessions. For the short time I was in San Jose working, I passed much of the time sanding the front end of my 57 and eventually spraying down primer. But as fate would have it I had to move back to Dallas.
After sitting in my garage for about thirteen years and ordering three full sheets of replacement parts it was time to start the long awaited process of tearing down and restoring my prized possession. My friend Mario and I disassembled my car in the driveway of my Western Park home, the frame from the body and everything! We took everything to his two car garage and began to sand, grind, and replace everything on the frame. All parts were replaced new; springs, brakes, nuts and bolts……..etc.
Since I purchased all of the replacement parts brand new from Richard Holland at Classic Chevy Parts I convinced him to finish what I had begun in my driveway with my friend. Also I convinced him to restore the interior plus the power train since I did not have the time or the space to finish what my good friend Mario and I began in my driveway. After some begging he agreed to take on the project. I had gone through the 350 CI motor, so of course I wanted an upgrade so I saved my money and purchased a 1996 LTI Corvette motor with a 350 automatic transmission. Also still on the car is the factory posi-track rear end. Richard was not very happy when I arrived at his shop with this Fuel Injected motor, but he and his crew somehow fit that motor underneath the hood of my '57 and gave her a pulse again. The exterior of the car was then painted white with gold metal flake in order to give a subtle but noticeable shine. The interior is original; red, black with silver trim. Factory smoked glass all the way around, along with vintage a/c air, and power windows. Also flow master mufflers allow her to be heard, with original custom duals. Everything inside and on the dash is new, and a tilt column has been installed. Many thanks and appreciation goes out to him and his skilled crew.
After all of this long history, my car is the pride and joy of my family, and has brought me and my two sons, and my wife together through car meets, my own personal car shows at my local Sonic, and has even given me something positive to teach my youngest son who is a teenager.
In conclusion I would like to thank everyone that helped on this project, and of course there are more upgrades to come…. So stay tuned !!!