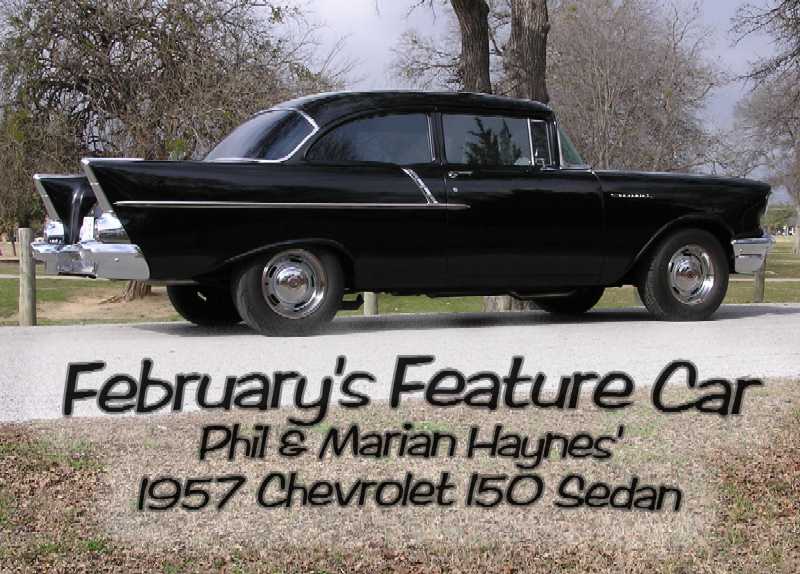 Being a high school hot rodder in the late 50's was alot of fun except for one thing: I was trying to race Chevy V8s with an old worn out flat head Ford! I enjoyed seeing the Tri Fives back then on our Main Street. At Lake Waco Drag Strip I can remember seeing some awesome '55-'57 Chevys run the quarter mile and they were dominate for their day and time.
If we could fast forward about 35 years… after raising three kids, putting them through college and living in several parts of the country, I purchased my first 1957 Chevy, a 2 door Bel Air hardtop in 1995. Bought as a driver, it eventually became a show car. Later I purchased several more '57s over the next five years or so. I ended up selling all of those in time except for a black 150 2 door sedan. This car reminds me of one I remember from the early 60s that was a good-looking, strong running hot rod Chevy!
It's hard to describe what all I have changed on the car since I purchased it. For starters, I installed a high-performance crate motor with a 5-speed Richmond transmission. The rear end is out of a Camaro with posi-traction. Mickey Thompson drag radials were put on rally wheels for better street performance. I also had a roll-bar installed with harnesses for extra protection. Power disc brakes on the front and drums on the back help stop the car. The car has an older paint job but still looks good enough to have earn Platinum and Gold Awards at 1000 point judged shows. I have added air conditioning on the car for our hot Texas summers and a Griffin radiator helps in cooling with electric fans. The interior is gray tweed and we removed the back seat to make it look like the old 150 business sedan. There are a lot of other small changes made but the car still looks pretty much stock … that is until you crank it and the 2 1/2 inch exhausts come to life with the hot GM cam installed.
I had a great time on the drag strip at Denton Dragway with the other Classic Chevys at the '06 Lone Star Convention. It had been 40 years since I lined up on a strip and my poor driving skills showed in reading the light and shifting gears. Still, I would do it again as it was a real rush for this ol' hot rodder!