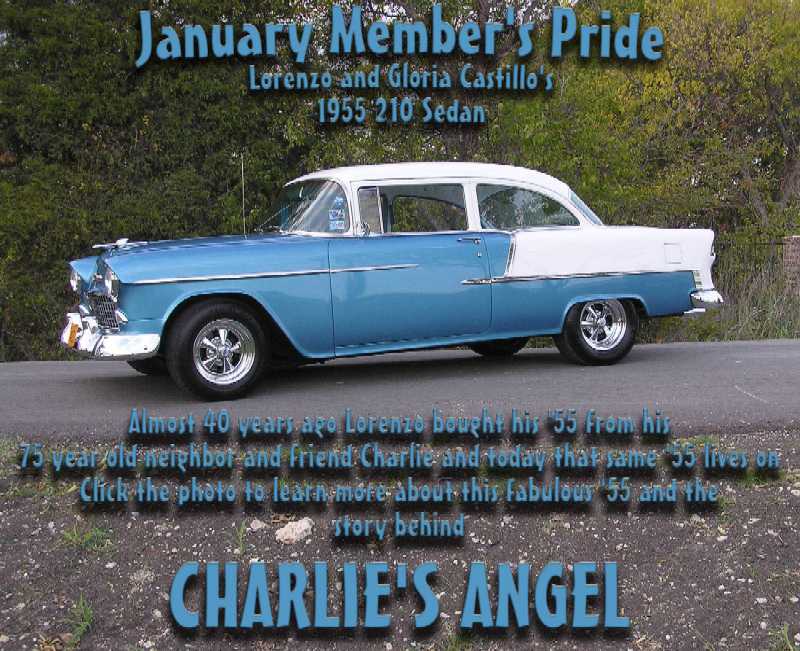 I grew up in a poor west side neighborhood in Dallas (called Ledbetter barrio) at a time when there were few nice cars if any. I was 15 years old in early April of 1968 when I decided to approach my next door neighbor named Charlie Nieman to inquire about buying his 1955 Chevy 2 door sedan. He was the original owner of the car. Charlie was a good neighbor but he had a few quirks about him primarily alcoholism. On the day I inquired about buying his car, I noticed the 1955 Chevy had a crushed front bumper and roll pan and a cracked front chrome grille. The hood, fenders and radiator were still in good shape. I donít know how he managed to get home but he must have had angels on his shoulder to guide him. Charlie is my friend and was approximately 75 years old. He appeared to be recouping from his drinking the night before. He kept telling me that he could not recall the events of the previous night but was certainly glad to get home safe. I must have caught him at the either his lowest point in life or his kindest moment because after some discussion he agreed to sell his car to me for a mere $50.00 in cash! It just so happened I have enough money stashed away so I ran into the house to gather dollar bills and change that equaled to $50.00. I returned and handed the money to Charlie. And just the same, Charlie went inside his house to retrieve and signed over the car title to me. Our transaction on the 1955 Chevy was just that simple! The Chevy was in good running condition powered by the original 235 cubic inch six cylinder engine which had approximately 76,000 miles. However, the engine was beginning to smoke a little but no where near the amount smoking Charlie undertook. He always seemed to have a carton of cigarettes near him from which to obtain his pack of smokes. As a result, the original interior of the Chevy with its dark blue patterned cloth and light blue imitation leather (Chevrolet Interior Combination No. 503) was saturated with smoke and was on its final stages of tattered and worn threads. The Chevyís original paint faired much better and had the original colors Shadow Grey and India Ivory (Chevrolet Combination No. 624). I had always seen Charlie come and go in the 1955 Chevy and the car always drew me to it; kind of like a diamond in the rough that needed my attention. Approximately within four months after my purchase, Charlie passed away. I really believe he knew that he left his car in good hands.
This was my first car and I didnít have much money but I had to go ahead and see what I could do to improve the look of my 1955 Chevy. The first thing to go was the front bumper. I straighten out the roll pan as best I could and tried to touch up the metal with spray paint only to make it look worse. I got depressed but it led to my first attempt at body work using a plastic mix called bondo which I knew nothing about. I read the instructions and went to work preparing the metal, applying the bondo, sanding and smoothing the surface ready for primer and paint. I used spray paint cans of course - what do you expect for a 16 years old kid? I removed the cracked pieces off the chrome grille and applied a sheet of ordinary screen door mesh to the grille and painted it flat black leaving only the chrome trim at the perimeter. I removed the beaten up original wheel covers, painted the original steel rims gloss black and finished off with a set of baby moon chrome hubcaps that I had purchased at Pep Boys. I covered the interior seats with black cloth seat covers that I also bought at Pep Boys. I cleaned up the old 235 engine and placed a fresh layer of engine paint. I thought the result was an awesome hot rod look with a 6 banger; wow! At least that was the impression of a 16 year old kid!
I started my junior year in high school and took the risk of driving my car without a driverís license. Would you believe that I made it through my junior year without getting caught and no tickets! No kidding! However, as soon as I obtained my driverís license the following year, I received three tickets. Anyway, my Chevy was always reliable and got me to my destination every time. I got a part time job while in high school that allowed me to buy parts and begin my first attempt at rebuilding my Chevy but as a genuine hot rod. With the help of my dad and my younger brother Raymond, we rebuilt a hot 283 cubic inch V-8 with power pack heads, mild cam, Carter carburetor, Hooker headers and Thrush mufflers and off we went to the races (Yello Belly Drag Strip and Dallas International Motor Speedway). I even tried intramural racing at UTA during my first year in college. I did well most of the time but nothing to brag about.
1975 came along and my Chevy went through a second hot rod transformation. This time I painted the entire car Corvette racing yellow, put in a new black interior with front bucket seats. I purchased a used 1963 Chevrolet Corvette engine without the fuelie component which the owner had previously sold. It was for the best because I was told later on that fuelies were difficult to adjust and maintain. I used a Z-28 Camaro manifold dual plane with Carter spreadbore four barrel carburetor and Hedman Headers. I had the 327 engine bored 30 over, used slotted pistons w/chrome rings and just about replaced everything with fresh new metal including large titanium valves and a mild "Isky" cam and gears winding up to 11:1 compression and approximately 325 horsepower. However, I took it easy with this engine to break it in and it turned out to be very dependable. I raced it a few times but I believe I had gotten enough of it to just sit back and enjoy driving my Chevy as a daily driver during my college years at UTA and part time work at Texas Instruments.
There did come a time in my life when I paused and did something else. I joined the Sports Car Club of America in 1977. I purchased my first sports car a 1961 MGB roadster. While I drove around in MGBís, Triumph Spitfires and Fiats throughout Texas including Terlingua and Marfa in the Big Bend area, my 1955 Chevy rested but it never crossed my mind to sell the car. It sat in the back yard of my house for quite a few years!
It was difficult eliminating my interest for sport cars and SCCA but not until I met my future wife. I immediately got engaged and took two important steps in my life. I got married to a wonderful woman and embarked on a new life that would include my 1955 Chevy (of course my wife agreed!). Gloria and I have been married for over 28 years and I hold her very near to me just as I do our 1955 Chevy model.
We agreed in 1985 to start a complete body off restoration. We worked part time on the car with occasional help from my dad whom I sincerely appreciate his effort. However, my dad was not one for perfection so I would have to repeat a bit of the work he did except for his experienced welding and suspension work. Although, I needed help with the electrical systems and harness restoration because I am color blind. I hired my wife to help me tag each wire to circumvent the problem. She was a good sport and spent many a night on top of the fender of our 1955 Chevy reading books while I tinkered with our car. Gloria and I completed our 1955 Chevy "off frame" restoration in June of 1994. We displayed our pride and joy at car shows between 1994 and 1999 at AutoRama, Fort Worth Rod and Custom, Good Guys, neighborhood and car club events. Our most appreciative moment has to be the 24th annual Fort Worth Rod and Custom Car Show in 1998 where we received the 55-57 Chevy Class Winner trophy plaque. It is by far the best looking but more importantly the most meaningful award we ever received. Just to give you an idea, I saw R.D. Wallace (a friend and fellow club member of DACC) return a trophy to AutoRama officials. You see, the officials were looking for extra trophies and were willing to pay $25.00 for each. R. D. Wallace jumped on the deal because AutoRama officials had run out of their cheap looking trophies to give out to other winners at the show.
One morning in 2006, I did something really stupid. I was in a hurry to get to work and I had mentioned to my wife the previous night that I would drive the Chevy to work which is rare. I pulled out of the garage in reverse and as soon as I cleared the garage door I sped up and plowed into my wifeís car. She thought she was doing me a favor by moving her car out of the typically parked location to give the Chevy more clearance. Well, you know the rest of the story! I felt a hard jerk and loud crunch. I got out to look at the damage, raised holy hell and cussed up a storm looking for someone to blame and inflict pain. But you know I could never find a mirror to locate the one responsible for the mess! With as much work as I had at the moment, I just didnít have the time and energy to repair the damage on the Chevy. However, out of this incident comes opportunity and through the help of Nancy (a friend at work) I met her brother Harvey who has the same meticulous patience and passion for working on 55 -57 Chevys. He is responsible for getting our Chevy back to its original if not best shape ever. Harvey is the best and did a great restoration job. He is especially good at street rod work. You honestly cannot readily tell on the Chevy where the new work versus existing work meets.
The latest "off frame restoration on our 1955 Chevy consists of the following:
1955 Chevrolet Model 2102, Style No. 1011

210 Series 2-Door Sedan with only the Bel-Air front fender trim because I like it

Two tone Paint consisting of Nassau Blue Poly DDL 13057 for lower body and front end and a Glacier White DDL 8631 for the upper body and deck area. It is all lacquer paint and it still looks great today in part because we keep the car covered as much as possible.

We used original factory pattern/design since the original cloth material no longer available. Therefore, we used blue cloth fabric (BC 31 Turquoise) and white imitation leather (MRD-2309 Madrid Medium Metallic blue and FLT-554 Flotilla White for the interior seats and door panels using the old material as the pattern. We installed NOS blue floor carpet and white perforated headliner.

327 cubic inch Chevrolet engine bored 30 over, slotted pistons w/chrome rings, practically all new metal including large titanium valves and "Isky" cam, Edelbrock polished aluminum manifold and Carburetor generating 11.25:1 compression and approximately 325 horsepower.

New 600 series 14:1 ratio power steering box, Heitt tubular A-frames, dropped spindles, disc and rotors, front coils, shocks, front suspension bushings, hoses, etc. for new front suspension.

Deluxe Heater and Ventilation System

Accessory Chevy Windshield Wiper and Washer System
Next task is Air Conditioning! I have already bought the parts. Hah!
Gloria and I wish all our friends at DACC and our DACC sponsors the best of 2007!