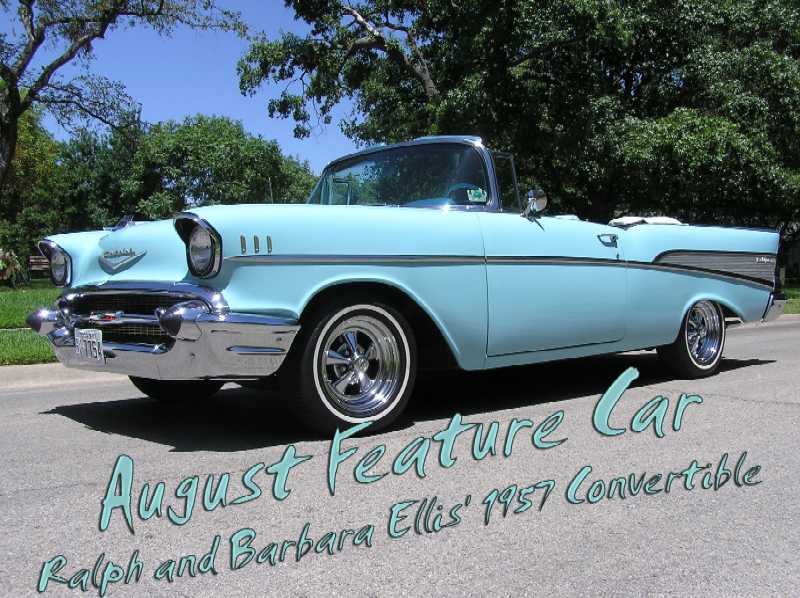 I have always been interested in old cars because the cars I drove as a teenager were old. My first car was a '46 Dodge 4 door sedan that had been owned and serviced by a Mobil Oil dealer. It was in great shape and dependable. I traded the Dodge as a down payment for a '54 Olds 98 Convertible which I drove during High School. The Olds was a strong runner, but it "died" while I was driving to my college summer job in South Texas from Ft Worth. That ended my personal wheels until I graduated from college.
After graduation, my car was a new '69 Camaro six cylinder 3 speed. For a second car I had a '39 Chevrolet 2 door sedan. It was drivable and was to be my first restoration effort. But the restoration never took place because of a job change and a distant job relocation. The car was sold because it could not survive the long trip.
Now to the present. I started looking at cars on Ebay around 5 years ago. The first car I bid on was a red '58 Chevrolet Impala Convertible. I ended up as high bidder but had not met the reserve. I received a phone call from the sellerís agent inviting me to meet a lowered reserve and to come and look at the car in Los Angeles, CA. I went and was terribly disappointed. The car looked great, but was really not drivable. I spent 6 hours to travel about 60 miles round trip in LA to look at the car. What a waste of time. I had all the financial details in place but no car.
I started looking again for a car on the internet, this time at CollectorCarTraderOnline.com. Around 4 months later, I spotted an ad for this '57 Convertible on the internet site and as luck would have it, the car was located in Plano. The owner had recently moved from Philadelphia and had brought the car with him. The seller had a newborn and needed to pare down his hobbies. A deal was struck and I drove the car 20 miles home.
Since purchasing the car as a driver and, as it turned out a project, I have spent much time and money improving the reliability and comfort of the car. After purchase, the starter immediately became a problem by engaging sporadically and needed to be replaced. Next, the Texas heat hit the car and an electric fan was installed to assist in cooling the engine. A few years ago on a DACC trip to Edom, a fuse in the electrical system blew causing the radio and brake lights to quit. The car was driven to Fort Worth for electrical repairs. Three days later the car was picked up and as driving away down a steep hill, the brakes failed. That did it! I realized the car needed a thorough inspection with replacement and repair of many parts to be reliable.
If repairs and replacements were necessary, then it made sense to upgrade as the repairs were made. The brake hoses were replaced as a temporary repair to continue driving the car. Next, the 350 turbo transmission was overhauled. A new set of Cragar wheels and radial tires replaced the biased ply tires. After discussions with Painless Wiring rep Jim Wittenberg in Ft Worth, I decided to go ahead and install vintage air before replacing the electrical. After the AC installation, Wittenberg replaced the carís entire electrical system from front to back. To improve safety the original standard brake system was replaced with a dual power assisted front disc brake system. This addition greatly improved the safety and stopping ability of the car.
To complete the reliability and upgrades made so far, Richard Holland ofClassic Parts in Arlington replaced the two barrel carb with a new manifold and 4 barrel carb. In addition, he installed some new trim pieces and a new fuel gauge sending unit in the gas tank. The last thing replaced was the windshield. I think all of the work done has contributed to more reliability, increased safety, and more comfort when driving this classic. Barbara and I certainly enjoy the car and will continue to make improvements over time.