DACC Feature Car
November 2005
1957 Bel Air 2dr Hardtop - Tom and Brenda Blackburn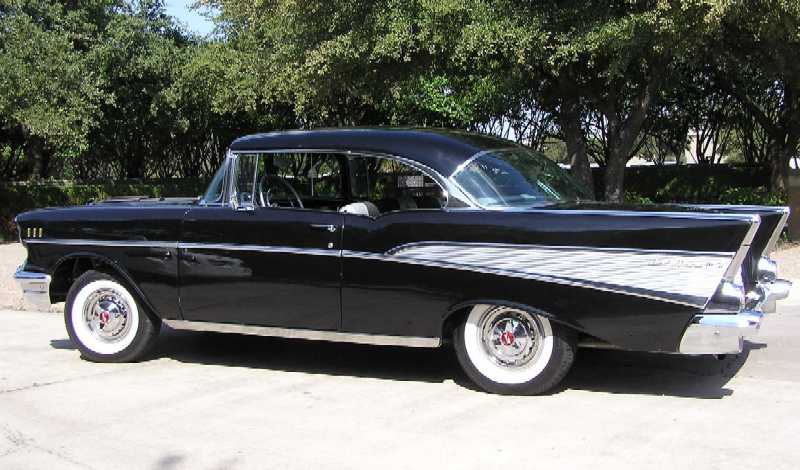 <![if !vml]>
<![endif]>
I have had an interest in classic cars as far back as I can remember. I have owned several different classics through the years, but never drove one more than five years.

I bought my present car, a 1957 Chevrolet Bel Air 2 door hardtop from a man in Cleburne. He had originally purchased the car for his daughter to drive in high school, and after she graduated the car was placed in storage for 26 years. In about 2000 he decided to restore it, took the body off the frame and put it on a rotisserie. He then did a complete restoration on the frame itself, and had the engine, transmission and rear end rebuilt. During this time he suffered a heart attack and his doctor told him he could no longer continue working on the restoration. So he placed an ad in the local paper.

I went to look at the car and liked what he had done so far. The fact that I could find no rust anywhere on the car was a big factor in my deciding to buy this one.

The previous owner recommended a body shop in Rio Vista, so I went to talk to the owner and to see samples of work he had done for others. I hired him to do the remaining body work and paint. To make a LONG story short, the car spent a couple of years out at this body shop until Ken Burton and I went out there to pick it up along with all the parts we could find (they were scattered all over the shop). We took it to Jag Customs where Sandy Johnson painted the car and set it back on the frame.

From there the car was moved to Eagle Mountain Paint and Body (owned by good friend Kenneth Burton) where Kenneth and DACC member Marvin Johnson started helping me put the car back together. During this time I was bead blasting and painting what seemed like thousands of parts by hand. As you can guess, the whole process was going very slow as I could only work on the car on weekends. Marvin and Kenneth suggested we try to get DACC member Carl Mitcham to finish restoring the car for me. They called Carl who agreed to finish the car. He probably put 80% of the car back together and did a super job! Between Carl, Kenneth and Marvin, my car is finally on the road after 5 years for me to enjoy!

It still needs a lot of small adjustments and these will all get done in time. For now I just want to drive it for a while and attend as many club functions as I can. After owning about 14 Tri Five Chevys, this is the one I plan on keeping!