DACC Feature Car
October 2005
1956 Corvette - Rodney Nevils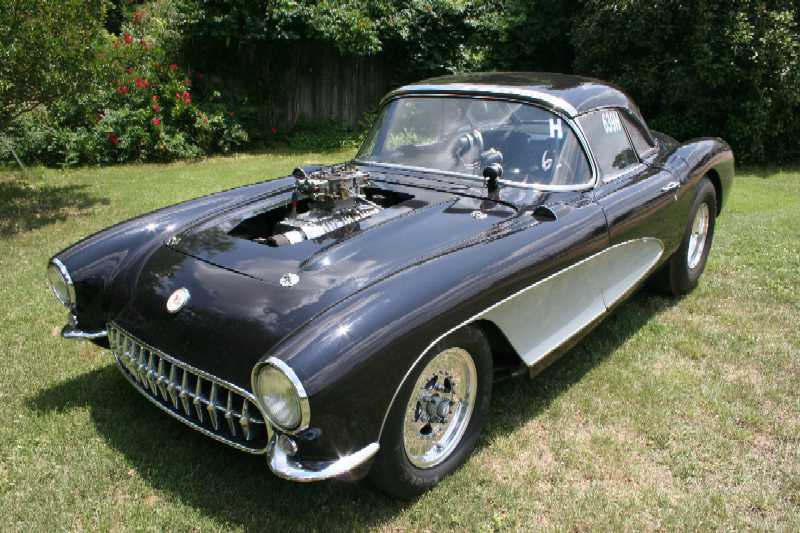 I HAD TO HAVE THIS '56 !
I have always had a passion for speed and cars. Growing up in the Chicago area, I would attend races at US 30 Drag Strip and Road America dreaming of someday driving a fast car!

My '56 Corvette came to me in my effort to address my need for speed. I had narrowed my search down to this '56 Corvette and a '63 Corvette. My choice went to the '56 due to the fact the chassis was near original and I simply liked the body style better on the '56. The '63 had a tube frame and I have visions of making it a street car out of it and the original chassis would make that effort easier. This '56 Vette had spent the past 34 years traveling 1/4 of a mile at a time. It's past included being the AHRA Modified Street World Champion in 1976 with Jim Ruble (then it was painted with a red paint scheme). I bought the car in early 2005 from a gentleman in Springfield, Missouri, where I paid a visit to inspect the car. After several months of haggling, the owner drove to Corvettes Of Dallas in Carrollton and we did the deal there. The former owner promptly bought a '61 Vette at Corvettes of Dallas and took that home with him.

The engine is a 355 Chevy small block with DART steel heads. The most noticeable thing is the B&M Blower feed with a single 1050 Bill Mitchell carb. A Vertex magneto fires the motor and the power goes through the 2 speed Powerglide to the Dana 60 with 4.88 gears, adjustable 4 link with Koni adjustable coil over shocks. Stopping comes from Strange 4 wheel disk with dual master cylinder and if needed a parachute. The car when tuned properly will run consistent 10.70's at 130 mph and drives very straight with all stock front suspension parts.

I have considered making the car a Pro Street style driver as I feel I may enjoy the car more in that trim. Time will tell. I have other toys that include a '50 Plymouth Business Coupe with the original flat head 6 cylinder engine, a '67 Vette in need of restoration, a '69 Vette that I purchased in 1975 and a '79 Vette I purchased new that today has 197 miles on it!