DACC Feature Car
September 2005
1957 150 2dr Sedan
Alan & Jodi Strong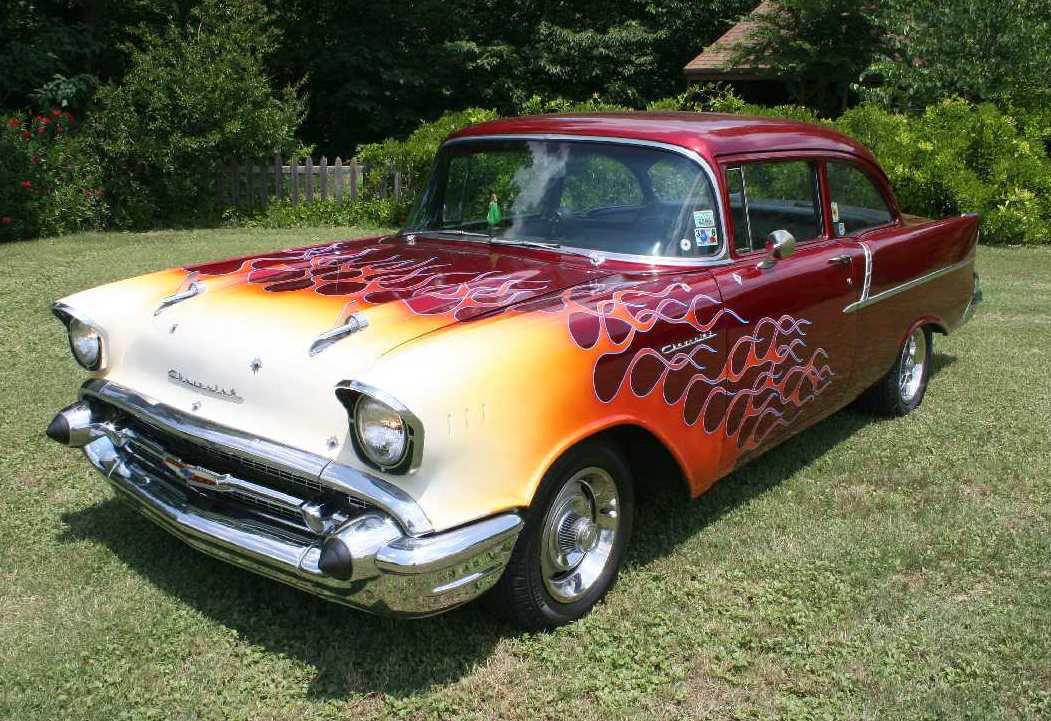 <![if !vml]>

<![endif]>
I, like many other car enthusiasts, have always remembered which cars made me excited and car crazy during my childhood. As you can guess, the start of my obsession with cars began with a 1957 Chevy. I grew up in a coral pink, 4 door hardtop 1957 Chevrolet Bel Air that my parents had from 1958 to 1972.
I can remember being 5 years old and saying "Put it into passing gear, Mama!" She would floor it and kick in the 4 barrel. To make it even better, we lived in Illinois where rust is a real problem, especially with the exhaust system. My Dad, a product of growing up during the Depression-era, would buy the least expensive mufflers, which were called, in those days, "Glass Packs", which made the 283's roar a very pleasing tune to my ears. Sadly, even though there was no body rust and the car looked brand new, my father sold it when I was 14 for $150 to buy a truck camper. Back then, in his view, it was just an old car.
When I became interested in cars in 1963, there were several kids that were 10 or more years older than me in the neighborhood that were hot rodding '57 Chevys. I used to watch them tearing around the neighborhood in their '57's with reverse chrome wheels and no front bumper. I was so enamored I even made a plastic model of what my '57 would look like if I had one. Of course it had no front bumper, was painted yellow, with an off centered racing stripe and multiple "STP" and Moon stickers. Forty two years later, I still have that model.
By the time I turned 16 in 1974, most of the Tri-Fives in Illinois were pretty much rusted hulks. So I purchased a 1969 Chevelle. I drove the Chevelle throughout high school and college. When I was 25 in 1983, I went the Corvette route buying a 1978 pace car. I owned the Vette until 1988 when my first child was born.
Fast forward to 2000 and once again that strong desire to have a hot rod came over me. I didn't want to ride the same path again with a muscle car or a Vette so, I set my sights on my first car love and lust, a 1957 Chevy. When I started looking for a '57, of course I wanted a Bel Air hard top coupe. I looked in magazines and the newspapers and had no success with that search. As luck would have it, in The Colony, Texas where I live there is a classic auto dealer called Pat's Auto Sales. I had been going there for years just to look at the cars, as if it were my own little car show. One night I found a dark blue 2 door Bel Air hard top. I thought about it for a couple of weeks and when I decided to buy the car it had a sold sign on it. Well, I moped around for a day or so and called Pat and said, "If for some reason the sale on the blue '57 doesn't go through, give me a call because I'm interested." Pat replied, "I am getting in a yellow and orange flamed candy apple red 57 today for a trade in so why don't you come on down and have a look?" Candy apple red, I thought, "I've always wanted a candy apple red car."
I went down to have a look and when I arrived at the car lot I immediately liked the flames and the red paint, but it was a post sedan and then I blurted, "What is wrong with the side of that thing?" Pat told me, "This car is a One-Fifty. She doesn't have the stainless diamonds on the side like the Bel Air or the painted diamonds like the 210. The chrome trim on the side looks somewhat like a 55 Chevy 210."
I had never seen a car like that before and a One-Fifty was not what I wanted. Even though I went for a test drive and even liked the look of the car's paint, I passed on buying that day. So, you could say it was not love at first sight. I went home that night with the intention of continuing my search but I started thinking. I love the flames. I love the candy apple red paint. I love the price. And do I really need a Bel Air? With that much needed spark and my wife's two cents, "Oh, I like that red car much better than the blue one!" the car started growing on me more and more to the point that the next day I went back to Pat's and plopped down my money and drove her home.
I didn't do any restoration work on her for a year or more. I just wanted to enjoy driving her every chance I got.
After that first year I started working on upgrading the old girl by first putting in the poor man's power steering. That upgrade didn't help to make getting out of my garage much easier. To make steering the car easier, I put in a 605 steering box. Next I broke the original rear end - showing off - and had to replace it with a 10 bolt rear end. The trunk was junk so I cut it out and replaced the sheet metal. The motor and transmission mounts were cracked and worn out and had to be replaced. The gas tank fell out after coming back from a GoodGuys Show after running over some rail road tracks. I stuck it back in well enough to get home. Later I had to replace the gas tank bands after one came loose again. Mostly I've done a great deal of scraping, sanding and sandblasting of old paint and rusted metal and repainting the cleaned metal like the rear seat area.
I like working on and upgrading the old girl, but my first love is driving her. I have made a deal with myself that I will only work on her for 4 months out of the year and drive her 8 months. When people ask me when I'll be done with her, I say "never". The driving part is much too fun.
I have taken my '57 to several car shows. Even though I consider her to be a heap, I have won a first place and several second and third place trophies at local car shows. Mostly I went to the car shows to talk about cars with people that are as car crazy as I am. That desire to talk cars took me to ChevyTalk.com, which had several Dallas Area Classic Chevys members making posts. They recommended that I join DACC, and I did in the spring of 2005.
Another question I get a lot is: "Is it stock?" I reply, "No, only the body is stock." But, as I keep changing out sheet metal parts, I may not even be able to say that if I ever finish working on her.
From the VIN number, A 57K 1706T, on the A-pillar, I can deduce A is for a model One-Fifty made with a 6 cylinder engine. 57 K means that the car was made in 1957 in Kansas City, Missouri. I believe she was the 706th 57 assembled in KC that year. On the fire wall is the Cowl number plate. Stamped on the plate is Body 57 1211, Body #D 2784, Trim 715, Paint 799A. What I have deciphered from these numbers and letters on the plate is that she was originally a One-Fifty 2 door sedan body style with a 6 cylinder engine. The model number of the body is 1502. The body was made in Kansas City, Missouri and was the 1784th body made that year. She was painted a single color with Tropical Turquoise paint. There has been much debate in 57 circles as to what the trim code 715 represents. The normal code for the interior of One-Fifties was 650. The 650 interior trim was silver and gray. My friends on ChevyTalk.com told me that trim numbers 715, 716 and 717 were numbers of later One-Fifty series cars. The 3 trim packages had a slight change in the door and quarter trim panels, but I have yet to find out what they look like. There were 70,774 One-Fifty 2 door sedans made like my car out of a total production run that year of Chevy cars of 1,518,012 units.
One-Fifty 2-door sedans came either with 3-passenger or 6-passenger seating. The 3-passenger model's rear side windows were fixed in place. The rear seat area had no seat and a piece of plywood was laid down in the rear seat's place. This type of car was called the "salesmen special". The 3-passenger cars were sought out cars by racers, mainly for its lighter gross weight because of the lack of a rear seat and window hardware and a stiffer body due to the B pillar. Buck Baker, the most successful single year NASCAR driver, repeated as champion in 1957 with a 1957-One-Fifty. His back-to-back title campaigns produced 24 wins in 88 starts and 1957 saw him finish in the top 10 in 38 of his 40 starts. I believe his car was called the "Black Widow".
Through research I found out some of my 57's history. I bought her in October 2000 from Pat's Auto Sales in The Colony, Texas. Before me, she was owned by another guy in the same town I live in. He had her for only a couple of months in the year 2000. He bought her from and sold her back to Pat's. She was brought to Texas from Kansas by a transplanted Texan from Wichita, Kansas who owned her from 1998 to 2000 and sold her to Pat's. Another man from Wichita, Kansas owned her from 1992 to 1998. He bought her from a man from Rose Hill, Kansas that owned her from 1991 to 1992. She was owned by L & M Marine and Hofmeir Chevy-Olds-Pontiac from 1988 to 1991. She was then owned by a man and his wife that also resided in Wichita, Kansas from 1987 to 1988. For a few months in 1987 she was owned by a man from Wichita, Kansas. From 1985 to 1987 two men from Goddard, Kansas owned her. They bought her from a man from Viola, Kansas who owned her from 1984 to 1985 and during that year changed the title over to his son. He bought the car from Class Act Cars who bought her from CJ's Used Cars both in Wichita, Kansas that had her on their lots for 2 months in 1984. The man who sold her to the used car lot owned her from 1981 to 1984 and hailed from McLoud, Oklahoma. Before that a man owned her for one day in 1981 that lived in Tulsa, Oklahoma. From 1978 to 1981 another man from Tulsa, Oklahoma owned her. He bought her from, in my mind, a little old lady from Claremore, Oklahoma who moved from Monroe, Oklahoma and owned her from 1964 to 1978. I have hit a road block in Oklahoma at 1964. I don't know who Gladyst bought the car from or where she bought the car. I followed a false lead that the car at one time may have had California plates. I sent a request to California and they either did not still have the records or the California plates were a false lead. Still 7 unaccounted for years. I did find out the factory dealer price was $1,996 and was bought at the total delivered new price of $2000. I am at least the 18th owner. So much for buying a "1 owner".
I did a search on the internet and found addresses of just a handful of the previous owners. I sent them letters asking for any history of the car but only got one response. The response came from CJ Used Cars. The owner wrote that the car had the paint job it does now when he had it in the early 80's. So the old girl is like a stray dog that comes to your house and you adopt her. You wonder what her life was like before you adopted her and most likely will never know. If only she could talk and tell her tale.
When I bought the car at Pat's, I was told the engine was a V8-383. It was originally a 6 cylinder. The radiator is now in the V8 position and I can see that the hood brace has been changed so the notch will match up with the new radiator hose position. I looked on the back of the engine block and could only see a part of the engine's number. From the few numbers I could read I found out the block was a 350 from the early 80's. While replacing the motor mounts, I dented the oil pan causing me to take it off to fix it. While it was off, I noticed the engine had 4 bolt mains. The engine is equipped with an Edelbrock Performance RPM intake, topped with a Holly 750 double pumper. She has headers of unknown origin connected to Flow Master type mufflers. The distributor has been converted from points to electronic points with a MSD Blaster 2 coil sending the juice.
The transmission is a 4 speed ST-10 Borg Warner with a 1975 casting date. The gears are changed with a Hurst shifter. The whole thing is connected to the engine by an Ansen NHRA approved scatter shield. At the rear, a 10 bolt rear end out of a 1990 4x4 S-10 Blazer with a 3.23 rear gear has been installed.
The body is connected to the axles by KYB shocks and original springs. The shoes are P225/60 R15 on the front and P265/50 R15 on the back all mounted on Rally Wheels.
In my view, I have not done that much restoring of the old girl in the 5 years I have owned her compared to others I know. Just keeping her on the road 8 months out of the year has kept me busy. Let's see: the ignition resistor burned up and had to be replaced; then the ignition wires decided to play the same game; the alternator quit and had to be replaced; the header bolts came loose several times; the lower alternator bracket broke or fell apart 4 times; the fuel pump went out; bad wiring to the fuel gage sender had to be fixed; the starter cable melted on the headers and shorted out exploding the positive lug on the battery; the radio quit and had to be replaced then repaired; every light bulb connection corroded losing power, but never at the same time, along with the horn and horn switch; the shocks were worn out making the headers drag the road when hitting bumps and had to be replaced; the speedometer was wrong by 10 MPH and I had to replace the cable gear, then the whole speedometer cable decided to break in half; 3 flat tires and they finally went bald and had to be replaced; and the drive shaft was too short after the rear end conversion from a stock to a 10 bolt and had to be lengthen by 1 ˝ inches.
Isn't it fun owning a classic car? I think so. I like to recite the old adage, "Half the fun of owning a classic car is getting to work on it, it has to be!"
I would like to dedicate my car craziness to: Bud Satterfield, Carl Root, and my friends at the Dale Jackson Career Center.
For more information about my 57 along with my diary of the restoration, trials and tribulations with my car hobby, see my web page at: http://www.cardomain.com/ride/511518/1