DACC Feature Car
June 2005
1957 Bel Air Two Door Hardtop
Tom Walker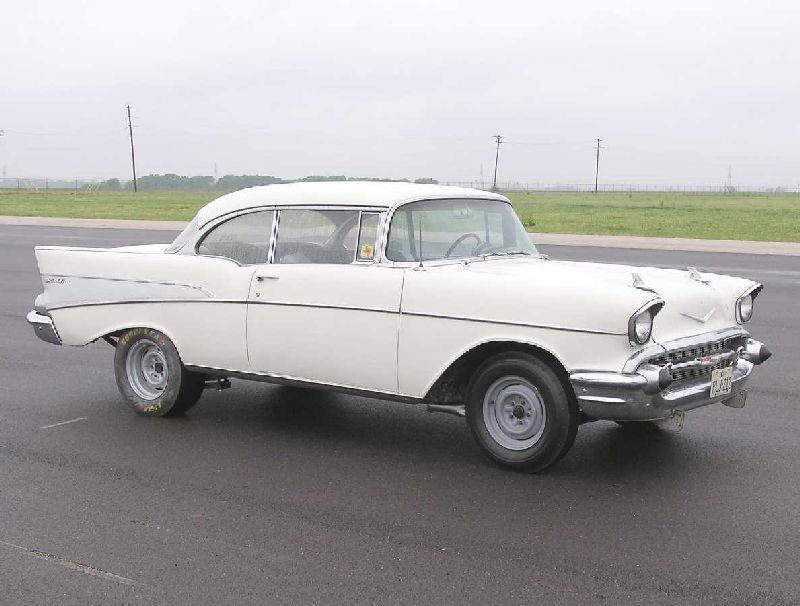 A 37 Year Companion - Faded and Scratched but Alive!
In the Beginning
How does one summarize all that's gone on with the same car for almost 37 years. The answer is "not briefly". How it started, what sustained it? It all really started in 1962 when my high school aged friends and I would go the North Tulsa Airport on Sundays when the then 2200 foot long airstrip would serve as a drag strip. I was caught up in the drags, especially the stockers. After all, these were the cars I also saw on the street from time to time in fainting glimpses as I walked to and from high school. The '57 Chevys were never the fastest but they were the most stylish and there were always a large number of them to battle it out in a few hotly contested classes at the track. And some of them would take home a trophy at the end of the weekend with one week's worth of bragging rights. I loved to hear those 283 motors scream, much unlike today's rocket sounding mega-inch-motors. Add to that no self respecting hot rodder in the early 60's would have an automatic transmission. That sound of a high reving 283 small block with flawless power shifting was the start of an affair for me and I wanted to be a part of it. Much has changed since those days regarding high performance street cars that were flat towed to the strip on Sundays. But for me I'll always have the fond memories of those days.
My First Car
It was 1969 and I was preparing to separate with pride from the U.S. Marine Corps after one enlistment that included a 13 month combat tour in the Northern I Corps of South Vietnam. A Marine buddy had put me on to his Cousin near Memphis that had a '57 for sale. It was a close match to my wish, albeit a faded/peeling cover-over black paint job. A couple of trips to Memphis, from Camp LeJeune, NC on weekends and a deal was closed in December 1968. A grand plan was contrived to take possession; fly to Memphis, take a bus to the small town and then a taxi where the car was parked, make the registration changes and then load up and drive the 400 miles to Tulsa, my hometown. But there is more to tell of this story. At closing, the owner said it had a cylinder head gasket leaking as the motor would not hold coolant and it would need to be fixed before it could be driven, also he said one of the freeze plugs was rusted and leaking. No problem, a trip to the Base PX and a purchase of 50 pounds of tools to be shipped general delivery to the car's town ahead of my arrival. I would change the head gasket and freeze plug after some research on how to perform the work from the base library. No problem!
It was a cold February 7th in 1969 when I finally arrived to pick up the car. After a trip to the Courthouse and local the Western Auto parts house for head gaskets, etc, I started disassembly. After 2 days work, mostly all alone and not totally understanding the problem, it was determined the 283 powerpack block had a crack inside the lifter galley. A 3 inch long crack was barely visible to my untrained eye. I don't remember but it might have been one of the neighborhood shade tree mechanics that found the crack who stopped in to check on my progress. The previous owner had put straight water in for coolant, which froze! Not to bad I thought but I need to get it 400 miles west of here to make this nightmare start to become a dream.
An 80 mph Surprise
I now owned a 1957 Chevrolet 2 door hardtop Bel Air that cost me $200 and could not be driven home. Late afternoon on the 2nd day I called home. Can dad and number 2 brother Mark drive to Memphis to tow my prize home? About 7AM the next morning they were in Memphis with a rental clamp and tow bar. We were on the road home soon with dad and Mark tired after the all night drive from Tulsa. Mark, 18 years old, was driving. I'm in the shotgun position and dad is in the backseat. After 2 hours and one flat on the '57 that was changed in downtown Memphis, we settled into the 9+ hour trip. Dad and I began to doze off. Soon enough I wake up and Mark's over there behind the wheel wide awake doing his thing. I glance at the Chevelle's speedometer….we're doing over 80mph! I was afraid to ask how long I had been dozing. Our tow vehicle was a 1964 Chevelle (probably lighter in weight than the '57) using another clamp on tow bar tied to my dead '57. Did we slow down? Not while dad was sleeping or dozing. We did make it home. The dream plan developed.
Project X Direction
The magazine "Popular Hot Rodding" was running a series called Project "X", a '57 with a big block conversion. That's the solution for fixing the broken 283 and jumping up in power! Also the magazine Car Craft was running a series on building the ultimate Junior Stocker, a '57 Chevy wagon NHRA class racer. The article series went into the chassis work which included body off work to optimize the body/frame assembly with extra body donuts to gain a higher center of gravity for the drag strip and really heavy springs at all wheels. I performed much of the work in those 2 magazine's articles series to the car including lifting the body off the frame for sound deadener removal. Lots of trips to the salvage yards were made for manual steering, manual brakes conversion, and mucho' other used parts. Add to that the car needed a repaint so all the chrome and trim was off while hand stripping of the old paint was going on each evening after work. Well three months had passed and still no running car. In April 1969 I mail ordered for a 396/375 special high performance big block crate motor, it was $657 from Berger Chevrolet in Michigan. (I did not have the $1080 to buy the 427/425.) When the motor arrived brother Mark and I went to pick it up with our dad's Chevy "Carry All" truck, predecessor to the Suburban. The intake manifold and cylinder heads had to be removed at the freight loading dock so the motor could fit in the back of the truck. A brand new motor and the heads had to come off to get it home! Not a problem to replace them later, after all, I had previous experience on changing head gaskets from back in February. But not to miss the opportunity, the cylinder heads were further disassembled for some home grown porting, my first of many sets to port. Then an order for $220 was sent to Bill Thomas Race Cars in Anaheim, CA for the big block conversion kit. A trip to the local Chevy dealership netted a replacement Muncie M-21 transmission for the iron powerglide. I was concerned about flywheel explosions so a mail order to Lakewood Industries for a new hydroformed explosion proof bellhousing was made. (Later that bellhousing did indeed contain a clutch explosion in brother Mark's '55 Chevy.) Mark was working at gas station and lined me up for purchasing chrome reverse wheels and tires.
I did not realize I was having fun, or maybe I did. The light was at the end of the tunnel.
The summer of 1969 went fast. I started driving the car in July back and forth to work while performing body work in the evenings. Finally in early August the car was driven to the painter for the color on the car today, 1964 Chevy Ermine White. It looked great. But time and opportunities never stagnate.
Time to Hit the Books
Assembly was progressing, and besides that I decided to start college in September 1969. When I finally hit the college campus with the refreshed and shiny '57, it was a trip. But that 15 minutes of glory was short lived. Then, reality sank in during the first year of school. The '57 was too much of a distraction and engineering understudies was not a piece of cake for me. The next summer, 1970, I made the decision to pull out the 396/375 and drop in a leaking oil burning 327 for my number 3 brother Jimmy to drive while I forged on in school, as he liked the car as much as I did. The 1 year old 396/375 crate motor was totally disassembled, oiled, and packaged in a crate, where it still resides today! Three years passed and Jimmy did his thing with the car, adding his version of performance of an all out dual quad 350 to replace the 396 and 327 motors. He also added bucket seats because the gate shifter was needed for the Muncie. Years along the way he found his bride and the car started setting unattended. About 1975 I made an offer to pay him for the improvements he made to the now starting to dull out, scratched up, and fading 57 and flat towed it to Texas. The title had really never been out of my name.
A Career and More Plans
After college, I moved to Ft Worth for employment and career development. The '57 was again made to serve as basic transportation for 4-5 years, but never was a considered a candidate for a 2nd make over. (In the late 70's to mid 80's I bracket raced another '56 Chevy Sedan Delivery classic in my stable.) About 1986 the '57 was put on jack stands and covered with a tarp in an airplane hanger I rented. It sat there until 2003. About that time Mark had started to drag race his purpose built '55 Chevy drag car. I was bit again! We brought out the faded and scratched '57, refreshed its loose 350 with just a valve job, took out the Muncie and installed a Turbo 350 so that 18 year old nephew Blake could drag race it again. It made its debut in June of 2003 at Denton Dragway just north of Dallas. Here again we flat towed the car for its first time to drag race in 31 years. As in the old days she was never really fast, but what a hoot to drive with open exhaust. We were having fun, wrenching, modifying the motor, beefing up the driveline, and adding slicks. Things progressed. In 2004 the original bench seat was put back in the chassis. There was another old assembled 396/325 motor in my collection of parts that I thought would be fun to drop in the 57 just like back in 1969. That phase of the project made the car a little faster and a lot louder.
How Fast is Fast Enough
Along the way these past 2 years it was a realization that to keep drag racing the '57 it would need non bolt on modifications like a roll bar and a traction system to handle the over 500 horsepower, so I drew the line. We did a best of 7.66 seconds in the 1/8th mile last fall at Denton. 7.50 seconds in the 1/8th mile is equivalent to 11.5 in the 1/4th mile dragstrip times. Any time faster requires a roll bar. I decided that once permanent type modifications were to be required on the body or frame to make it go faster then it would stop being a drag car and the process of a second restoration would need to commence as a street cruiser. So now it's 2005 and once the car goes faster than 11.50 seconds on a quarter mile dragstrip it will be retired for its second makeover to the original color, Dusk Pearl and Ivory, black/silver interior, normal suspension springs, and pretty much original, sans power steering and brakes for cruising with the Dallas Area Classic Chevys whom I recently started enjoying meeting. Hmm, I think there is an old M-22 rock crusher tranny and bench seat shifter around here somewhere. So, there's much to look forward to for this favorite car. It's going to be fun!