DACC Feature Car
March 2005
1956 Bel Air Convertible
Joe & Jennifer Gaikoski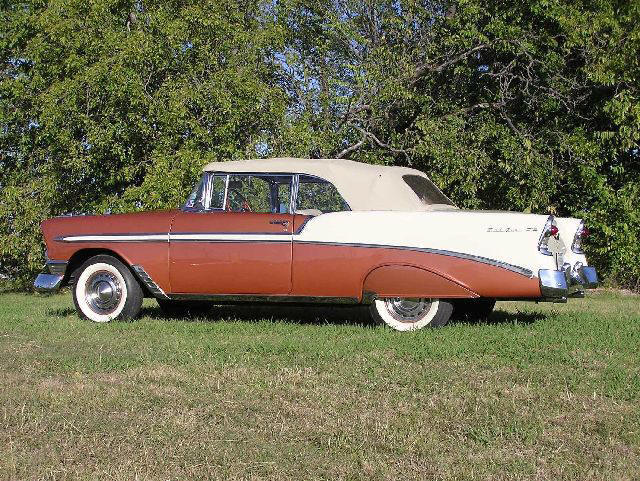 <![if !vml]>
<![endif]>
When I was 19 years old I owned this 1956 Chevy Convertible. I put in a 1960 corvette 283 cubic inch engine with new heads and carburetors along with traction bars and floor shifted 3-speed transmission. As a young man I had a lot of fun with this car. I turned my best quarter mile time of 14.96 and 96 mph with my hot rod convertible. I had to sell it when I reached 22 due to being laid off from my job. For years I have wished many times that I had this car back!
In 2003, about three months before going on a vacation trip to Niagara Falls, I told my wife Jennifer that I wished I had kept this car in a barn. We went on vacation in June 2003 and stopped in Ohio on our way to Niagara Falls and I picked up a magazine that said Ohio Classic Cars for sale. I saw this car as I have seen others from time to time and I noticed that this car was expensive and had a dual carburetor 265 cubic inch engine, new paint and chrome. I thought I would call.
The car was at a classic car shop in Painsville, Ohio about 50 miles from my old home in Akron, Ohio. I asked the man to tell me about the car and he said he pulled a 1960 corvette motor from it and welded the hole in the floor because it had a 3 or 4 speed floor shift in it. I told him I did that to a '56 Chevy and it seemed to shock him. I asked if there was some weld marks on the frame about 18-24" ahead of the tires and he said yes. Then he said, "I have your car" and I replied, "Yes, you do!"
In October of 2003, I took possession of my Chevy - again. One of the most distinctive things about my convertible today is the two four barrel intake with the famous batwing air cleaner. This car I now have in my garage, minus my G.T.O. (sold for down payment).