DACC Feature Car
January 2005
1956 210 Two Door Sedan
John & Maggie Rush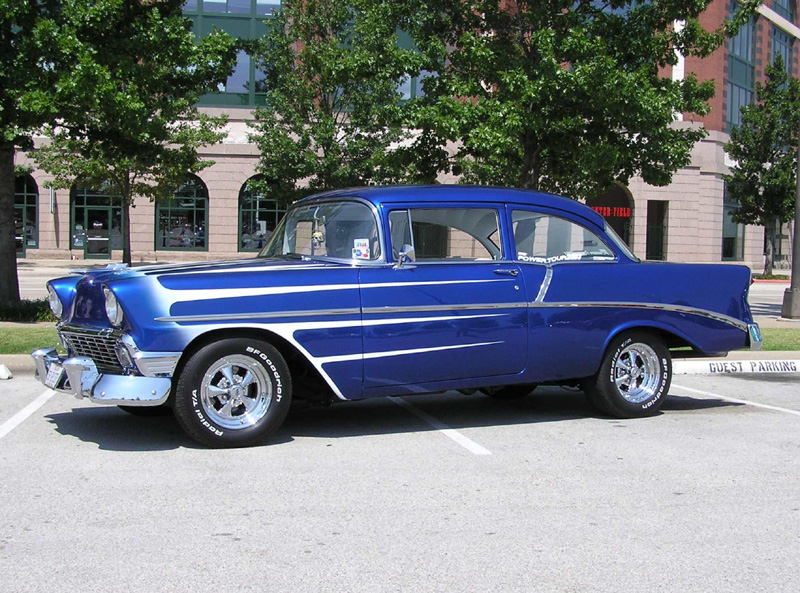 I became driving age as a teenager in California back in 1964. The first car I ever owned was a '57 Ford that leaked oil as fast as I could put it in plus it smoked worse than a freight train. Needless to say, it didn't last very long! Because I needed a car, my Dad (who lived in Dallas) said I could have his '56 Bel Air. My Dad was a shade tree mechanic. A genius at fixing cars but scoffed at the mere thought of customizing them. His feelings were that Hot Rodders were up to no good. So how cool was this car? You guessed it! A 4-door model with 6-cylinder power! Even the turquoise/white two-toned paint had "nerd" written all over it. It didn't take me long to save enough money for an Earl Scheib paint job. Being the classy guy I am, I didn't get the $29.95 job. I got the deluxe $100 one. Next task was to take it to Tijuana Mexico for the diamond-tuck interior. A set of chromed wheels and now I'm cool. Well, sort of. I was still a teenager and it was still a 4-door, 6-cyl. Fortunately, that meant nothing to the girls so I can say there were some great times at the local drive-in movies. Long story short... I had the car all through H.S. and college but sold it for $300 in 1972.
The next 30 years was filled with the usual comedy and tragedy. Raised 2 great kids but unfortunately lost my Dad to a highway accident. He and I lived 1500 miles apart but were very close. Now I live out here in Texas but he's gone. Go figure. Anyway, about 3 years ago I was at Grapefest and they had a car show. A guy had a stock '56 Bel Air and when I took a look I was suddenly back in 1967. The days of cruising, dating, and everything 60's passed through my mind. Then I thought about my Dad and almost lost it. It was very emotional. From that moment I decided I would get another '56.
A few months later we gave one of our cars to our Niece, which opened the door for another vehicle. Believe it or not I started looking for a stock '56 with 4 doors and a 6-cylinder engine but the old cruiser in me kept alive. I found my current '56 on AutoTrader.com in Humble, TX. It had a 10 year old scallop paint job but still looked pretty good. I had always liked scallops because they weren't as popular as flames. The seats and carpet were nice too. The owner had just put a mildly modified 350 in it so it had just a few thousand miles on it. He had it as a race car. The racetrack slips were still in the glove box. Along with the 350, it had a 9" Ford rear end, Hooker Headers, discs on all corners, and a Muncie 4-speed. This guy was a pretty serious gear head. I bought it for $12,500.
Since then I've done a whole lot more to the car than I thought I would. Some for necessity, some for vanity. 3 weeks after I bought it the steering gear literally broke. The car got very hot sitting at a red light or in heavy traffic. Not many of the gauges worked. The engine compartment was a mess. The wipers didn't work. The paint didn't match the interior very well. The radio didn't work. E-Gads!!!
Within the first year I replaced the radiator, had the steering box rebuilt, moved the battery to the trunk, installed a wiper system under the dash, added a bunch of chrome, custom gauges, Cragar wheels, Painless wiring system, and a new stereo system. I took it on it's first long drive in 2003 on the Hot Rod Power Tour. Blew a tire and bent a push rod but made it ok.
My most recent mods are a new 5-speed Tremec tranny, new paint, a new interior, and a better stereo system. I found a good restoration/paint guy and an interior guy both in Royse City. My restoration guy suggested we pull the engine and smooth the firewall. Everything came off the front of the car to do it and I'm very pleased with the results. I wanted to keep the scallop design but we modernized it a little. I had the emblems removed and the trunk smoothed. The rear license plate retracts and the trunk latch is operated by a hidden cable. I cut the dash to accommodate the new stereo and installed an amp in the trunk. My interior guy installed ultra-leather seats and trim with royal blue carpet in the passenger cab and trunk. Now I'm fighting a never ending battle with rattles and squeaks. Such is life.
PS. My Dad would hate this car.
Here are the 'Specs' on my '56 Chevy….
Varoom…
350 Chevy Small Block
Holley Street Avenger 670 cfm Carburetor
5-Speed Tremec Transmission
9-Inch Ford Rear-end w/ Ladder Bars
Be Cool Polished Cross-flow Radiator
Dual Electric Fans
Hooker Headers
Billet Air Cleaner and Valve Covers
140 Amp Powermaster Alternator
Taylor Performance Wires
Edelbrock Performer EPS Intake Manifold
4-Wheel Disc Brakes
Cragar Supersport Wheels
BF Goodrich T/A Radial Tires
Afco Competition Rear Shocks
Performance Front Suspension
Glitz and Glitter....
Custom Paint by Radical Restorations, Royse City, TX
Custom Interior by Wayne Bayless, Royse City, TX
Chrome by Show and Go, Dallas
Custom Rod Gauges
Custom Firewall
Outta Sight (hidden)....
200-Watts Amplifier
Raingear Intermittent Wiper System
MSD 6A Multi-Spark Ignition
MSD Blaster SS Coil
Painless Wiring Harness
Optima Yellow Top Battery
Hideaway Rear License Plate