DACC Feature Car
December 2004
1955 Bel Air Two Door Hardtop
Ron and Cheryl Davis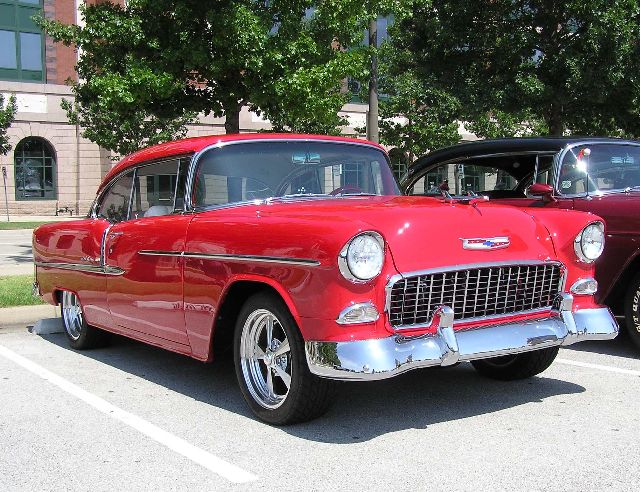 <![if !vml]>
<![endif]>
It started out as a Sunday drive with my wife Cheryl and my son Brad just to look at a '55 Chevy. A friend of mine had six cars and the '55 was for sale. When I was in high school I had a '57 Chevy so getting a '55 was not my first choice, but we wanted to go look anyhow.
The '55 was in primer and appeared in good shape, with a lot of parts included with the deal. He quoted the price he was asking as we were getting into our car to leave. I started the truck as my wife was saying, "BUY THIS CAR!" (what a wife) I had planned on thinking about it over the weekend, but being an obedient husband I let her have her way. The '55 was towed home the next weekend and the fun began.
This is the first complete restoration that I have ever attempted, but my son Brad said "no problem". The first thing was to get every manual available for the '55 and clean out the shop. When the '55 arrived, we had 4 project cars that we had piddled on which included a '48 truck, a '40 Ford convertible, a '33 Chevrolet sedan and a '28 Roadster that a friend of mine had stored at our shop. My wife suggested instead of working and spending on three cars GET ONE RUNNING, so again I listened and the only thing in the shop was the '55. If you have torn one down before you know you never have enough room.
Once the '55 was at the shop and all of the parts were sorted, I was hopeful that the expense to reassemble would be minimal. With the car came complete bolt-in rack and pinion steering, front disc brakes, tinted glass, front and rear rechromed bumpers, a TPI motor, complete rear end with disc brakes, grille and weather stripping. It would seem that my major expenses were included, but all it took was a little sanding on the frame and I knew that a frame-off was the only cure; someone had painted over some rust and I could not live with that. So here we go.
That very day my son and I took the body off the frame, had it blasted and powder coated. Paul Peyton built a Ford 9-inch with Willwood disc brakes and a 373 rear end. Now I could not help myself as every holiday, anniversary, and birthday my gifts consisted of parts for the '55. All available time was spent in the shop ignoring some of my duties around the house for three years. My parts for my '55 started collecting and included a new Ram Jet 350 crate motor, Rock Valley stainless fuel tank, stainless lines from tubes etc., a turbo 350 transmission, Billet Specialties wheels, BF Goodrich 245/45/17 inch tires and Flowmaster mufflers. On the inside to cool the air a Vintage Air unit, dolphin gauges to monitor things and a leather interior from Chris' Trim shop in Ft. Worth completed the interior. Luckily, I had a friend, Jerry Muniz, who is a body man by trade. He is responsible for the paint and body work and did an outstanding job on the '55. With mainly only weekends to work on the 55, we spent three years on this project to do it right. All work including the paint was done in our shop.
In July of 2004 I took our '55 on it's longest trip since completion - to Houston for the Lone Star Classic Chevy Convention. It was a pleasant drive with a couple of spots of rain, but it drove like a new car! Considering it was the first show for the '55 it did rather well; we were able to place third in the Custom Class.
When we are out for a drive, it's a good feeling when people of all ages give a thumb's up or brag about the car. The best part about it is that my son and I did it ourselves, with the support of my wife. She has even driven the '55 on a couple of occasions.
I said after this frame-off restoration, "never again." Guess what? I found a '57 150 sedan in a barn in Corsicana had not been tagged since 1982. It started, it was straight, very little rust and the price was too cheap not to consider. Once again my wife said "BUY IT." So here we go again….but this one is going to be black!!!