DACC Feature Car
October 2004
1955 Bel-Air Two Door Hardtop
Greg and Bev Hedum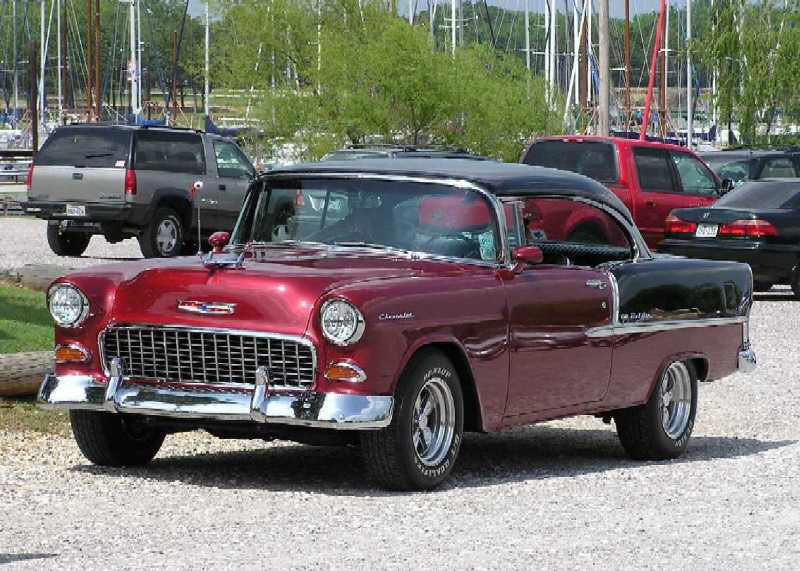 Our 'Hot Rod' Chevy
About two and a half years ago we felt we could fit a "hot rod" into our life. We spent about 2 months looking through the paper and pouring over the auto traders from the convenience stores. We were looking for a Tri-Five Chevy that was in fairly nice shape. Not a completed show car, but something we could drive to shows and on nice weekends without worrying about paint chips or dust and dirt. We weren't sure if we wanted a Nomad or a Sports Coupe, but we were leaning toward a '55. My parents had a '55 Sports Coupe when I was a toddler, and when I was in high school some of the toughest cars were '55's and '57's but I've always liked the '55's best- sort of a cool, understated, older brother type to the flashier, movie star '57.
We looked on the internet one day and saw a black over red '55 Sports Coupe down west of Austin. The price was in the right range and the description was interesting so we called ahead and ran down to look at it. After a test drive and some inspection, we agreed to the right price and brought it home. It's a ten-year-old restoration with a 327 engine out of a '66 Corvette, solid lifters, an intake from a '69 Z-28, Edelbrock 4 barrel and a Saginaw 4-speed. The paint that caught our eye is Dupont Jet Black and '89 Corvette metallic red pearl. All of the bodywork was done with lead filler and is nice and straight. Oh, did I mention it has flame-throwers in the tail pipes?
It's a nice driver that we can add our own touches to and still get right to driving it. A week or so after we got it home we put a new center section in the rear end. We spent one weekend rewiring with an American Autowire kit. The seats are from a '65 Impala, buckets up front- bench in back. We re-carpeted and built a custom console to hold the add-on gauges. We converted to a front power disc brake system using a Stainless Steel Brakes kit. In general, we've just done a little rechroming here, polishing there, and some over all cleaning and detailing. One day maybe we'll blow it all apart
and redo it from top to bottom, but right now we're just having fun driving it. We like getting the looks from the folks on the road that all of the real classic Tri-Fives get… you know…. the last cars they made with style and character.