DACC Feature Car
September 2004
1957 Two Door 150 Sedan
BJ and Mini Bucher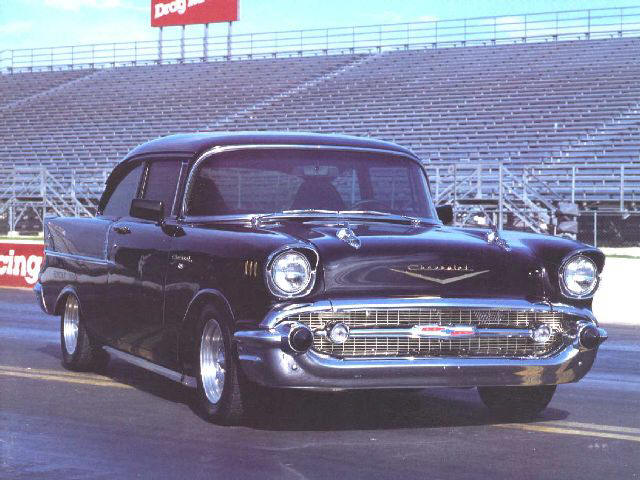 This '57 Chevy started as a one option (heater only) basic transportation vehicle and stayed that way until 1978. From-what else, a one owner little ol' lady car with 44,457 original miles through a nine-year restoration process to develop into the car you see now that was finished in the mid 80's. Countless hours (well, maybe counted by my family) were spent laying under, crawling around and over, rubbing and wiping this car, not to mention the hours spent talking, making calls, scanning swap meets, and sending away for parts.
Oh, well, down to the basics of the car. After removing the body and stripping the frame, we added side motor mounts, Camaro center crossmember, fabricated a new rear crossmember and installed a complete Jaguar rear axle assembly with Jaguar rear discs and '70 Impala front discs. We also mounted a Midland remote power booster, ran new lines, built custom stabilizer bars, mounted a 605 power steering box, and painted the frame black Imron. Next came the engine. A 350 bored .030 was balanced and assembled by Wayne Calvert Precision Engines in Denton using forged 10.5 pistons, Competition 268 cam and LT-1 heads. The engine is finished off with a Edelbrock 4 barrel carb (originally I had installed a 1965 Corvette FI unit, but found the reliability factor to be low). A 2-1/2" exhaust and Corvette side pipes take the exhaust away from the engine. Another item that I later changed is originally when the car was built I put in a '76 Corvette 4-speed Muncie with a Hurst shifter. But today I have a 5 speed Tremec tranny and that finishes off the power train. Also to keep the engine cool in the Texas summer I have a aluminum radiator, water pump and fan shroud.
The frame sat gathering dust for quite awhile as we turned our attention to the body. It was rust-free but we had quite a few scrapes and dings, which were removed by a good friend. Then the long tedious task of priming and block sanding over and over began. Much, much later the body was reinstalled and the car was finally ready for paint. We had it painted and it looked okay, but not exactly with the look we were wanting, so back to sanding again and finally ended up repainting most of the car. Time marches on and the project slows down again. It sat around for another year before we got to work on it again. We decided on tinted glass all around, not realizing the back glass would present such a big problem, and after five different tries, we have it right at last. Next we started our many trips to various plating shops. Gold cad, chrome, polished aluminum, polished stainless, and powder coating all seemed to find their special places somehow. We purchased a heat and air unit from Classic Air in Ft. Worth and promptly installed it. We fabricated new lines for both the air (alum) and heater (stainless). Next we tackled the interior, adapting arm rest and handles from Valley Custom, electric windows and locks, a tilt column from a '76 Camaro, custom gauges and tach in the dash. A Bose sound system with hidden electric antenna and a third tail light finish the hard parts on the inside. Upholstery was sewn and fitted by Mike at B&T Upholstery, using original blue cloud cloth and black naugahyde to cover the front tilt buckets and reconstructed back seat. Black carpet covers the floor and complete trunk. The car is lowered 3" and sitting on Centerline Indys with Michelin low profile tires.
We showed the car for the first time at the '90 Lone Star Classic Chevy Convention in Arlington and took 1st Place in our class. Best Interior, and Outstanding Car of Show. Then two weeks later, we entered the Classic Chevy Central Nationals in Tulsa and won "People's Choice," and we were very pleased, to say the least. Fast forward to 2004 and at the Lone Star Classic Chevy Convention in Houston the car took 2nd Place in the '57 Full Custom class. Today, the car is a very streetable cruiser and I have lots of fun just driving it!
A special thanks to my wife Mini for her support and help and to my good friend, Frank Koerbacher for the superb body work and general advice.