DACC Feature Car
June 2004
1956 Bel Air Hardtop
Marvin and Donna Johnson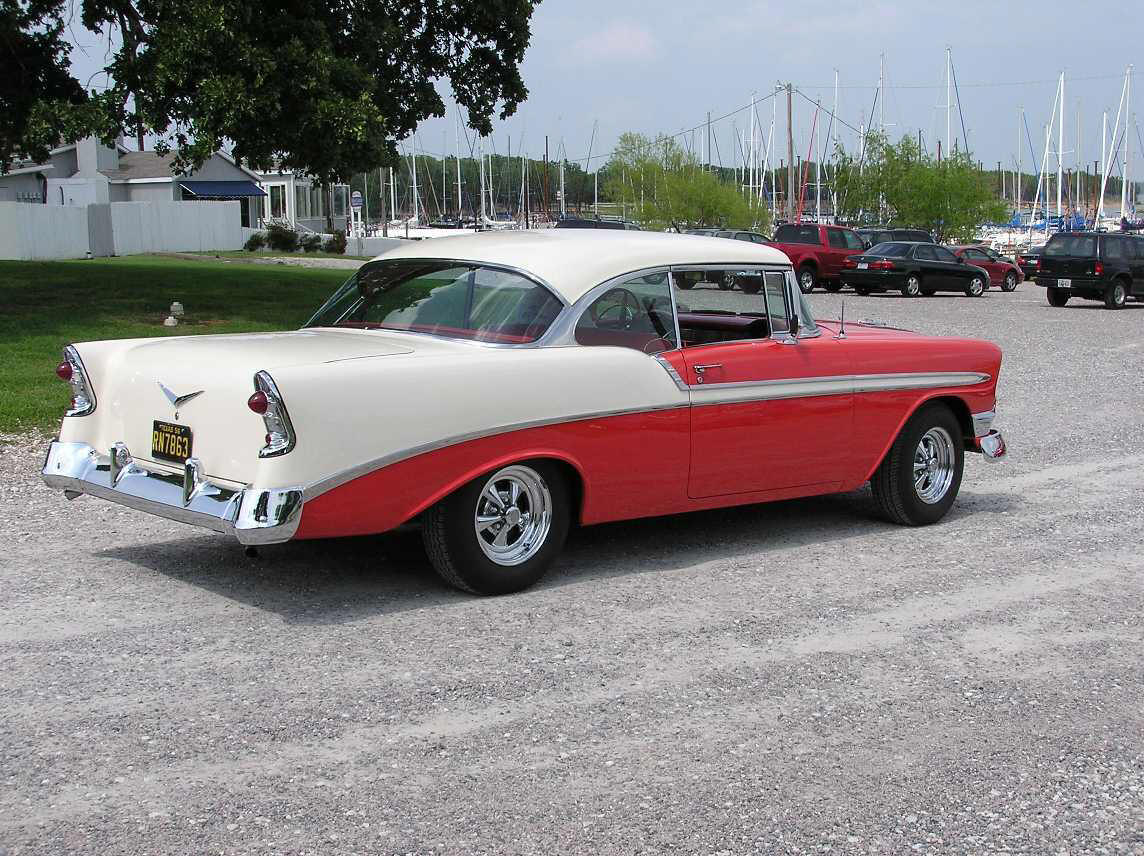 In 1995 I noticed there was a 1956 two-door hardtop for sale in the newspaper. I had never owned a '56 but had several '55's and '57's. I had just finished a 2 ½ year restoration on a '57 hardtop. After seeing the '56 I knew it was something I had to have. For the next 2 years it sat in storage while I enjoyed my newly restored '57. What I really wanted was a "driver", so in early 1998 I decided to do a partial restoration on the '56.
It does not take long at all to tear one of these cars down---but the hard part is putting them back together. Just remember---label all parts as they are taken off the car and organize them in that order. In about a week I managed to remove the engine and transmission, all the windows, wiring, interior, stainless and the bumpers. It took another week to strip all the paint off the fenders, doors, hood, roof and quarters. Then it was off to the sand blaster where the door jambs, fire-wall, trunk, dash, and front-frame assembly were stripped to bare metal. After a couple weeks of body work and a lot of sanding the car was painted Matador Red and Dune Beige.
Now it was ready to put up on jack stands where all the steering components and rear-end assembly were removed for rebuilding and re-painting. I taped off the freshly painted firewall and sprayed semi-gloss black on the front-frame assembly.
Re-assembly was the next step with new steering parts, disc brakes, rebuilt engine, and transmission. The 350 engine is bored .030 over with steel crankshaft. The Turbo 350 transmission was also rebuilt.
There are many sub-assemblies involved in rebuilding one of these cars. So there are many times you can work on several things at once, going from one sub-assembly to something totally different. I had many new reproduction parts and was anxious to start putting them on. A new firewall pad and all electrical harnesses were installed. Windshields with new gaskets were put in, but I had to stop and buff some stainless before I could finish the install and placement of the new side windows. A rebuilt steering column was slipped over the shaft and brake pedal assembly was placed under the dash.
I then went back and hooked up all the wiring to the engine and under the dash. Finally I was able to fire the engine and check for leaks. You know you are halfway there at this point!!
The front fenders and grill assembly was then hung. Many, many hours were spent buffing the 50plus pieces of stainless that go in the interior and on the exterior. Re-chromed front and rear bumpers were installed and aligned.
A reproduction interior kit was installed by a local upholstery shop. The car was then taken for new tail pipes and mufflers—and front-end alignment.
To make a long story short, this '56 frame-up driver took less than a year. The previous full frame-off restorations that I have done took two full years. But, keep in mind, this '56 will not show with the high dollar frame-off cars. This is okay with me because I really just wanted a driver. My wife, Donna, and I have a lot of fun with this car. Without her help I could not have done it.
"Keep on Cruising"