DACC Feature Car
April 2004
Steve and Mary Anne Pratt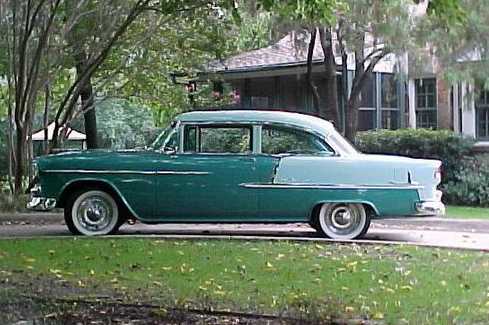 1955 Chevrolet Bel Air 2 door Sedan
Here are a few photos of our 1955 Chevy Bel Air 2 door sedan. It is a special car to my wife and I, because it has been in her family since new. I am the third owner.
Dr. William A. Dye bought this car new. He was my wife's great uncle (her father's uncle). He took delivery of the car on March 9 1955 from Smith Chevrolet on Broadway in San Antonio Texas. He was a retired veterinarian, and because of a bad leg he left most of the driving to his wife Maude, who did not like to drive. There is a picture of Dr. Dye in January of 1958 in this feature.
My father in law inherited the car in 1970. It had at that time just 15,000 miles. He used it as the family car for a few years, and both of his sons drove it during high school, while my future wife did not drive it much herself. It then mostly languished beside my in-law's house for many years. In 1985 my father in law gave it to me. It had 63,000 miles on it at the time. It was almost all original and untouched, except for a few trade-school repaints. The original options include: two tone paint (Seamist and Neptune), 265 V8 with Powerglide transmission, recirculating heater, EZI tinted glass, and a few other minor accessories.

After putting (another) cheap paint job on it we drove and enjoyed the car for about 11 years. Then in November 1996, we disassembled the car and started restoring it from the frame up. We added power steering and power brakes, upgraded to a Power Pak 4 bbl carb (all components are correct date coded) and dual exhaust, deluxe heater, autronic eye, power windows and seat, remote control outside rearview mirror, day/night mirror, push button radio, front sway bar, courtesy light package, trunk and underhood lights, and several other accessories. All components and accessories are factory original, and most of them are NOS. For example, we collected NOS power steering parts and components for over 10 years, until I had accumulated every part necessary to add that option. We had a lot of help from many many people during the restoration. I especially want to thank my good friend Lance Denton for all the things he did to make this special car come back to life.